Stockholm (dir. Omar Al Abdul Razzak 2012)
A superbly crafted film exploring the politics of desire and attraction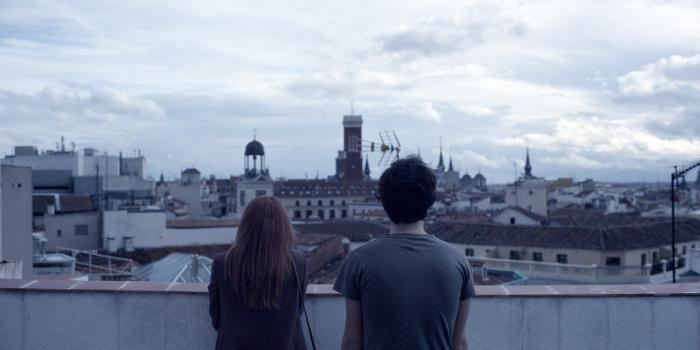 The Stockholm Syndrome is a psychological phenomenon in which hostages express sympathy and have positive feelings toward their captors. The film Stockholm is about the reverse of this condition: a man is doing all he can to lure a woman back to his place, and she is very reluctant to do so because of a traumatic episode she experienced over a year ago, and near the end of the film, the tone dramatically changes, as the couple's feelings towards each other become empathetic and very negative.
Aura Garrido plays an unnamed woman who is being wooed and chased by Javier Pereira, who plays Bartolo (he tells her this is his name, it could or could not be true). After meeting each other at a party, where he comes up to her and gives her the keys to his flat and tells her "If you don't sleep with me, I don't want them back", she tells him she is not interested and decides to leave the party with her friends. He chases her outside, but she has had enough and wants to go home alone. He persists, telling her that he has fallen in love with her, that he has never met anyone like her, and after she thinks she has said her final goodnight and goodbye to him and walks a few blocks away, he pops up around the corner, still feeding her lines that slowly make her come around.
They eventually reach his flat where, in the lobby, she tells him to prove to her that he loves her by stripping naked and proclaiming his love for her outside. He does this, in a very funny and charming scene. Once in his flat, he says all the right things, makes all the right moves, but she is far from convinced and attempts to leave. He chases her, and then finally wins her over.
The morning after he is cold, distant, and wants her out of his flat, saying that he's got lots to do that day. She wants him to come back to bed to make love again, to spend the day together. She is confused and distraught at his sudden change of personality and attitude. She begins to emotionally unravel and refuses to leave his flat.
Stockholm's conclusion is very disturbing and will catch you off guard. WIth tour de force performances by Garrido and Pereira, Stockholm is a superbly crafted film that has very few, if any, flaws. With the exception of the first ten minutes of the film, Garrido and Pereira are in every scene, and they hold your attention, their acting very raw, very believable. The love that he feels for her (is it genuine? Is he a liar?), and the skepticism that she has for him (can she trust him? Should she tell him her secret?), makes Stockholm feel raw and emotional.
Stockholm was unbelievably filmed in 13 days in central Madrid in and around Gran Via (very recognizable on screen). The director, Omar Al Abdul Razzak, filmed the evening shots (him wooing and chasing her) as close ups, with a moving camera, while the morning after shots were filmed as long shots, with a stationary camera. Both perfectly capture to great effect the moods of each particular moment - the dark sexiness of the evening, where anything can happen, to the bright sun-filled morning, where reality and regret set in. Stockholm is an excellent film, with superb performances, great production values, and must be experienced.
Stockholm recently played at the London Spanish Film Festival and will continue to play at film festivals all over Europe.
Cuba's natural setting, with its own historical and cultural...
From garage parties in Panamå to the awards ceremonies of Miami, how...