Cheap Frills Better than No Frills for Argy women
In post-crisis Argentina, middle class women have been forced to lower their lingerie standards.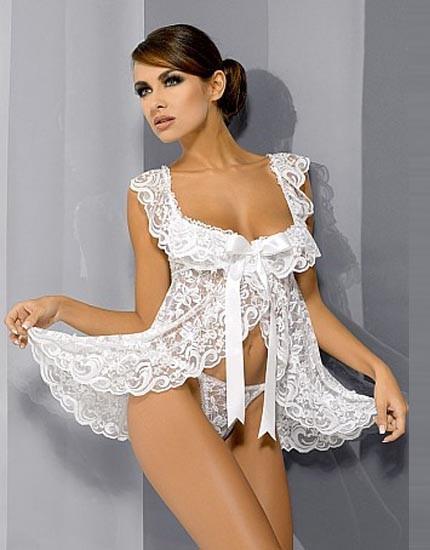 On the grey pavement of Buenos Aires' poshest shopping street Irma Callejas, a Bolivian lady in traditional dress of bright blues, purples and reds, huddles over a patch of frilly pinks and brilliant whites.
From her crouched position she watches the high-heals of Latin America's slenderest legs (so Argentines claim) trot past. More and more of these sophisticated city women stop to glance at, scrutinize, even stretch the fake-designer undies she sells.
A year ago Irma arrived in Buenos Aires from her home town in Bolivia with a piece of market intelligence: Argentine woman love their underwear. "Our neighbours were receiving lots of dollars from their relatives selling this in Buenos Aires," she said "so I came to do the same."
The multitude of billboards of sumptuous babes in pastel sets all over Buenos Aires is proof enough that underwear is the country's shameless craving. Middle class housewives only have to leave their apartment buildings in the city centre to find two or three parisienne style lingerie boutiques on their block. And Men spend their lunch-times captivated by giant screens in shop windows showing teenage models dancing, laughing and having pillow fights in virgin-white underwear.
"Buenos Aires people (portenos) are a bit perverse. We find the whole partial nudity thing very exciting," confirms Cristian Gruenberg, a local cafe haunter."The first thing you think about when you go out with a girl is will she be a black or white knicker girl, or perhaps lavender? And you can be sure the girl will be wondering, will he like black or white underwear? Its all part of our hysteria."
Lots of Porteno women would never have dreamed of buying their underwear from Bolivian street sellers, whose increasing presence in Buenos Aires is generally sneered at. But as recession hits the middle class hard, many have to lower their standards to avoid sacrificing their cherished luxury completely. And illegal traders have found a particularly lucrative way to lure elegant Buenos Aires in its fall from grace.
A red lip-sticked, dark-suited woman, looking around as if to make sure no one was looking bowed down in front of Irma to touch the purple synthetic-satin bra. She asked impatiently, "Have you not got the panties to go with this? Oh, what a shame. Will you be here tomorrow?" And her heels cantered off.
These desperate measures aggreviate the proud, assures Maria-Sol Cruz, who works as a maid in an apartment in the area."My mistress gave me the details of some undies she'd seen and made me go and buy them for her," says Maria-Sol. "She was too embarrassed to do it herself. But I've seen neighbours snooping around for the Bolivians with a look of shame. The word is spreading around that this stuff is good quality and, after all, your husband isn't going to know you bought them from a Bolivian is he?"
But some Argentine men are not so sure about this new up-front shopping trend. 'I find it a bit strange seeing women stretching their knickers in the street as if they were buying a pound of carrots. It takes the mystery away." said Adrian Alonso, a martial arts teacher.
Unfortunately for ashamed buyers who want to get the job over with quickly, it is a tricky job tracking down the lacy displays. Paulina, from Paraguay, clutches the four corners of her sheet with the lingerie merchandise inside, because any minute the police may arrive and make her pay a fine. "There are lots of people who want to buy but we don't do much business, because the police come to get us every five minutes," Paulina says
"I have to call the police," says Mario Beteo,59, owner of Boutique Marriane. "It's not fair. These women have no costs. They don't pay for electricity and heating bills, employees, or rent. We abide by the law, yet they steal our business." Beteo says his sales have gone down 20% over the last 60 days.
The "invasion of the Bolivians," is the most recent reason for the decline of sales. But also it is due to the number of new lingerie shops that have sprung up in the last 4-5 years. "We have been here 20 years. When we opened this was the only lingerie shop within three blocks," says Mario, "now there are four on the block."
With Argentina's recent economic stability and liberalization, new stores flourished by making accessible the pleasure of imported underwear previously enjoyed only by the very rich. It was the gold rush of the knicker world, affirms Mario. "We had to abandon our orders of national products because all the other shops are selling imported goods and that is what women want. But now we are in recession, all these shops are working at 10 per cent of their capacity."
But some shop owners like Mirtha Chaho, whose sales have gone down 50 per cent, refuse to regard the Bolivians and Paraguayans as competitors. "My clients would never buy that stuff," Mirtha shakes her head stubbornly. "They have nothing to do with us."
For Cristian, a middle-class underwear ponderer, street knickers are acceptable on certain conditions. "Women have to be coherent. I think some cheap nylon knickers could be quite charming on a girl whose has a free-spirit and is a bit shameless. But if you are going out with a girl who thinks she's classy she's got to have the expensive stuff to justify her snootiness."
And this is probably why women like Andrea Michel are determined to keep her demands high when it comes to underwear, even under belt-tightening. "I'm not so worried about the hygiene because I always wash new knickers before I put them on, you don't know where they've been," Andrea swears. "It's that I have always been able to buy good quality underwear which lasts. French underwear is my favourite. Times are hard, yes, but I would never compromise this personal pleasure of mine. My husband and I like beautiful underwear."
Corina J Poore marvels at an enchanting documentary about the...
Discover the Latin history of Hollywood, as we turn the spotlight on...