North Brazil meets South London
Having collaborated with titans of Brazilian music such as Nana Vasconcelos, Gilberto Gil, Daniela Mercury, Carlinhos Brown and Hermeto Pascoal, as well as jazz legends Stanley Jordan and Joshua Redman, Letieres Leite, one of Brazil's leading musicians and proponents of Afro-Bahian music, has been spreading his love to South London for a week, via school workshops and performances. We caught up with him to find out about this amazing collaboration between Deptford and Bahia.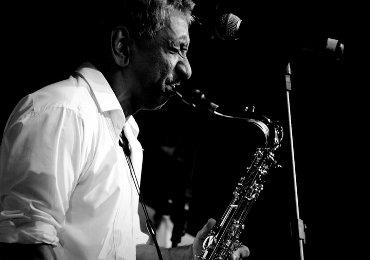 Born and educacted in Bahia, Northern Brazil, Letieres moved to Europe in 1986, playing with various musicians at festivals across the continent, including Gil Goldstein, and Paulo Moura in 1992 at the Montreux Jazz Festival.
However, unlike many musicians who find success abroad, in 1994 Letieres returned to Salvador and opened the Letieres Leite Studio for rehearsal and recording in the historic Pelourinho neighborhood. He then opened the Academia de Musica da Bahia (Bahia Music Academy) in Salvador and Centro de Formação em Artes (School for the Music of Bahia at the Center for Arts Education).
"It was always my dream to establish a school and share Afro Bahian music with the local community. In Cuba, I was told that children study Jazz music and black music in school up to aged 16," says Letieres. Indeed black music is one of the islands biggest exports. "I wanted children to be able to learn about their roots here in Brazil. I want children from all backgrounds and social groups to come together and have opportunities through music. My school aims to establish a system to share traditions and create respect within the community, using music as the tool for this.
Young talented musicians in Leite's schools from 13 to 23 years old, learn music theory with a unique curriculum based upon the "Universo Percussivo Baiano" (Bahia Percussion Universe), the traditions of afro-bahia music with unique methods.
As Letieres explains: "Universo encompasses all types of music and rhythms from Bahia. This is not just music in the street, capoeira or samba, but also candomble and religious elements. I wanted to better organize and celebrate Afro Brazilian music."
So how did Leitieres end up in South London this week?
Wozzy Brewester of the Deptford based Midi Music Company happened to be in Bahia and meet the Brazilian maestro. "Apart from the fact that Leitieres is an amazing composer and musician it was very interesting for us to also look at how he gave time to develop new young talent. Here we provide a space for children and young people to be inspired and get into music and the creative industries through programmes such as affordable music classes for children and career development for emerging artists. So having Leitiers here doing masterclasses is about inspiring and coaching young people to open their eyes to what other music is out there. Sadly for the British public we generally only associate Brazil with samba. It is so refreshing to see a new take on Brazilian music here in the UK."
Alongside all this ofcourse, Letieres has been busy as a musician. Created in 2006, the Orkestra (with a K, as in the original Greek word), creates music rooted in the musical history of the big percussion groups or "Bloco Afros" such as Ilê Aiyê and Olodum, as well as in the sambas of the Bahian recôncavo and the sacred ceremonies of Afro-Brazilian religion of Candomblé. Their self-titled album received the 2010 Brazilian Music Award as Best Debut of the Year. His latest Quintet mixes jazz with traditional Brazilian rhythms and percussive styles.
LatinoLife: Tell us about the Quintet, what does it have that is different, unique from other jazz quintets?
Letieres Leite: I studied music here in Europe and what I realized was that no matter the size or scale of your ambitions, it is what's inside you as a composer and a musician that counts. Few musicians are able to translate and transmit their feelings and emotions through instruments. I wanted to create a more 'intimate' group – this being the quintet. It retains the same essence and all the important aspects of Brazilian music, but with a more intimate feel.
LL: How do you think that music and percussion are approached differently in Brazil and in the UK? How do people and especially children react to your teaching here in the UK?
Letieres: The reality is that there are different ideas and concepts of how music is studied and appreciated here in Europe. The obvious difference being the Afro Brazilian 'oralidade', the oral traditions, our techniques are different. It is impossible to share, play and write music without appreciating the variety of music available both here in the UK and in Brazil. Children love the Afro Bahian music and enjoy the exchange and rhythms that we use. Our dream in Brazil would be that our music is loved and appreciated worldwide.
And Wozzy's dream is to extend this amazing exchange into musical collaborations and trips across the Atlantic…
"We also have a percussion group United Vibrations, who 'Our future plans involve United Vibrations, who are based here at the Midi Music Company. We are excited about plans for new collaborations with Leite and hopefully Brazil is on the cards for the future.'
For more info about what's on this week: www.themidimusiccompany.co.uk
Corina Poore talks to Gustavo Salmerón, who made a unique film about...
This month's dancefloor hits by award winning Cuban DJ, Javier...