Clash of the Literary Titans? (and THAT black eye)
Candela explores the beef between Gabriel García Márquez and Mario Vargas Llosa that has long been the intrigue of the literary world. Now that the Peruvian has won the Nobel Prize for Literature, is it time for Latin America's literary greats to show some cultural unity, or is art just not the place for that?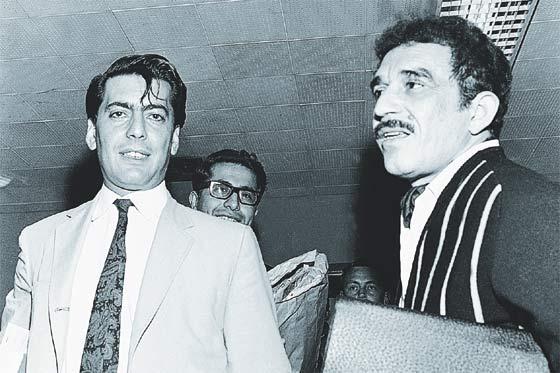 'Cuentas iguales.' So tweeted Gabriel García Márquez on the evening of October 7th last year, the day once-close friend and now literary rival Mario Vargas Llosa received the Nobel Prize for Literature, 28 years after the former received the accolade himself.
'ElGabo', García Márquez's supposed Twitter moniker, has since been exposed as a hoax, but the resurgent implications of the two authors' feud has prompted many to explore why their relationship went down the pan so spectacularly, given their previous intimacy. In 1971, Vargas Llosa even went so far as to publish García Márquez: historia de un deicidio, a doctoral thesis for his studies at the Complutense University in Madrid. So where did it all go so wrong?
Once allies pertaining to the oft-forgotten circle of seminal contemporary Latin American 'Boom' writers, the rift between the two is said to have begun in the Palacio de Bellas Artes in Mexico City in 1976. García Márquez received a black eye from rival Vargas Llosa, surprising literary behaviour perhaps, although the reason for the scuffle is unclear. A photo of the resulting injury was published in 2007, rekindling public interest in the feud. Two schools of thought seem to prevail, relating to the political and personal realms.
With respect to the former, a divergence of opinion in political views is said to have driven a wedge between the two writers. García Márquez continues to hold the left-wing slant of his youth, whereas Vargas Llosa has in effect defected, since standing, unsuccessfully, for the presidency of his native Peru in 1990 as a candidate for the centre-right coalition FREDEMO (Frente Democrático).
Interestingly, although he has stated he will not run again, Vlargas Llosa has declared his worry that conservative Keiko Fujimori, daughter of former president Alberto Fujimori who was jailed in 2009 for corruption and ordering unlawful massacres against insurgents during the 1990s, will take up the reigns of his country after this year's presidential elections. Perhaps this apparent about-turn in ideology may aid Vargas Llosa's reconciliation with his Colombian rival.
Perhaps a more popular, and indeed intriguing, version of events suggests that the pair were fighting over a woman. The story goes that Vargs Llosa landed a right hook on García Márquez's left eye, rasping 'that's for what you did to Patricia.' The Patricia in question is Vargas Llosa's second wife, whom he married in 1965, and with whom it is insinuated García Márquez was having an affair during the Vargas Llosas' brief period of separation after an alleged infidelity by the Peruvian.
A further conspiracy theory centres on the respective successes of both authors. While Vargas Llosa is world-renowned for the humorous prose contained within novels such as La casa verde and the semi-autobiographical La Tía Julia y el Escribidor, where he plays with the interweaving of dialogues and narrative time, it is García Márquez who has really been accepted onto the international literary stage, for such works as El Coronel no Tiene Quien le Escriba andCrónica de una Muerte Anunciada. And of course, no commentator on García Márquez can forget to mention the phenomenal success and critical acclaim of his magic realist tome, Cien Años de Soledad, which is arguably the work which elevated the Colombian to a level of fame of which, previously, Vargas Llosa could only dream.
Until 2010. Vargas Llosa's 'cartography of structures of power and his trenchant images of the individual's resistance, revolt, and defeat,' successfully persuaded the awarding committee of the Nobel Prize for Literature to reward Vargas Llosa's persistence, as they had done with García Márquez 28 years earlier. This created a frenzy around the launch of the Peruvian's new title, El sueño del celta, in the same year.
It remains to be seen whether or not these two literary titans can bury the hatchet and stand together once more as Latin American literary allies. As García Márquez himself remarked upon becoming a Nobel laureate, 'I have the impression that in giving me the prize they have taken into account the literature of the sub-continent and have awarded me as a way of awarding all of this literature.' Perhaps now would be a fitting time to reconcile.
Cuba's natural setting, with its own historical and cultural...
From garage parties in Panamå to the awards ceremonies of Miami, how...