Day of the Flowers (2013) Dir. John Roberts Starring Carlos Acosta
Our very own Cuba aficionado Kerry Ribchester, went to the Day of the Flowers premier to see if all the fuss about the new Latin-infused chic flick, starring Cuba's very own global ballet icon Carlos Acosta, was all it promised. With a one to one with the man himself, the Cuban Ambassador, and the director, it seems she was not disappointed....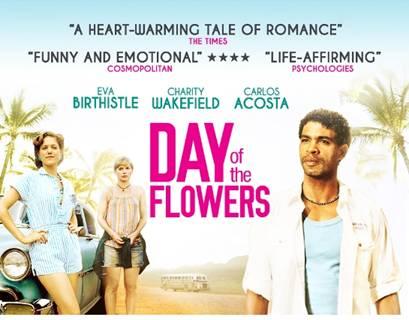 "I'm in love with Carlos Acosta! I couldn't help it, I just told my husband and he has stomped out of the cinema in a huff, " confesses a stunning mature blond. The buzz and breathless conversations in the ladies loo, minutes after the premiere of the new Cuban film 'Day of the Flowers' were too juicy to pass up:
"I mean who wouldn't want to be rescued in Havana by Carlos Acosta?"
'Yes, he smoulders on screen ' answered an elegantly dressed brunette.
"So you liked the film ladies?" I asked, as I washed my hands '
Yessss! ' was the encore.
The giggles, laughter and smiles said it all. Day of the Flowers, starring Cuba's very own global ballet icon Carlos Acosta, is a fabulously moving, engaging roller-coaster ride bound to spice up your winter. A heart warming, feel good chick flick with a Cuban 'vacuna' (injection).
The story follows two feisty Scottish sisters (played beautifully by Eva Birthistle and Charity Wakefield) as they steal their father's ashes at his Glasgow funeral and embark on an all encompassing adventure to Cuba to scatter his remains with their mother. They encounter bad boy street jinetero (Christopher Simpson) at the airport, and part-time tour guide (Carlos Acosta ) on the way to Trinidad. As the plot thickens, the true identity of their father is thrown into question, and a moving love story unfolds. There is also a well drawn, changing relationship between the two sisters from hostility, to grudging love and finally acceptance. The comic one liners and timing of both actresses had the whole cinema in uproar and the twists and turns of the plot pull your heart strings into a million directions.
Before the film screening, director John Roberts told me how, after its premiere in Miami, someone shouted out 'Communist propaganda!' but was booed and that the film enjoyed great success in both Miami and Havana. Indeed, part of its charm is due to how script writer Eirene Houston managed to infuse the dialogue with all the wit, resilience, charisma and sensuality of the Cuban people. Neither is there an obvious political agenda, even though the film does not avoid politics. The good, bad and ugly side of Cuba - it's all there with no excuses: the leftleaning activist (Eva Birthistles' character) that wants to see romantic communism is given a harsh wake-up call in the true economic reality of life in the countryside.
It's been fifty years since a British film has been made in Cuba and The Cuban Ambassador, Esther G Armenteros told me she hopes this film will now encourage and inspire more films to be made in Cuba. One of the highlights is the Salsa scene, featuring 'Salon Roja' the 1950s glamorous ex-Mafia club, packed with tourists where Carlos literally sweeps Eva off her feet: a dizzying experience of flustered turns no doubt familiar to the island's many visiting Western females. I'm laughing just thinking about it. The other club scene with top Cuban Reggaeton star Chacal was also completely authentic and raw, far from the typical Hollywood dance scene where everyone is pretending to dance in an awkward way. This downtown club in Havana was kicking for real.
Your eyes rest lovingly on the bustling back streets of Old Havana, the stunning countryside and the majestic coastline of Cienfuegos and Trinidad. Cuba shines like a jewel thoughout the film.There is a lovable Scottish rogue played by Bryan Dick and the two female leads pack lots of punches along the way with a superb team of Cuban actors ( sassy casting by Celestia Fox).The film isn't without some issues; the pace could have been faster in places, however the editing by David Freeman is superb.
The film also brings to light the sheer depth of Acosta's talent and shows the extent to which he has matured. He is at ease on the screen. The moment you see him, it hits you like a bolt of lightning. He has that profound piercing expression in his eyes and a completely congruent physical presence, posture and grace. Years of being the world's most accomplished ballet dancer has given him a performance edge that translates onto the screen in a surprisingly powerful and effortless way.
Despite this, when I spoke to Carlos he was modest about his performance.
"I'm very happy with the film, but of course seeing it now I think I could have done better. In one way it was easy because the role was pretty much written for me. On the other hand, film acting is a whole new experience. I'm used to acting on stage when you are performing a sequence. In a film things are shot non sequentially, so I had to learn to maintain the emotional intensity and keep drawing on it when we were working on different scenes. But this is the art of a film actor, and I worked hard at the attempt."
I asked him, how he felt the film represented Cuba...
"No one story can represent a whole country," says Carlos.
In my view Day of the Flowers is a pretty good start...
Day of the Flowers is in Cinemas from November 29th.
For screening information go to www.dayoftheflowers.com
Kerry Ribchester.
Director of Key2Cuba.ltd
Lukas award winner for best holiday company & best Video 2011.
Corina Poore talks to Gustavo Salmerón, who made a unique film about...
This month's dancefloor hits by award winning Cuban DJ, Javier...