Music, Baseball and Cacao
It's not only Rio Ferdinand who sees himself as the next Simon Cowell, baseball legend Bobby Abreu has put his weight into promoting Venezuelan music worldwide, with a marketing strategy only fitting for a baseball star.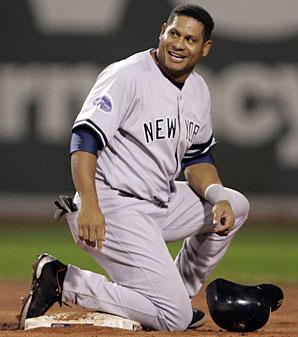 Omar Jeanton certainly knows his onions. As a drummer who has worked in the Venezuelan music scene for decades, producer, broadcaster and owner of three radio stations, he also knew where to look for a partner who would join him in a quest to put Venezuelan music on the map.
A baseball player. A legend in the Venezuelan sports world. A celebrity both inside and out of the United States. A door opener. It was Bobby Abreu, a Major League outfielder for Los Angeles Angels and Gold Glove Award winner, that Jeanton singled out.
Then, in 2005 the fun started. The label Cacao Music was born and a journey of two proud Venezuelans began.
What is new about Cacao Music is not the collection of first class musicians, but the team that promotes and backs them. A great many of these musicians had been working in Venezuela and in Latin America for years. They were the best of the best, and yet little known outside the country.
Connoisseurs regard Venezuela as a haven of musical styles, and Cacao Music wanted to bring this talent and diversity to the fore. Their catalogue features drummers such as Horacio aka 'El Negro' Hernández, musicians like Alfred Naranjo, folk singers such as Vidal Colmenares from Venezuela's plains, an alternative pop band called Santos Viejos (Old Saints), New York City-based Venezuelan guitarist Aquiles Báez; Paris-based Latin percussionist Orlando Poleo; the sensual voice of the vocalist Luz Marina, the Caracas Clarinet Quartet and last but not least, a jazz trio led by the Miami-based Puerto Rican pianist José Negroni. That is, heterogeneity at its highest, just typical of Venezuela.
But how a baseball player fits into all this is still a mystery, or perhaps the touch of a marketing genius. "To everyone's surprise, including his, Bobby has had an important involvement with the label," says Andrés Jeanton, spokeman of Cacao Music He has done everything from touring with musicians in Europe to advocating the label in various ways both in Venezuela and the United States".
"We do a lot of expos and activities that are not related directly with music, in universities, and theatres. This past weekend in Venezuela we attended the Expo Choco Venezuela where we had a music stand. In other words, we use a lot of non-traditional marketing strategies to get to the customers".
Andrés Jeanton points out that while the aim has been to promote Venezuelan talent that has been excluded from the world music scene. "We have also taken the initiative of bringing to the Cacao Family musicians from outside Venezuela, like Negroni's Trio from Puerto Rico as well as Venezuelan musicians that already recognized worldwide. This has helped the profile of Cacao and simultaneously these musicians. This reciprocity is what we are all about. Working together, joining forces to spread good music internationally".
Ready to take over Latin America they have already started to introduce their products in Colombia and Brazil with the hope of entering by 2010 markets such as Argentina, Chile, Peru and Uruguay. 
 
Being the son of one of the founders has put Andrés Jeanton in a privileged position: "I have been fortunate because I have been able to experience other cultures and meet a whole variety of people from different backgrounds and cultures. In my 12 years living in the US I had experiences such as my Korean friends loving my salsa music, or a Moroccan friend wanting to listen to my Venezuelan folk CDs, and so on. So, in other words, sometimes it is a matter of not underestimating or dismissing people and educating them about music and all the different genres out there. Not to mention the fact that globalisation is having a significant impact in music".
Hoping he's not going to take this the wrong way I ask, how are you going to convince your average Joe to buy Venezuelan music when they've never heard of it?
"Well, how about this…." Jeanton answers. "I was in Toronto last year during the last yearly event of the IAJE (International Association of Jazz Education) and a lady came up to me and said…. 'I want this CD' she pointed at a Latin Pop/Rock band from Venezuela called Santos Viejos. Then I asked her… 'Do you know what type of music this is?' then she replied "No…but it's ok….I just love the packaging!."
Our CDs are remarkably done; they come with a 75 page + booklets with info, pictures, bio's etc. etc. of the artist and more. So our products are not only musically well done (in their respective genres) but are collectable items. We know that even during this digital era, our products will still last a bit further down the line because of this reason.
I haven't answered your question directly…but what I mean is that any product you buy from Cacao will be justified by its overall quality".


In his film X500 (2016) Colombian-Canadian director Juan Andrés...
There is still a commonly held view that 'Day of the Dead' is Mexico'...