Area 23, Hip Hop and Venezuela's Cultural Revolution
Jorney Madriz or 'Master' as he is commonly known, is a rapper with hip hop group 'Area 23', based in '23 de enero', one of the most militant low-income barrios, that encircle the country's capital Caracas.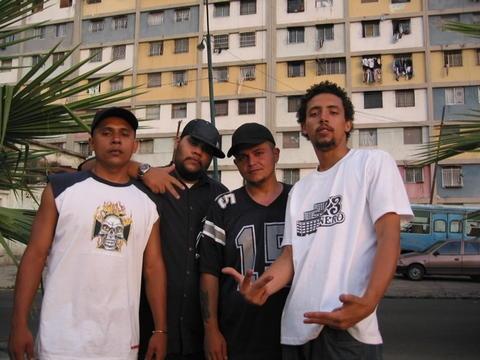 Like most of the other barrios in the Caracas, '23 de enero' is a bedrock of support for Hugo Chavez government, in power since February 1999.
In a country where it is impossible to escape the polarised political situation, music is no exception. 'Area 23' are one of a number of hip hop groups in Venezuela that have aligned themselves in support of the controversial radical process of change underway in the country under the Chavez presidency.
And the band's fusion of socially conscious hip hop with styles such as salsa and reggae have created a musical hybrid that seems to be growing in popularity. Word of the band has even reached Chavez himself. In July 2008 Master and the rest of Area 23 were invited to perform on 'Alo President', the weekly TV show hosted by Chavez,
After rapping about the April 2002 coup against Chavez and the way it had been overturned after government supporters poured onto the streets to demand the president's return, they performed an impromptu freestyle that rallied against corruption and bureaucracy amongst state officials and institutions.
With Chavez in close proximity, occasionally fist-bumping the rappers as they perform, it is a truly memorable TV moment.
"When Chavez won the election I was 15 years old, and honestly I didn't care that Chavez had won." Master told me. "Why? Because Venezuelan youth, myself included, lived in a total political apathy." he explained. "Our group, 'Area 23' and myself, demonstrate how young people have become interested in investigating and learning about our history, and learning to use the weapons that politics offers us, and how powerful this can be if we use culture to expand these ideas."
Along with a friend, Gustavo Borges, Master also coordinates a cultural collective called 'Hip Hop Revolucion' which organises a yearly political hip hop festival in Caracas featuring groups from all over the world, especially from Latin America.
And all this wasn't enough, Master also works as a producer at Avila TV, a government funded station aimed at young people. Avila TV also has a film school, that Master attended, which gives free year-long film courses to young people with low-incomes, who get to show their work on the channel.
"Culture is a train in which ideologies travel, through which our history is disseminated, and our protests are transmitted, and, as such, it should be taken into account. I think that, for too long, marketing and big business has converted culture into something trivial."
Rapper, festival organiser, TV producer, grassroots activist…..there seems to be no end to Master's creative output. And whatever one thinks of the government he so passionately supports, the eloquence and enthusiasm is contagious.
Pablo Navarrete is the director of the feature-length documentary ' Inside the Revolution: a Journey into the Heart of Venezuela', out now. For more information visitwww.alborada.net or email info@alborada.net
Watch the film's trailer here:
Embed trailer (link: http://www.youtube.com/watch?v=6alYwkZ4z9k&feature=channel_page
In his film X500 (2016) Colombian-Canadian director Juan Andrés...
There is still a commonly held view that 'Day of the Dead' is Mexico'...