...Anderson, lead singer of Afro-Reggae
Anderson, 29, was born and raised in Vigário Geral, one of Rio de Janeiro's most violent favelas. His mum is a dinner lady and his dad, a tax-driver. Anderson's first jobs involved doing small favours for criminals like wrapping up drugs and burying guns. In August 1993, the Rio police marched into the favela and gunned down 21 innocent residents. Anderson's uncle was one of them. The massacre made him think about violence and how it could be fought. In comes José Junior, director of Afro Reggae, who brought percussion and Capoeira workshops to the favela. Anderson joined the workshops, learnt to play base guitar and eventually became the lead vocalist of AfroReggae.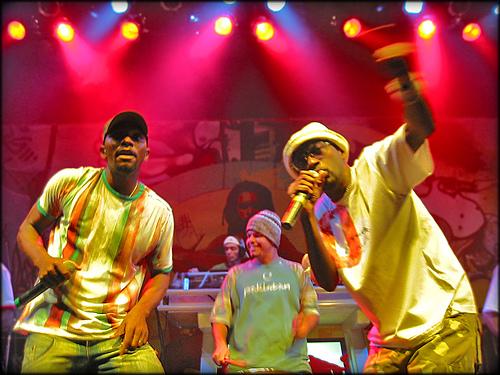 When people ask me what I do for a living...I say that I develop a social and artistic project which aims to transform the difficult reality of many Brazilians.
My first moment of political consciousness was...when I was about 15 and I started to notice things in the neighbourhood and ask questions like why my street wasn't paved, why the police only came to our community to commit barbarities, and why my friends didn't have much to eat. These things made me want to rebel. I wanted to become a drug trafficker, to start a revolution, and use the money made from that to bring improvements to the community.
Bob Marley, his music and ideology has been my biggest inspiration.
The most influential figure in shaping my world view...José Junior, the founder of AfroReggae and today it's Director
All the great black Brazilian leaders... have been virtually omitted from Brazilian history. People like Zumbi dos Palmares and Benjamim de Oliveira should be mentioned in school text books.
All those that hurt their nations...are the ones who make the history books.
What makes me most angry...is the lack of social investment in the poor communities and the growing number of young people getting involved in criminal activities and drugs.
What gives me most hope is my work and the work of other groups like ours around the world. We show that it is possible to create change, we need to unite in order to change the bigger picture.
My favourite word…Faith
The word I most dislike…Hunger
My favourite question…How are you?
The answer I most dislike…Anything containing bad news
I believe in…everything until proven otherwise
I am sickened by…Poverty, people going hungry, not having a place to live, seeing the lack of opportunities for people.