The Legend Becomes The Teacher
Antonio Canales is considered one of the greatest Spanish Flamenco Dancers of all time. Once one of the world's biggest Flamenco celebrities, he now dedicates his time to choreography and teaching. Having given a week of workshops in London, on Sunday Canales performs at a charity gala in Central London in aid of ANDA, the National Spanish Disabled Children's Association. Here London's flamenco students ask him about his life, career and dancing.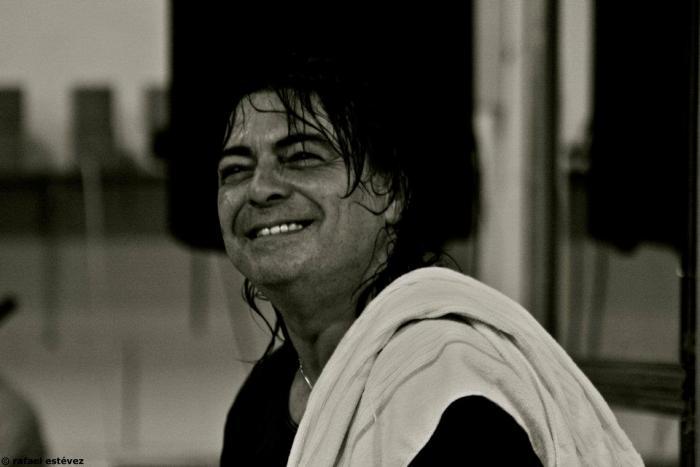 Born in 1961 in Seville Antonio Canales came from a family of artists, and began his studies at The National Ballet of Spain. He pursued Flamenco by joined the Maguy Marin company and from an early age appeared on TV showbills with worldwide stars such as Rudolf.Nureyev or Maya Plisetskaya, turning him into international dance celebrity. He has since travelled and performed all over the world, recently Venezuela, presenting his personal version of "The House of Bernarda Alba", the timeless play written by Federico Garcia Lorca. In the last few years, Antonio Canales has worked in Guanajuato, Mexico participating in events related to the bicentenary of Mexico's independence. Aside from his somewhat stormy personal life, Antonio Canales' almost unlimited creativity and versatility has helped make him an emblematic figure in the history of Spanish dance and flamenco.
Ratna: What keeps his interest going after so many years of dancing flamenco?
Antonio Canales: Above all my self fulfilment which is a lot more about choreographing and teaching at this moment and the enthusiasism of being closer to the new tendencies of the current flamenco scene.
Has flamenco always been the number one thing in your life?
Yes, almost in the whole of my life. Whenever I have put something before flamenco in my life it didn't work out well in the end…
Mary: How long is the longest break you have had away from flamenco dancing?
AC: Three very long and anguished years 

Ratna: Do you feel that Famenco is in your blood or that dance becomes part of you when you are "in the flow"
AC: Ha ha ha ha …. Well, in part I feel like I am in perpetual movement. That is my sweet sentence But I am always learning which is something we never must never stop doing.
Abby: Where is the best or most memorable place you have ever performed?
AC: In Madrid in the Vaguada Theatre in the premier of "Torero 1992" where Antonio el Bailarin performed for the very last time.
Mary: DO you have any preference for certain stages, say the big stages abroad or more cozy ones, maybe in Spain (Mary)
AC: Every venue has its magic… It is up to the performer to transform the stage into whatever he or she wants it to be
Mary: What sort of other music do you listen to for personal pleasure and who are your favourite flamenco singers/musicians?
AC: Opera, Salsa…Soul…Mánele…amongst other things…
and favourite are Camarón and Paco de Lucía. They are two genius.

Rita: Flamenco has developed radically since its inception - have we arrived at a crossroads where Flamenco will need to trace back its roots in order to survive?
AC: Flamenco is a living breath always beating… Of course in order to progress one has to always look at its beginnings but we need to progress without fear
Vivienne: Do you feel that the emphasis on fast and showy footwork in some modern shows means that "heart" of flamenco is being lost.
AC: The art of Flamenco is not a competition or a circus. Everything must be at the service of the soul… It doesn't matter whether it is fast or slow what matters is that it is done from the heart
Vivienne: For a flamenco student, what's the best way of improving?
AC: Doing atleast three classes a week, that keeps you fit which is important and putting your five senses in it, which allows you to progress flowing into this marvellous universe that flamenco is
Vivienne" Is it difficult to work with your son that is also your manager? How is that relationship?
AC: Two sides of the same coin: on one side it is excellent because we perfectly understand each other. Since he is in charge of my career everything runs smoothly. Some other times my role of father is flares up and I have to remind to myself that apart from being my son is my manager
Abby: How do you stay so happy? It was a pleasure just to be in his joyful presence!
AC: I think it is the dance in general, it is a way of supreme happiness and I love conveying it to others…


Abby: What is it with men and their wet hair! Is it just water?
Nooooo, it isn't, it is a mix of sweat and water…ofcourse it's also sensuality and heat that creates that effect (smiling)
Antonio Canales will perform at a charity gala on Sunday 7th February. For tickets www.ilusionflamenca.com call 07931 341 754
Corina Poore talks to Gustavo Salmerón, who made a unique film about...
This month's dancefloor hits by award winning Cuban DJ, Javier...