LATIN FLAVA – The bloom and burst of London's Latin and Hispanic cuisine
From Peruvian and Mexican haute cuisine to Colombian and Venezuelan street food, via the meaty Argentine parillas and Brazilian rodizios, London is the latest city to be hit by the global craze in Latin cuisine. Spanish TV Star and El Pais Columnist Boris Izaguirre embarks on a gastronomic tour of London's blossoming Latin restaurants.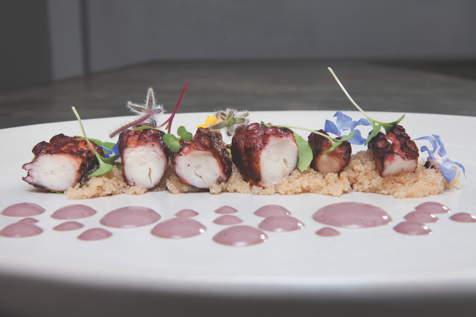 It is said that London is the most culturally integrated capital city in the world, with hundreds of communities from different parts of the globe living side by side; Indians, Pakistanis, French, Italians, Arabs, Indonesians, Vietnamese, Japanese and Chinese, to name but a few, all contributing their fantastically diverse cuisines. As the relative newcomer to the city's gastronomic mapamundi, Latin American cuisine has become the latest craze, tickling Londoners' insatiable quest for new sensations.
As a long time observer in this city, and now part resident, I was intrigued to find how the Latin American restaurant entrepreneur would fare against London's notorious discernment, not only in terms of flavour and presentation of food, but atmosphere and 'vibe', which we know is just as important to Londoners' as the food, if not more. I couldn't resist an invitation from my guide Jose Luis, now resident in London for 15 year, to explore London's flourishing Latin American gastronomic scene.
THE MAGICAL FLAVOURS OF MEXICO
First off was Mestizo, a magnificent adventure aimed at rescuing Mexican food from the garish festival of carbohydrates and cheesiness that Tex-Mex has dragged it into. Mestizo is the creation of Marysol Sanchez, who first opened a branch in Madrid and then moved to London where she "wanted to expose London to the quality and excellence of a cuisine which, together with Peruvian, has received UNESCO's Cultural Heritage Award."
Perched stylishly on the corner of Hampstead Road, all window, like an Aztec fish bowl, Mestizo is above all an explosion of rich colours and flavours. One of Mestizo's signature dishes is the too often elusive dish outside Mexico, pollo en mole. It's layers of complex ingredients, including Cacao and chilli, produce a unique sauce, transforming a so-often-bland chicken dish, into the most delicious and multi-flavoured thing I have ever tasted. Jose Luis' chose the potent, feisty cajeta, a rich stew made with pork, beef and chicken and "the most spectacular spicy chorizo," which he placed very slowly on a thin recently baked maize tortilla. "You have to eat it slowly, " Jose said. "Since the more you eat the more you want."
FORGET GAUCHO CHIC
Our next stop was La Patagonia, an Argentine restaurant in Camden Town, a hot bed of Spanish tourists (one day I'll make a study of why Spaniards like this mecca of alternative consumerism so much). Camden High Street is a virtual motorway of shops, where dry cleaners and computer stores happily rub shoulders restaurants from all over the world; you can go from Vietnam to Venezuela passing by San Moritz, and end up, as we did, in Patagonia.
La Patagonia is the brainchild of Noah Mirelman, grandson of Liborio Justo the important Argentine philosopher, poet and photographer and Coco, La Patagonia's magnificent parillero. Their aim was to create an unpretentious venue "as if we were on an estancia enjoying a barbecue, hanging out with family and friends" and to impart his passion for "the lifestyle, culture, music, and that indelible stamp Argentines put on everything." The result, rustic more than glamorous, could not be better, especially if you order beef, chicken or spinach empanadas (with cumin and raisins to add that touch of sweetness), followed by the feast of Coco's extraordinary steaks.
Coco is a master of the asado de tira, marbled beef ribs cut across the rib cage as per gaucho tradition. It is truly an exquisite dish, accompanied perhaps by homemade chorizo and black pudding, salad of avocado and palm hearts, and of course by chimichurri, all washed down with a typical Argentine Malbec. Most importantly, Noah and Coco are always on hand to talk about the full array of favoured Argentine topics: cuts of meat, football and politics (British, European or Latin American). This, know doubt one of London's tastiest carnivore experiences, evokes the gritty sun-burnt Gaucho sipping his Mate in the Pampa sun, altogether a more sensual experience than city boys gloating and bloating amidst Gaucho chic.
THE WORLD'S COOLEST AREPERA
The following day, with barely any room left in our stomachs, Jose Luis organized a visit to Arepa&Co, one of quirkiest Arepa Joints I've ever seen. In Venezuela an Arepera is your street corner sandwich bar, only with corn patties instead of bread. In London it is a trendy novelty – set in the ultra cool district of Haggeston, East London. Yes cool, let me say it again cooo-oool, for its not an adjective I ever thought I would to attach to the areperas of my native Venezuela.
Meeting Arepa and Co's patriotic owner, Augusto Salguero, and its back to the Arepa I know. "Arepas are at the heart of Venezuelan cooking," explains the former engineer proudly, refuting of course any suggestion that Arepas could be from anywhere else, as a Colombian might argue. "The arepa is ours," Salguero affirms without humour (the Chileans and Peruvians have the same argument over Pisco Sours by the way). And all over a ball of baked pre-cooked maize flour.
"In the 1950s, when Venezuela was awash with petrodollars, they used to stuff them with caviar," boasts Alguero. Petrodollars notwithstanding, many nostalgic Venezuelans ask for his classic "Reina Pepeada", a mixture of chicken salad with chunks of avocado, named after the first Miss Venezuela to become Miss World. And, just to confirm Venezuelans obsession with the subject, Augusto offers another arepa actually "Miss Venezuela" filled with ricotta, lettuce and tomato, suitable for a Miss World's diet.
Alongside arepas, Augusto also offers an array of Criollo dishes - the mixture of Arab, Asian and neighbouring Caribbean influences in Venezuelan cooking: Asado Negro, a piece of melt in your mouth beef and patacones, deep fried plantain with a variety of toppings. Tequeños are finger pastries filled with soft white cheese or melted chocolate, to create an exquisite desert. But best of all is the fantastic Pabellón - shredded beef, rice, black beans and fried plantain. As a fellow Venezuelan, I confess I couldn't get enough. The coolest arepera ever.
NOW FOR THE SERIOUS STUFF
Lima, Europe's first ever Peruvian restaurant to earn a Michelin star, has come to symbolize the Latin American gastronomic boom in the UK capital. And rightly so: the food is quite simply magnificent. The ceviche has exactly the right balance, a kick of chilli that doesn't overpower the exquisitely delicate, milky smooth leche de tigre, which envelopes the fish.
"While experimenting, we invented a vegetarian ceviche with quinoa and artichokes," said Gabriel Gonzalo, one of the Venezuelan brothers who owns it. It is a perfect dish for querk-seeking Londoners, as quinoa is the trendiest cereal at the moment, and because artichokes work perfectly with the rest of the addictive sweet/sour/spicy flavours we associate with Peruvian cooking.
Our ceviche starter was followed by an extraordinary main course, a Lima speciality: divinely cooked salmon, red, soft and full of antioxidants and by the Seco de Cordero, a piece lamb cooked in its own juices, marvellously tailored and presented. "It's called Seco because it is meat in its purest form. Without sauce or gravy, the meat is dry yet when you bite it all its juices and flavours flow out," added Gabriel.
BACK TO THE MOTHERSHIP
A Latino gastronomic journey could not end without a visit to Tapas Revolution, the small empire, or rather the first stone of what will be a vast empire of Spanish cuisine, being built by Omar Allibhoy, a young Madrileño with roots in Burgos and India, who was inevitably going to find his true home in multicultural London.
Tapas Revolution is a bar with a wide counter crowded with people enjoying delicacies often not appreciated in Spain because they are traditional and commonplace but, but the taste, technique and preparation take on greater significance (both as nostalgia and novelty) when Spaniards go abroad.
"I've clear memories of being in the kitchen with my mother at about two or three years old, of helping her cook," explains Allibhoy, charming and generous, standing in front of his counter enjoying every second of his success. "My whole childhood and adolescence was cooking. If my friends came to my house, I cooked. If we invited people to dinner, I cooked. It was my life, my obsession." His precocious talents took him to El Bulli, "but I have to admit I was more fascinated by Arguignano, the TV chef."
Tapas Revolution is the project of a man on a mission to bring Spanish cooking to the British mainstream. "The real revolution was discovering that English people love unfamiliar things. They love being surprised. But the high point was when the managers of the Westfield Shopping Centre (Europe's biggest) contacted me and suggested I make easy to eat quality food suitable for the venue. It was an incredible challenge," he tells us as he enjoys a delicious Moorish kebab.
And so we end our tour with a story of the Spanish immigrant's dream. In only eight years, Allibhoy has published several recipe books and become a TV personality, baptised the "Antonio Banderas of the Kitchen."
For myself, the ever in-between, it's back to Madrid, wanting to continue my journey into London's Latino gastronomy. There are more marvellous Spanish restaurants, incredible Brazilian rodicios, Colombian home cooking and even a vegetarian venue run by former carnivores from Uruguay that have my mouth watering already. Everything is possible in this magnificent, dynamic city where its clear that Latino food is clear to stay.
Boris Izaguirre visited:
Mestizo,103 Hampstead Road NW1 3EL London
La Patagonia 31 Camden High Street, NW1 7JE)
Arepa&Co 58a De Beauvoir Cresent, Haggerston, London N1 5SB
Lima, 31 Rathbone Place WIT 1JH)
Tapas Revolution, Upper Mall, Bluewater, Greenhithe, Kent DA9 9ST
All restaurants are nominated for The LUKAS. Omar Allibhoy is nominations for The Personality of the Year Award.
Boris Izaguirre will be back in London to host The Latin-UK Awards at KOKO 30th April. Nominate or vote for your favourite Latin American, Spanish or Portuguese Restaurant at www.thelukas.co.uk
Corina Poore talks to Gustavo Salmerón, who made a unique film about...
Eddy Vents has been surrounded by Lusophone music from the early...