What Happens When London Gospel goes Latin
The London Community Gospel Choir is a musical force to be reckoned with. With a career spanning over 30 years, and led by the dynamic and charismatic Bazil Meade, LCGC is known for its funky gospel flair, swing-beat, R'n'B, traditional and soulful arrangements, with invigorating choreography and vocal gymnastics. After a hugely succesfull experiment with the Barcelona BIg Band in 2012, the gospel group brings its Latin repertoire to La Linea festival in April 2014. We interviewed Bazil Meade to find out exactly what happens when London gospel meets Latin.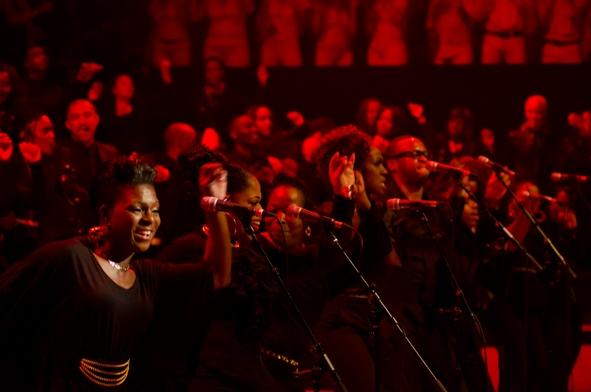 From the Choir's humble beginnings in 1982 as Britain's first concert gospel choir to performing at Wembley for the FA Cup final, The London Community Gospel Choir have grown to be world-wide phenomenon and have performed at Live 8, Glastonbury and on the soundtrack for the Disney smash the Lion King. Bazil Meade, now a veteran in the music industry who arranged the choir vocals on the Blur single 'Tender', has received accolades from all directions, as Time Out recently put it: "Basil Meade's inspirational vocal troupe are guaranteed to give even the most committed atheist goose pimples."
In 2012 LCGC teamed up with musical director/arranger Ramon Escalé and the Barcelona Big Band, for a dynamic, brassy, latin makeover of some of their signature tunes. The result was an explosive, gospel-salsa concert experience in Barcelona that brought the house down! This April, right here in London, thanks to La Linea, the London Latin Music Festival you too can experience LCGC's Gospel Meets Latin for yourself! The Choir will perform with a Latin big band, led by Cuban virtuoso violinist Omar Puente, to inject some Havana heat into their tunes and to bring their vocal power to some Cuban repertoire.
LL: What inspired you to create the choir, how did it come about?
Bazil: Well the choir is based on the back of the exciting enthusiasm and keenness that was in our community at the time, we put gospel music on the map! At the time that music wasn't catered for, it was within the church, you heard other forms of religious music being played or on the radio but gospel was just not. There seemingly weren't any artists wanting to make the music available to the wider public. The choir forming just happened naturally, combined with what was in our hearts and in our church community. Myself and a few other choir directors wanted to have a mass choir to perform a gospel concert so we united our choirs and put the evening on and the choir began from then.
LL: Do you have any other original members?
Bazil: Yes there are four remaining, we're still here.
LL: What sort of age range is in the choir?
Bazil: Well we have just had an influx of youngsters, we did a mass audition of about 50 people and we kept about 17 of them. They are aged from about 18 to 35 and obviously there's a plan in that because we have to keep the group going.
LL: You have undertaken numerous exciting musical projects (Bazil has also worked with Martine Mcucheon, Billie and Mel B amongst others), what musicians inspire you as an artist?
Bazil: My inspiration, Billy Preston, I love organ and gospel music. Aretha Franklin for her gospel vocals… Shirley Caesar… The Winehams, these are the people I spend hours listening to, I didn't have any formal training so I taught myself to play keyboards from listening to the albums.
LL: Do you yourself have a favourite piece of music to perform?
Bazil: That is too difficult! It all depends on the vibe of the group on the day, we never go with a fixed programme, and we go with a skeleton and work from that. What's going to get the audience going? Then we pull things out a hat! It's very organic and that's how we've been for over thirty years. It helps us to work with all different artists; we are very adaptable.
LL: This year you have more Latin music based projects…
Bazil: It's very exciting! We did a show in Barcelona with the Latin Big Band of Barcelona and we sold out both days! Here in London I went to see some Latin music at the Royal Albert Hall and the atmosphere blew me away! The place was packed! The audience knew all the songs and was dancing…. So we hooked up with Omar Puente and the gig is on! The 4th of April at Union Chapel.
LL: What other projects do you have on the go?
Bazil: LCGC work with orchestras too and that is in the fire at the moment, gospel music is fantastic! We are interested in marrying it with other genres. Why should we just stick to one style? Music is amazing! Get in there with a Samba band, Cuban percussion, African drumming… let it happen!
LL: How are you feeling about performing at La Linea this year?
Bazil: Yes, bring it on!
LL: You yourself have travelled extensively through your musical career, do you feel that you have had to change as a performer and musician or do you still have that same fire in your belly?
Bazil: You hit the nail on the head! There's a volcano in there. I just love what I do and the biggest buzz for me is seeing people from different nationalities embracing it. I love presenting to an audience whether I speak their language or not. Language does not restrict us, we communicate through human emotion and feeling. That is so powerful and connects spirit to spirit. I go out there to give my best at all times and when I go off stage I hope that I have helped them feel that connected.
LCGP will perform woth Omar Puente at The Union Chapel on April 4th.
For tickets go to http://www.comono.co.uk/live/london-community-gospel-choir-gospel-meets-...
An Ethnography of the Peace Community of San José de Apartadó,...