Floridita
The ultimate Latin dinner-dancing experience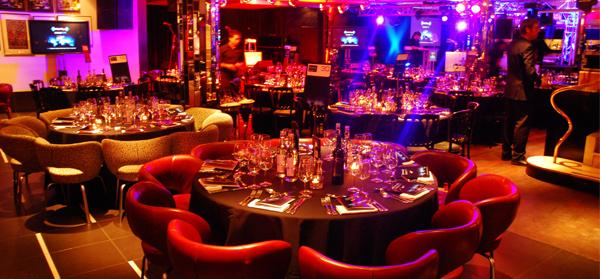 Though Floridita London is a franchise of the original and legendary Hemingway hangout in Havana, on first glance, it has a touch more of Miami to it than the Cuban capital. I don't mean that in a bad way. Having experienced the delights of both - atmospheric crumbling nostalgia vs. art-deco pastel-Pacino decadence – I feel there is definitely a place for chrome, white leather and soft lighting in my life on a drab cold winter's evening.
If its any consolation for Cuban purists, Cuban Miami has a unique sweet style of its own, and when I walked down the large spiral staircase into Floridita's splendid glistening luxury, I almost felt I was walking back into the Cuban Classiness of Miami's Club Mystique; girls dressed up to the nines, with their J-Lo swing, smart men in crisp shirts, that tickling beat of salsa, and the rattle of the cocktail shaker in the background. Call it a little fantastical, but nothing like a bit of fantasy to get you through the English winter.
We were greeted by a highly professional staff and champagne, which is the way I like to start the evening. From the deluxe round white-leather booths, we looked onto the dance floor, and watched a lone couple shuffle rythmically whilst sipping cocktails – one that tasted of champagne lemon sorbet and another like a Manhatten. For starters we ordered the lime marinated tilapia and shrimp Ceviche and the empanadas, both classic Latin American dishes, done well.
If you want a quiet place to talk, this might not be the place. But here, I thought, is a place for breaking that terrible English habit of thinking you always have to talk, and talk, and talk, whilst getting stupifyingly drunk. Sometimes you can just eat, relax, soak up the atmosphere (and Floridita definitely has that), make a comment now and again (maybe about how lucky that old bloke on the dance floor must feel, clutching onto the Diosa half his age)… and get into the mood. The intriguingly mixed Latin and English clientele, provides excellent material for people watching
The best thing is that you don't need to go anywhere for the party, as it gradually gathers speed before your eyes and as your meal progresses. Waiting for our slow cooked pork belly with savoy cabbage, chorizo, sweet potato crisps The Sugar Kings gave their energetic renditions of Cuban and salsa classics while the crowd gathered on the dance floor. The music didn't completely detract from our delicious pork, whose flavour absorbed us for the next ten minutes. On finishing, however, it was nice to look up and see that a full on party had started.
Next door, there was a table of well-dressed men, smart but with swagger, who we were convinced we were Cuban and, feeling at ease in the friendly environment, we invited ourselves to dance with them. Unfortunately, not only were they not Cuban, they didn't have one right foot between them. It must have been that aged Piña Colada served in a huge pineapple, the third of the cocktails being supplied surreptitiously by the outstanding staff, that clouded our judgement. But the gentlemen at least were gentlemen and very much in the laid-back Floridita spirit.
By midnight, so much were we taken over by the dancefloor and Chacon's Cuban rythmns that I am ashamed to say I cannot tell you much about our deserts - the vanilla Cheescake with winter berries and Pear tart with dark chocolate sorbe– that lay abandoned at our table. But then this says something of the Floridita experience itself, which delivers the whole package, and envelopes you in an overall feeling of well-being. Suffice to say, the dinner-dancing thing – great music, great food and great drinks…and a dance floor, ofcourse - rendered me a total convert. An old fashioned affair, it is still popular in the Latin Caribbean, but only too rare in the London capital. I'll go back for those deserts, and another rum-induced dinner-dancing experience, any day.
After a debut La Ciénaga (The Swamp 2001) that shook the world of...
Moqueca is A Classic from Bahia, mixed seafood and fish stew made...