Camilo Menjura on life and LUKAS nominations
Camilo Menjura is certainly a very busy musician! The Bogota born multi-talented player is once again up for a LUKAS nomination, having won in two categories "Musician of the year" and "Community worker of the year"in 2012-2013. When he isn't working on his latest project, the LOLchoir for people who want to sing in Spanish or touring with the Colombian-Afro inspired Cumbe, Camilo has a whole host of projects and plans on the go... Latinolife caught up with him to find out what he was up to.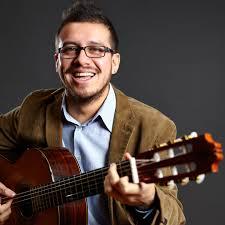 LatinoLife: So Camilo, congratulations once again! How do you feel about making it down to the final few for the LUKAS 2014?
Camilo: Thank you, it's great to realise how much support you get from friends and family, both in Colombia and here in the UK. That's the biggest happiness.
LL: You also won awards in two categories in the 2012-2013 LUKAS - "Musician of the year" and "Community worker of the year" for the London Colombian Choir, what opportunities did this provide you?
Camilo: Well professionally it was great, something 'big' to put on my CV! It opened doors for me, to apply for festivals or for charity work. It didn't change me, or the way that I do things, but it really confirmed the support that I receive both here and in Colombia. Music is my passion!
LL: You are currently directing and running the LOLChoir in London, providing people an opportunity to sing in Spanish and learn Colombian songs. Tell us a bit more about that project?
Camilo: The LolChoir is an idea that I had in mind from many years ago, even before leaving Colombia I always wanted to have my own choir. I really wanted to have a group of British or international people singing songs from Colombia or Latin America. This became a reality when I started offering workshops at festivals, Tribe of Doris festival, and then through people that I met I was able to start doing workshops in schools and I began directing a choir in South London. Previously people organised it for me, but I wanted to have my own choir. I began by finding a venue, creating a Facebook page, raising awareness… then I had to find a name! I really wanted a name that was able to transmit what I wanted to portray through my music. Everyone here associates 'LOL' with laughter and hilarity, which is what I want to give to people when I play music. It also means 'Landscapes of Latin America choir', I don't think many people know that!
LL: What other projects are you working on at the moment?
Camilo: I am working with Amira Kheir, she is a singer from Sudan. Last month we had a CD launch. We got asked to play at the BBC, for the Africa section, which was an amazing experience! We played for the Arabic section the following week as she sings mainly in Arabic. I also have my band, Cumbe, we perform music from the Atlantic coast of Colombia. We have been recording and writing material. We went to Turkey last year, it was really fun! We had a week in Turkey where they combined Colombian music with Colombian cuisine, a super famous chef came over from Medellin too and we played in Turkey. Before that we played in Stockholm.
I was also involved in the activities at the British museum, one was storytelling for kids during which I worked with 'La pajara pinta' a storytelling company in London, and they focus on getting little kids to sing in Spanish. It's quite difficult to get your kids to speak Spanish if they live in London, they would rather speak in English! We were telling the story of 'El Dorado' for kids. I then played Colombian music from the Pacific coast with Luis Lema we did a great concert there. Then, the British museum organised weekend workshops, so two of the members from Cumbe organised dances and music from the Colombian coast. The parents joined in too!
LL: People here have never seen a 'gaita' (traditional flute) or 'tambora' (traditional drum), how is it received? Are people curious or do they find it baffling…
Camilo: Curiosity is the word; people find it very rustic or basic. Then when you play it or start making music, people are like 'wow!" There's something about drumming and the heat in the drums that makes you want to move straightaway.
LL: Let's talk a bit about your family, so you come from a very musical background and play various instruments…
Camilo: Yes I play quite a few! The main one is guitar, I have been playing since I was ten, my Granddad used to play the tiple (a traditional Andean guitar) but I didn't know that, my Grandma told me. So I had to serve in the army in Colombia and whilst I was in it I joined a music group, not the marching band but a smaller group who went around playing in military bases. I was very lucky actually. They didn't need a guitarist as they already had someone playing guitar so they needed someone to play charango. They said 'Do you play charango?' and I replied 'No, but I will learn.' So I bought a charango and I played charango for a year. It was quite flexible; if they needed a quena player (the wooden flute) then I used to play that instead. That was like music school for me, I learnt to play Andean music for a year.
LL: Why did you decide to move to the UK?
Camilo: Technically there's no reason, since I was very young I have always felt attracted to England but I never did the 'homework' of checking on the Internet or reading about it. There was something calling me to England. I was working as a maths teacher, plenty of the teachers were bilingual as it was a bilingual school, one of my colleagues had connections with an English school here in London so through them I organised everything to come over here. At the back of my mind I always had the idea of trying with music on a full time basis, in Colombia I was a full time maths teacher and I enjoyed it a lot! So I came to England to study English and to play music.
LL: So do you enjoy living in London or do you miss Bogota?
Camilo: Well there is a Latino community in London but I don't really hang around with them much, apart from my closest friends. Of course I miss having my family around, I don't think I would see them every day in Bogota. I don't really miss anything else really, today in London it's just like the weather in Bogota! A bit overcast.
In England there is space for my music, I really enjoy living here. I love the idea of sharing my passion. When I was a teenager and learning the guitar my friends were crazy about Guns and Roses, Led Zeppelin and metal bands… I was never really attracted to that sound. I grew up listening to acoustic Cuban music, Peruvian music, Chilean, Argentinean, both my parents love South American music. I also listened to Bambuco, Pasillo, Guabina, and music from the centre of the country from string instruments. Those were my influences. So if I am in the UK, it's something new to explore and create here.
LL: Were there any artists in particular you used to listen to as a teenager?
Camilo: Well when I was a teenager I loved Latin American rock. I listened to Soda Stereo or Enanitos Verdes who I can't stand now! Mana, that now I can't bear at all! Silvio Rodriguez also influenced my guitar playing heavily.
LL: In an ideal world, what are your plans for the next year?
Camilo: I'm into the mode of 'Camilo you need to organise yourself!' We want to finish the recording with Cumbe, and then we can start knocking on doors. I decided from last year that I would love to coordinate more singing activities, in life you have to be careful what you ask for! At the weekend I was having breakfast with a friend, she used to sing in an A cappella ensemble in Liverpool and she was looking to start new arrangements and a new project… so I am now working with them! It's fun! It's British music, rock and pop… I write the six part arrangements and it's been a great thing to work on. I will also be doing a big singing workshop at the Southbank, which is really cool. There is more singing on the way!
Catch Camilo at the Southbank centre on the 5th April:
http://www.southbankcentre.co.uk/whatson/camilo-menjura-exploring-lati-8...
After a debut La Ciénaga (The Swamp 2001) that shook the world of...
Moqueca is A Classic from Bahia, mixed seafood and fish stew made...