...MEDELLIN No.1... 'Flirting with the narcos'
The first of our series of city scenes, our 'postcards from...' take snapshots from different Latin American cities, painting a picture of the continent's urban landscape like you've never seen. This one is from Medellin, the capital of Antioquia, the mountainous region that Colombians often refer to as the Swizterland of Colombia. They call Medellin the City of Eternal Spring. All year the sun shines, cooled by a light breeze that gently rocks the flower pots hanging from street lamps like a summer fete in the Cotswolds, only nothing could be further away.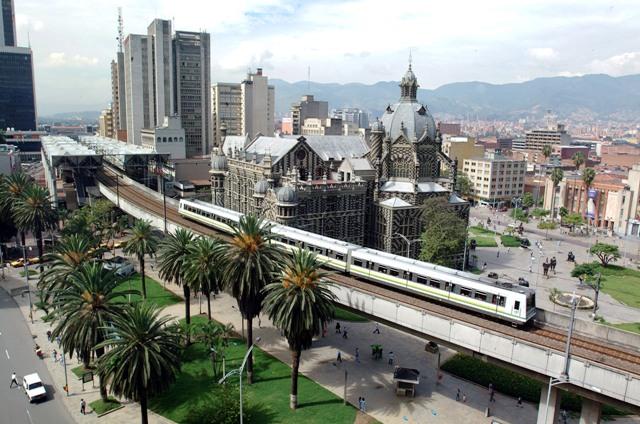 Flirting with Narcos (and how not to offend a Colombian)
In a harsh-lit living room above aliquorero, I had got the Colombian beauty treatment. Naomi, Isabel and Liliana plucked my eyebrows and packed my eyelids down with a gram of gold eye shadow. Then they made me try on some trousers that were so tight they reminded me of my one-time experience with hair-removing wax that gave me a rash for a fortnight. I protested on the grounds of the delicacy of English skin, its allergy to leg-long plasters, but they paid no heed. Time ran too thin for either a liposuction or a breast implant so I was limited to the lifting effect of the finest Colombian brassiere and curve-defining g-string.
We loitered on the edge of the discothèque car park. Our dual mission, was to look ravishing and note which men get out of the nicest cars. We had practiced the sequence at home, which goes:
1. Parade up and down, with upright posture, tossing back head (with hair flick).
2. Laugh and seem absorbed in girly giggles.
3. Pucker lips
4. Subtly dart eyes to make necessary observations and attract desired attention.
5. Give demure look should attention be thrown your way.
6. On eye contact, turn around swiftly to friends (hair flick, chest out, giggle)
This intricate weaving of various body signs is beyond my coordination, and I watch the choreography of my nineteen-year-old experts. Their art is rewarded with screams, whistles and gun shots in the air from Mercedes and BMWs speeding past at a hundred and twenty.
Those are the guys we want: Medellin's wannabe power players, flaunters of the Escobarian style omnipotence. They are the legacy of the late drug-lord who scrambled to his death over the roof of his own mansion, chased by US trained anti-drugs squads. His "reign of terror" earned him a place in Forbes 100, a seat in Congress, and enough wealth to offer settling the national debt. What reign of terror? My girls loved him, he gave their family jobs, and they believe he is still alive, drinking mojitos in Miami with Peron and Che. disappeared but for the taste for glamour and the alluring idea that if you have money, you can break the rules.
The girls hurl coquettish abuse after the Merc. It answers by backing up with a screech. "Love is easy, but not everyone has a car like that." Isabel smiles, taking a look in her pocket mirror to check all is in order.
"Yeh, life may end tomorrow, you gotta enjoy every minute you're still alive, and get someone to pay for the clothes, the beauty parlour and the operations," Liliana confirms. Noticing my alarm, she adds reassuringly, "Don't think I want to add anything, uh, I just want to take things off, do me a lipo…" She pats her plump thighs.
"But we need someone to PAY!!!" they shout in unison, giggling.
The men come strutting across the car park, their chests bursting with puissance. The girls are giggling. I consider tottering off into the car park maze but fear I'll trip over my ridiculous heels if I make a sharp move. They introduce themselves. I try desperately not to look at one of the men, short and robust, who is trying to catch my glance. He wears a pair of pleated black trousers, black cowboy boots, a very heavy Rolex and an extremely bright yellow Polo Ralph Lauren shirt, the sleeves rolled up to his elbows.
He tells me he used to live in London and begins searching his wallet for evidence. I assure him this isn't necessary but already he is reciting the exact location of all the phone boxes in Soho. He was in the flyer business.
That shirt. It's blinding me. Together with the fluorescent Florida Orange variation, the Ralph Lauren luminous Sunflower line seems to constitute the Medellin "power look". Is the atomic brilliance some sort of gang trademark? A power symbol? A choice favoured by the great legend himself?
I have the urge to tell him he looks like a walking light bulb and, being English and partial to an insult when nerves take over, do. He pauses, then lets out the most bizarre cackle which ends in a paralysed smile. Drawing his face very close to mine he whispers, "Watch the things you say," and lifts his shirt to show me a pistol tucked in his trousers. Seeing my alarm, he chuckles again and places his hand on my arm affectionately. "Do be so impulsive, this is dangerous town, you don't want to be offending people around here."
Inside Templo Antonia, apparently Latin America's largest discoteque, a thousand feminine arms cling to chequered-shirted chests. Together they swing to the romantically mournful words of the Vallenatos, the music adopted by the gunmen and gangsters of the Cartel era, which has become more popular than salsa amidst the Medellin youth (salsa is music for "negros cochinos" may aspirational girls told me, with no embarrassment). With eyes shut, they savour each others flesh as if it were the last they will ever touch, as if they must make this moment eternal. It is a rave of natural love, or comfort…or consolation. No drug could manufacture this emotional intensity around me.
I stay on the sidelines, because if I enter the crowd I will get lost and have to cling onto a chequered shirt for safety. But the mass of emotion overwhelms me. It is more than romance. A feeling of sorrow penetrates through to my bones, making my skin frisky. I feel slightly sick. Maybe it is loss, absence they cling for: a mother, victim of her husband's unleashed jealousy; a boyfriend, unlucky in his game of Russian roulette, a neighbour who lost in a garden fence dispute that flared up a little too much, a cousin accused of being on the wring side of the political agenda.
When dawn arrives the girls want to go off with the atomic shirt brigade, but my sensible side persuades them to get a taxi and go to Isabel's house. The taxi driver gives us a free ride because of a gun shot we heard while coming over the bridge and he says you must never let a murder steal a moment from humanity.
Second postcard arrives next week...
Corina J Poore marvels at an enchanting documentary about the...
Discover the Latin history of Hollywood, as we turn the spotlight on...