Not So 'Pura Vida'
Sun and sea yes, but sex tourism, in Costa Rica? Behind the image of the Caribbean's cleanest and most civilised tourist hotspot, lies a murky world, fed by foreign sex tourists, of exploitation and poverty.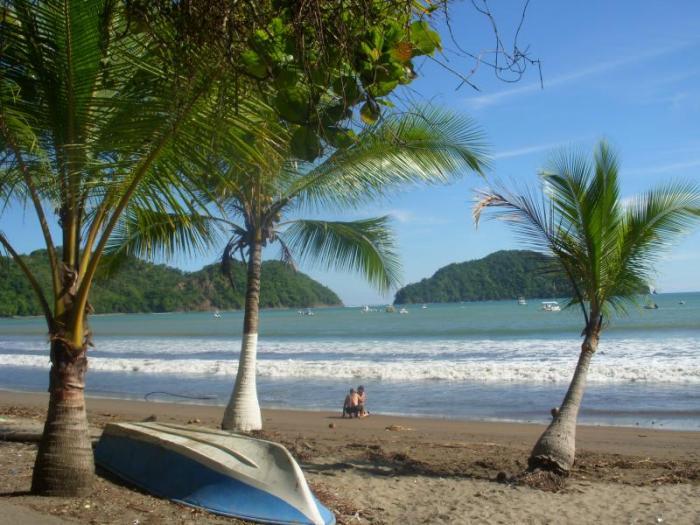 Dominican Republic, Cuba, Haiti. Of all the Caribbean paradises, these are the places you might link with sex tourism. Costa Rica has always had a pristine reputation, for ethical eco-tourism, protected rainforests, smiley people, non-militaristic authorities. It's not for nothing the 'Ticos' call themselves the Swiss of Central America. "The happiest country in the world." I was told. "Nothing bad ever happens there." I imagined rainforests with monkeys reclining everywhere you turn, sandy beaches with crystal clear water. They were there, but I also found another reality, lying beneath, that I was not expecting.
As early as 6.30pm on a Monday morning you see women walking the streets on San José looking for clients. It was on these streets I met 'Rachel', a transvestite, who started working on the street 11 years ago when work in gay club drag shows dried up.
"During the day I dress as a man and my mother doesn't know what I do. She thinks I still work in the shows. I don't want to do this forever, but I can't really think of an alternative. There is no other line of work for someone like me. It's dangerous for the women and men working on the streets, people throw things at them and shoot BB guns and he showed us two scars which he'd got from this."
Working with the Rahab Foundation, I would regularly accompany a team to various areas of the city at night to talk with the women and transvestite men working on the streets. which was set up fourteen years ago in Costa Rica with the aim of rehabilitating women who have been involved in prostitution or sex trafficking, giving physical, emotional and spiritual support to them and to their families, and providing them with the counselling and skills that will enable them to leave behind the world of commercial sexual exploitation.
San José, along with the other Costa Rican regions of Quepos, Liberia and Limón, is a major centre for human trafficking and sex tourism. It's not a new problem, but one that has been successfully swept under the carpet of successful tourism propaganda until some recent reports meant it was no longer impossible to ignore. The 2011 Trafficking in Persons report carried out by the US State Department placed Costa Rica at the Tier 2 level (Tier 1 being the most severe) and on the "watch list". Their report on human rights (released 08/04/11) stated concerns that "There are no specific laws against sex tourism, which was growing" [at the time of investigation] as well as "The government also identified child sexual tourism as a serious problem". The slumping eceonomy also means many more unemployed women coming from Colombia and the Dominican Republic to reep the benefits of Costa Rican tourism.
The most shattering part for me was when, one night, we saw one of the women who was on our programme, one of the women who came to Rahab's counselling session and to my English class every week. I had already been told that she was still working on the streets to support her two daughters but it was different to see her in that context in real life. She was one of the women who had made the most effort to get to know me, to find out about my country and to ask me if I was feeling homesick, something she was very familiar with since she herself had left her family behind in Nicaragua in search of a better life for herself and for her girls and to think of this caring and sensitive mother being exploited in such a demeaning way was crushing.
After this we went down to the red light district (yup, where we'd been so far wasn't the red light district, just regular old San José centre) which is where Hotel Del Rey is- a hotel which online describes itself as "a favourite with the gringos. Lively and friendly bar where you can meet the San Jose's beautiful and famous "señoritas of the night'". Read: "brothel". This is one of the several hotels in San José which is only used for prostitution and which has 300 to 500 women working inside a night. Only the youngest and prettiest women are allowed to work there, and they can charge around $100 per client whereas the women on the street only get around $20.
Prostitution is legal in Costa Rica and everyone benefits from the business. The hotels revel in the hundreds of clients that rent rooms and taxi drivers will pick up Americans and Europeans from the airport, give them a catalogue of women to look through and the woman of their choice will be there waiting for them when they get to the hotel. In this area there are a couple of hotels, casinos, a restaurant and a bar and all of these businesses are interlinked. As soon as evening hits the street spawns a flow of activity which encompasses both drug deals and a stream of middle aged white men walking into the hotels with their arms around young Costa Rican girls, acting like proud boyfriends. It really does turn the stomach. We were told it was too dangerous to get out of the van in this specific area because "the whole area is run by the mafia". Right, I'm gonna go ahead and suggest we leave then?
In an English class I gave to the women where we learnt how to describe family members, I discovered that every one of my students had at least one child and three from my class of fifteen were pregnant. One quiet girl of 20, gave birth to her third child while I was there. When a nurse came in to give a talk on contraception and STDs, some of the girls didn't even know what an STD was or that they existed.
This made me think some more, in this country of outwardly such open and friendly people whose catch phrase is 'Pura Vida'- 'Pure Life'- how is there so much undercover corruption? From speaking to people here and learning about the problem of prostitution and human trafficking, it seems that it's a case of an integral cultural tendency to cover things up. Before the Foundation started in 1997, it was not even acknowledged that these problems existed and it is owing to the work of Rahab that legislation has been passed making child prostitution and human trafficking of migrants illegal. The more I got to know and love the caring and intelligent women I met at the foundation, the more devastated I felt that their beautiful country is so far from the paradise the rest of the world imagines it to be.
For more information of the work of the Rahab Foundation visit their website at www.fundacionrahabcr.org
Cuba's natural setting, with its own historical and cultural...
From garage parties in Panamå to the awards ceremonies of Miami, how...