Maria and Guillermo - Tango Performers and Teachers of the Year
Guillermo from Rosario, Argentina and Maria from Athens form the Newcastle base Tango Unlimited.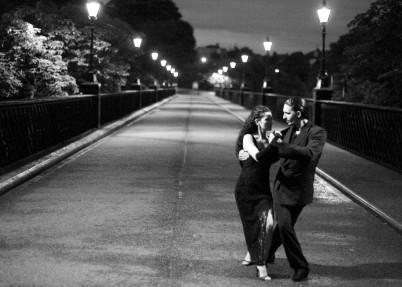 Guillermo: My great-grand parents immigrated to Argentina from Italy and Spain. I discovered tango as a kid in houses and theatres, at Milongas and in the streets. And I just instinctiveyly wanted to do it and my family encouraged me to get more involved. I studied in Rosario and Buenos Aires with the top maestros, As a professional I had great opportunities of working in several tango, contemporary dance and ballet shows and got several invitations to work in Europe. In 2007 I came to the UK for the first time for a tango show and after several visits for performances and teaching I then made it my home.
Maria: I come from a very traditional Greek family but I was lucky enough to be raised in an artistic environment, surrounded by multicultural influences. I have always been dancing, starting with ballet at the very early age. After arriving in the UK I became so captivated by Tango that I trained intensively and combined my love for dancing and teaching to become a professional dancer and teacher.
We fell in love with Tango through the music. It made us want to learn how to dance to it! And when we started learning dancing it was when we discovered the magical journey of interpretation, communication and connection with the dancing partner.
The beautiful thing about tango salon (when tango is danced socially) is that there are no preset moves, you do not learn sequences that you just apply when dancing, you can dance with anyone even if you never met before and start a dialogue, learn about each other and enjoy every moment of creativity.
Trying to promote a dance in the UK that is so different to the British culture was the most difficult thing! We also had to make a living without compromising in quality, staying be faithful to our high standards and believes while being able to work professionally in dancing and teaching.
Our biggest breakthrough was, through persistence and hard work, seeing the relationship with people grow, gaining the loyal following who some times travel long distances to come and learn tango or watch us dancing!
The UK was a big culture shock. It took time and big effort for people to loosen up and give Tango a go. Once they do people are very welcoming and embracing of our activities, but this did not happen overnight. Northerners are well known for theirhospitality and welcoming spirit which really played a great role andbrought the balance with the cold weather and lack of bright light.
We miss the warm weather, sunny skies and blue seas of our home countries. But living in UK with opened our mind and their culture brought us lots of new friends, great work opportunities for doing what we love as dancers and teachers, new potentials and recognition including the two LUKAS awards.
What drives us is our love for Argentine tango, how important performing and teaching is for us, the response of the people through time and the recognition of all different ways.
Happiness is being able to live from what we both love, performing and teaching. Argentine Tango is really enough to make us happy and content. Having the opportunity and honor of showing and making this beautiful dance accessible to people living so many miles away from Argentina and definitely having amazing responses from everyone who has participated to our events.
Some times there is an non-healthy competition which interrupts the joy and importance of promoting Argentine tango in the UK, but this is not something that can last long or change anything in what we do or how we do it.
The Future? What we really want is to be able to continue having similar opportunities for developing and progressing as dancers and teachers. We would love to make Argentine Tango even more popular in the North of England, We are committed with high standards of tuition and excellence in quality and our vision is making North of England a big centre of authentic Argentine Tango.
Corina J Poore marvels at an enchanting documentary about the...
Discover the Latin history of Hollywood, as we turn the spotlight on...