"Instrucciones para abrazar el aire" - Theatrical Production of the Year 2014
Ecuador's leading theatre company Malayerba was founded in Quito in 1979 by Arístides Vargas, Susana Pautasso and María del Rosario Francés. During the CASA Festival 2013 they once again delighted the British audience with their extraordinary play titled "Instrucciones para abrazar el aire" or "A guide to holding a thin air", which was voted Theatrical Production of the Year 2014. Read what one of its founders told us about her life and art.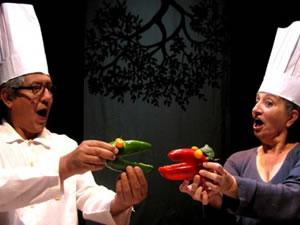 My name is María del Rosario Francés. I live in Ecuador, a small South American country. My husband is Arístides Vargas, a playwright and theatre director. We are both part of a theatre company called Malayerba, which has its seat in Quito.
One of my earliest memories is playing the father of Pulgarcito at the age of nine. When I was a little girl I started acting in a school theatre. It was a catholic school in a Spanish city of Pamplona. I loved fairy tales. When the nuns who ran the school wanted to put on a play and they needed volunteers I was always ready to participate. Later, when I grew up, I started studying theatre with different teachers and companies.
A person who influenced and inspired me most was Willian Layton. He was an American teacher, actor and director who moved to Spain in the 50's. I also developed a lot thanks to Malayerba company, where I have found people who share my passion and support me.
I love what I do, because I create and test a different reality.
What I really like is being a part of artistic community and the solidarity between its members. What I dislike is when the money betrays the principles of this solidarity.
The greatest difficulty I had to face was forming a part of a theatre company and learning to listen what others have to say, which in this profession isn't easy.
My biggest setback was… when I tried to do a lighting technician's job and when I directed a play called "Galería de sombras" (The Gallery of Shadows), a wonderful play in my opinion, but a failure according to critics. My greatest achievement has been becoming a teacher and giving classes to young people inspired by this great art.
What keeps me driven is the hope I have a positive impact on the reality I live in.
What do I think about the British audience? It's impeccable! You can sense their great theatrical culture.
There are a lot of people I look up to. Among them is my husband, who wrote the script of "Instrucciones para abrazar el aire" and whose art and good heart I admire.
If I could travel back in time I would go to the time when my mother was still alive.
I don't think much about the future, but I would love to put on a play dedicated to my mum.
Corina Poore talks to Gustavo Salmerón, who made a unique film about...
This month's dancefloor hits by award winning Cuban DJ, Javier...