Three O Two Restaurant @ The H10 Hotel
The winner of this year's Latin-UK Awards for Spanish Restaurnt of the Year, the Three 0 Tow surprised all the judges with its adventurous and ambitious menu.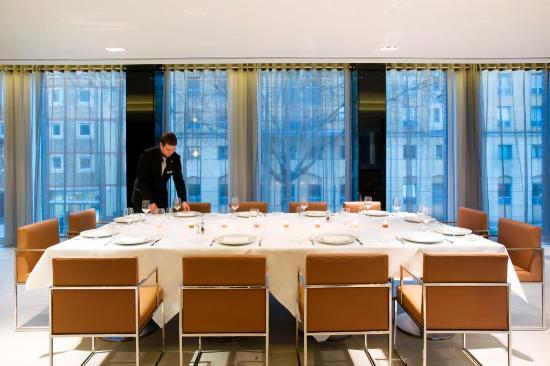 Abbey and Stephen Wright - former British Ambassador to Madrid
"The Three O Two Restaurant is located on the first floor of the H10 London Waterloo Hotel in Waterloo Road, nearest tube stop Lambeth North on the Bakerloo line or a rather longer walk from Waterloo Station.
The restaurant has a modern clean décor, one feels oneself in Barcelona, and a good atmosphere, nice background music, and the night we were there, was full. The view is of the traffic passing by but the windows are well sound proofed.
We enjoyed a delightful, well designed, tasting menu that started with a platter of three croquettes, the chorizo and the cabrales cheese varieties working rather better than a duck and crab fritter. These tapas were served with an Inedit Beer produced by the famous Chef Ferran Adria. It was complex and delicious. Samples of starters included a lovely piece of lomo with a scallop and well thought out reductions and a completely heavenly octopus cooked in rum with smoked paprika potatoes.
The main courses included a perfectly grilled piece of turbot with mushrooms and aubergine puree and a meat dish of suckling pig with delicious rosemary and garlic potatoes. The Cocinillo was soft and tender but the skin wasn't quite crisp enough but this may have been due to the sample size of the piece. The dessert of Gin and Tonic textures was creative and superb, it was both sweet and sharp.
A variety of really lovely wines were served with each course and we made some exciting new discoveries including a lovely Laus Flor Gewurztraminer from Somontano.
Chef David is an extremely talented and creative chef and we loved his food and the overall experience was very happy. Service was attentive and knowledgeable without being intrusive and the prices on the menu were very reasonable for the high quality of the cuisine and most of the very exciting wines were around the £30 mark so the Three O Two is excellent value for money.
Would we brave the slightly awkward location to eat there again? Yes we would."
JIMMY BURNS, Anglo-Spanish journalist and author or 'La Roja' and 'Barca':
"H10 is the rather odd brand name of a Catalan owned chain of hotels that opened in London after expanding in Latin America. The concrete neighbourhood of SE1 is no Caribbean beach and it takes quiet a stretch of the imagination to believe that there may be hidden treasure to be found.
And yet a gastronomic treasure there is, in the hotel's upstairs Three O Two restaurant. It is presided over with great skill and human instinct by the genial head waiter Marcos Dios, who was born in London to Spanish immigrant parents working in the hotel trade. Fluent in Spanish and English, Marcos brings experience, style and necessary human warmth to a restaurant's design, which while functional as well as relaxing, lacks a distinctive cultural identity.
The real hidden gem however lies out of sight in the kitchen where Spanish chef David Obejo has created a very impressive and innovative a la carte menu. With Marcos on hand to explain how each taster dish had been prepared, and to serve me with his recommended drink, I began with a 'selection' of croquettes with different flings- smoked Spanish chorizo , caramelized lion onion, and 'cabrales' blue cheese, and comfit duck and crab fitter-all excellent . It had a class companion in a glass of one the finest lager style beers in Spain- the Inedit designed by Ferran Adrià and his sommeliers at El Bulli, and brewed by DammEstrella..
Next came some roasted Octupus. I have to admit that of all the seas foods this has always been my least favourite as my past experience has been that it tends to be too rubbery. But this one was different. Cooked with celery, rum and marinated paprika potatoes, it was not only soft on the teeth but wonderfully tasty. Of an equally high standard was the small tapa of Iberian Pork shoulder together with a scallop and sautéed with 'Ajo Blanco' foam and Ribera Del Duero wine reduction. Both were wonderfully partnered by a glass of surprisingly smooth Txakoli from the Getrariakoa Txakolina bodega.
By now I felt embarked on a truly culinary trip that seemed to just getter better as I went along (and I was only sipping my drink!). The first main dish sample was a carefully grilled turbot with shitake mushrooms, smoked aubergine and seaweed Meuniere accompanied by a Laus Flor Gewürztraminer which was what most surprised me. Despite its German sounding name, this wine actually comes from Somontana in Aragon. Although I know it has got its detractors, the wine has a distinctive highly perfumed scent, and mix of slightly spicy and fruity flavours. As they say in the wine trade, no one would deny Gewurztraminer's presence on the olfactory radar.
Nor would they when talking about Matsu, Tinta de Toro. Born as I was in Madrid back in the 1950's, it is great to see the emergence of quality wines from Castilla, and this one holds its own in any serious Spanish wine list. Full-bodied and yet smooth and distinctively elegant it was a perfect choice to accompany the final main taster of crispy slow cooked Iberian Suckling Pig with poached potatoes in rosemary and garlic- one of the oldest and most popular of Spanish dishes beautifully delivered at H10.
My taster meal drew to an exciting close with a creative tour de force for dessert – a sorbet made with Gin Mare, the subtle Mediterranean' styled gin made with rosemary, thyme, olive, and basil all included in the refreshing, soothing mix which I accompanied with small glass of a not hugely impressive dessert Orange Tree Wine from the province of Huelva. I've tasted better dessert wines."
In his film X500 (2016) Colombian-Canadian director Juan Andrés...