David and Kim Benitez – Tango Performers of the Year 2014
United by romantic love and passion for tango David & Kim Benitez are not only great teachers, but also spectacular performers. The sensuality and magnetism of their dance made them win the LUKAS award for Tango Performers of the Year 2014. This is their story….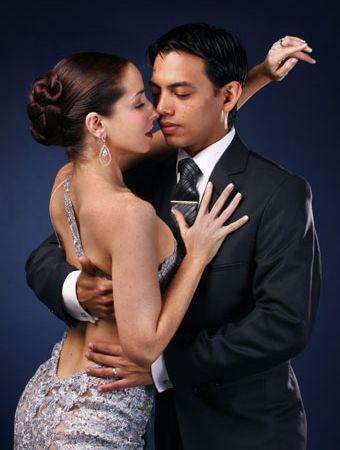 David: I come from a small town in the North of Argentina. I started dancing in my early teens with Argentine folk dance. At the age of 17, I started classical ballet. Initially I saw it as a great way to meet girls, but I soon realised that it was what I wanted to do with my life!
I moved to Buenos Aires when I was 18. It was hard being far from my family but after a year of studying in a private dance school, I was offered a place at Argentina's most prestigious contemporary ballet school, El Taller de San Martin. There I received daily tuition from some of the best maestros in the world. The training was rigorous - we took regular exams and those who failed would have to leave the school. However, I successfully graduated and was invited to join El Ballet De San Martin - the internationally renowned company connected to the school. Only a handful of the students are asked to join the company each year.
Soon after, an opportunity arose to join the company of a famous Argentine ballet dancer, Maximiliano Guerra. I worked as a soloist with Guerra and went on a number of international tours.
It was through my work here that I had my first encounter with tango. We were rehearsing for a ballet/tango fusion piece with tango diva Mora Godoy. Of all the dancers in the company, I was the most fascinated with tango - the movements just seemed natural for my body.
After ballet, I thought tango would be easy but I was surprised at how complex it was. I was keen to start at the beginning to learn the most fundamental principles. I took classes with Buenos' Aires most famous maestros, but most of all with Osvaldo Zotto and Lorena Ermocida. They took me under their wing and asked me to be their teaching assistant. This exposed me to many invaluable hours of their teaching wisdom. I am still very grateful to them.
Within a relatively short period of time I was touring the world with Tango Por Dos, the best known tango company in the world. But my passion still very much lay with classic salon tango and ultimately, teaching.
Kim: I was born in London and when I was growing up I knew next to nothing about Argentine tango. But I always loved dancing so when my sister asked me to try an Argentine tango class, I thought why not. I was around 19 years old and I had no pre-conceptions at all. And when I saw tango, I had an epiphany. The haunting music, the beautiful movements and the feeling of the dance got under my skin. And although the dance belonged to another country and another era, I felt that somehow it belonged to me!
My addiction grew to such a point that in my mind there was no other place to be - I had to move to Buenos Aires. I knew no one there but I soon became a regular on the tango scene. In my first year I was out in the milongas every night of the week often until 6 in the morning. But I then fell into a more sustainable rhythm of dance classes, training (and yes I did continue to go to quite a few milongas!)
I didn't meet David until I had been in Buenos Aires for 3 years. We met through mutual tango friends but outside of the milonga - in a restaurant. In fact we became a romantic couple before we had even danced together.
David: The first time I danced with Kim in a milonga I was very nervous. Our relationship was new and I wanted to impress her. But our connection was immediate - we absolutely loved dancing with each other!
Kim: But we didn't start rehearsing or teaching together until about a year later. At first we continued on our own paths, but then somehow becoming a dance couple as well as a couple in life just seemed a natural progression. We shared the same tastes, the same objectives and work ethic.
It is difficult to describe how it feels to dance tango. For me, I think it is a feeling of escape, forgetting the outside world and being present with my partner and my own self-expression. The synergy of the music, embrace and movements fills your soul - it gives you goosebumps!
I also love watching others dance - sitting on the sidelines of a milonga and watching the connection, the creativity and the playfulness of the couples as they dance past.
I think the most difficult thing about dancing tango in the UK is being misunderstood. There are so many caricatures of tango in popular culture. We don't dance with a rose between the teeth. We share very little in common with ballroom tango. We get tired of being asked what other dances we do (as if tango isn't enough!) or whether we compete (this isn't really what tango is all about!).
David: Most audiences want to see jumps and tricks. But this isn't really tango. Tango is a social dance but it also amazing to watch. And it doesn't need acrobatics to make it beautiful. The simple things in tango are often the best: elegance, the connection, the interpretation. We most like performing for an audience who understands this, usually because they dance tango themselves. But actually we like nothing better than the feeling of dancing socially in the milonga, when you feel like you're in your own private world.
Kim: I feel a need to keep learning and exploring new things about the dance. I love feeling that we're still growing - both as individuals and as a couple. And I love how these discoveries keep us inspired in our teaching.
What makes me happy is that moment when everything flows: the connection with the partner, the music, with your own body. Those magic moments for which you put in all the hard work.
David: Classic tango is an improvised dance - and it's that feeling of the unexpected and the little moments of inspiration that come as if from nowhere, that are so addictive.
For me the most difficult obstacle I had to overcome was being far away from my family. Buenos Aires was a very long way from the North of Argentina and I was very young. But I was very driven and feel very lucky that I knew what I wanted to do from an early age and have been able to fulfill that.
Kim: I didn't find learning tango easy. I had plenty of frustrations, confusions and self-doubt. But I kept going and I think it was because I couldn't imagine life without tango. I'm pleased for that now, because it really helps me to empathise with my students and their own ups and downs.
We want to continue helping to develop tango in the UK. It's really special to introduce tango to someone for the first time and to see that gleam in their eye when they get the bug. Or when you see office workers transform in a matter of months into elegant social dancers. When someone shy, walks with a new confidence, or when someone tell us that friends say that there is something different about them!
David: For us it is more about teaching than performing. And we strongly believe that we can offer more if we stay in one place. That is why we have turned down a lot of (sometimes quite tempting) offers to go on tour. As a result, our students know that we will always be here to monitor their progress, ease their path and help them become the best dancers they can be.
Cuba's natural setting, with its own historical and cultural...
From garage parties in Panamå to the awards ceremonies of Miami, how...