MEXICOLORE – Educational and Cultural Resource of the Year
LAYING DOWN THE LORE – For 30 years , Graciela Sánchez, a dancer with the world famous Ballet Folklórico de México, and Ian Mursell, development education specialist, have worked with 2,000 primary schools and a wealth of institutions, sharing their passion for Mexico and the Aztecs. This inspiring couple talk to Elizabeth Mistry about abuela's metate and why they love difficult questions about Aztecs.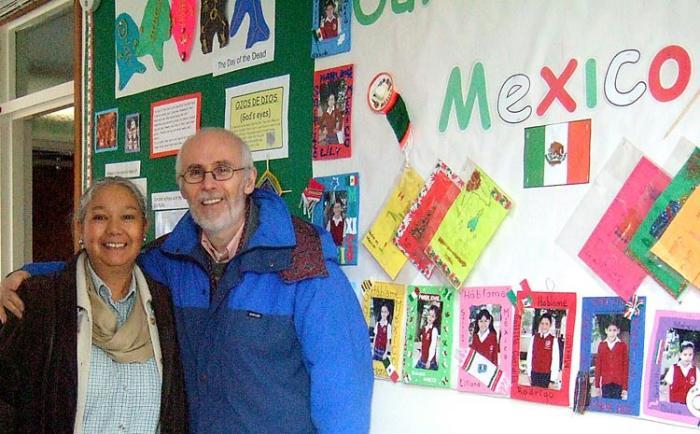 She was a beautiful young dancer from Popotla and he was smitten when they first met at a musical evening in London.
But when Graciela Sanchez met Ian Mursell in London in the late 1960s, it wasn't just the beginning of a relationship but a creative working partnership that has introduced thousands of British schoolchildren to Mexican culture.
Mexicolore, Ian and Graciela's inspirational project, started out as a series of workshops for schools and has grown, over the years, to include a dynamic online education resource and a sought after consultancy providing assistance to clients ranging from the BBC to numerous non governmental organisations. It has even assisted the Mexican embassy on several occasions.
Given that they have been a popular part of the UK Mexican community for so long, it might come as a surprise to learn that the idea of taking workshops about Mexico into schools came about almost by accident when one of Ian and Graciela's children's teachers asked her class if they could bring in something to do with what their parents did for a living.
Ian recalls: "Our daughter Romi mentioned that Graciela had been a professional dancer with the ballet folklorico in Mexico City, so her teacher asked if Grac would like to go into school and dance for them.
"I went along to push a few buttons on the tape recorder and we thought it would just be for the class - but when we arrived the whole school was there."
Needless to say, the first performance was a big hit and as they were going home, the same thought occurred to them both.
"At that time nobody knew anything about Mexico. Most people wouldn't have even known where it was on the map and we started to think, ' maybe we could do this on a more regular basis'.
"We were both looking for a change of direction - Ian had previously worked in educational development and audiovisuals and his first job had been to make a small film about a National Union of Mineworkers' delegation to Bolivia - so we decided to give it a go."
The fledgling enterprise was not an immediate success however.
"We made so many mistakes at the beginning," recalls Ian, "but we soon found put what worked and what didn't.
"But the aim was always the same, to show British schoolchildren something of Mexican life and to combat all the horrible stereotypes people had of Mexicans and Mexico.
"Back in 1980 the was no national curriculum so we made our own," explains Ian who over the years built up an incredible archive of costumes and artifacts from traje de charros (traditional riding wear now mainly worn by Mariachi bands) to replica Aztec codices hand painted by friend who is a Mexico City-based artist with close ties to the National Museum of Anthropology.
"She does everything meticulously on amate paper made from bark in the same way it has always been made so children can see exactly what a Mexican codex (an early manuscript) looks and feels like."
And it is the unique advantage of being able to use lots of genuine artefacts - the most popular one has always been Graciela's metate which she inherited from her grandmother - that participants can touch and hold that makes Mexicolore's workshops so special - as well as Ian and Graciela's enthusiasm for sharing and encouraging children to join in.
"The kids just love to pretend they are grinding the imaginary corn which Graciela pretends to strip off the cobs. She has a special gift for being able to bring children out of themselves, says Ian proudly. "We've gone into schools where teachers have warned us that the kids are very shy but she always manages to get them really involved."
"We find children relate especially well to stories of what life is like for Mexican children, including those from an indigenous background. British children are shocked when they find out that many Mexican children are not able to go to school and that they have to work from an early age - sometimes in quite difficult or dangerous jobs to contribute to the family."
"We've had so many memorable reactions from the kids and teachers, some of whom attended workshops when they were children themselves. It is particularly gratifying when they grow up and ask us to come to the schools where they are now teaching. We love seeing pictures of the teachers on Facebook when they were all dressed up all those years ago."
And that loyal following clearly means more than anything else to the couple. "There's at least one school where we have been going for 20 years. We must have worked with thousands of children in hundreds of schools over the past three decades and we're always getting letters and emails to say that after our visit the kids went home and told their parents how much they love history and that they really want to go to Mexico. The Mexican tourist board should really pay us commission, " he laughs.
In reality, Ian and Graciela are far too modest to expect any sort of Governmental recognition for their three decades of dedication to their beloved Mexico but they are "thrilled" to have been named winners in the LUKAS awards. "It was a wonderful surprise" says Ian who now also works with their son Paolo "to bring some youthful energy" to the performances.
Paolo has been helping his parents for a while, especially with the hugely popular website which enables children and parents to continue to learn about Mexico and the Aztecs (increasingly referred to as the Mexica) even after the workshops have finished.
"We get lots of fantastic questions from kids - the most interesting are often the best and we send those to our panel of 60 international experts headed by our honorary chairman Miguel Leon Portilla" says Ian who is clearly very proud that the renowned Mexican scholar and author agreed to lend his support to the project.
"We never imagined all those years ago that we would end up still going into schools almost everyday," he muses.
"In fact we are so busy that we still haven't quite managed to get our dream project off the ground - to find a school or educational programme for indigenous Nahua children in Mexico to form a partnership with."
"We need some more young blood to join Paulo so we can find a school in Mexico we can team up with so we can keep working towards being the best resource on the Aztecs in the world."
For more information www.Mexicolore.co.uk
After a debut La Ciénaga (The Swamp 2001) that shook the world of...
Moqueca is A Classic from Bahia, mixed seafood and fish stew made...