Mexican Milk
Indigenous culture is used to market the country at home and abroad, so why is it that only white faces appear on Mexican adverts?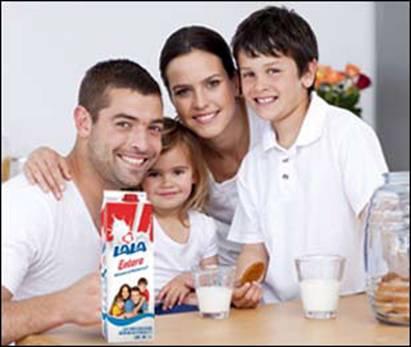 The milk cartons on the shelves of a Mexican supermarket show a happy family, their skin and shirts as white as the product they are advertising. The darker-skinned 'morenos' take the milk from the shelf without noticing and hope that one day their daughter will marry a gringo.
In a country which last year celebrated its 200th year of independence and foundation as the one of the world's first states with a 'mestizo' or 'mixed-blood' majority, a colour line still divides those in poverty from those in prosperity and power.
This colour line is more obvious in the south of Mexico, which is home to a larger indigenous population; it is hard not to notice the large discrepancy between the colour of 'Mexicans' in advertising images and the colour of those on the street.
The media in Mexico is an artificially bleached landscape. For a long time indigenous communities here have been struggling for recognition and political representation; can this sense of invisibility be connected with their absence from the visual culture of commerce? What are the long term effects of a life spent without a mirror to your face? A performance of the traditional Mixe dance at this year's Guelaguetza Popular, an annual celebration of indigenous culture in Oaxaca, began with the declaration: "this dance is to remind you that we exist."
Indigenous culture is represented visually, but only ever in its safe, folkloric form, carefully packaged and marketed, and ready for tourists to consume; "Come experience the delights of Indian culture: see their artisanal crafts and customs, taste their food, hear their traditional music. Then retire to a comfortable hotel where they will wash your sheets…"
Indigenous culture is used to market the country at home and abroad, while its living descendents are shunned, isolated, ignored. This hypocritical position is maintained by the establishment with the motto:
¡Vivan los indios muertos!
¡Mueran los indios vivos!
Long live the dead Indians!
Death to the living Indians!
An equally distorted version of white power and dominance is projected in the mainstream media; telenovelas, popular Latin American soap operas, generally dramatise the loves and losses of the white, wealthy elite; illicit romances and dangerous liaisons are played out in marble villas or in the backs of sports cars. And the brown-skinned woman who sits glued to the screen every night watching her favourite drama observes herself being acted out of history.
Racism isn't as simple as black and white, and in Mexico, a country with almost 500 years of interracial mixing, there is still prejudice amongst mestizos over the nature and appearance of their skin and blood. A friend's partner's mother was uncomfortable about their relationship until she met him and saw that his skin was no darker than her daughter's. Pathetically all the energy spent on such racist activity will count for nothing once Mexicans cross the border of their northern neighbour and find that these minor differences in skin colour hold no bearing on a people who call them 'wetbacks', 'beaners' and 'spicks'.
Much of the Mexico's race relations may be explained by an underlying culture of 'malinchismo', a pejorative term that refers to a preference for the foreigner over the native Mexican. The word originates in the historical figure of 'La Malinche', an indigenous Mexican slave who became the indispensable guide, interpreter and mistress of Hernán Cortés. To some, she represents the ultimate betrayal of her own people. The legacy of 'malinchismo' manifests itself in an unconscious self-loathing of the pre-Hispanic part of Mexican identity, and an admiration for Euro-American culture.
The visual system produced from this not only reflects Mexico's social system (in which power and wealth is concentrated in the white, wealthier north) but, by feeding back into the collective unconscious, helps to condition it. After 200 years of independence, the idea of power, beauty, intelligence, success still remains in white, Hispanic hands.
The westernisation of the image of beauty, power etc. is not confined to Mexico or Latin America; it is now an international phenomenon; as far away as Hanoi, Vietnam there are advertising hoardings which feature the almost Caucasian faces of Asian women marketing shampoo and mobile phones. A more Vietnamese visage does not sell so well. It is a superficial carapace, but the surface of skin is internalised – we don't need racist propaganda for Africans to straighten their hair, for cosmetics to lighten dark complexions.
The image on a Mexican milk carton of a happy white family represents a false and carefully constructed racial fantasy, and though it is but a minor part of a much bigger ideological system, it still needs to be confronted and challenged. Is it so difficult to imagine a world where we had a say in the images we encountered every day? Alongside the struggle for a new political order why not begin to imagine a new visual order, one that is democratically determined, that does not play on our ignorance and fears, one which reflects the true diversity of a nation's people? And in this new visual society maybe Mexican milk would no longer appear so white.
Corina Poore talks to Gustavo Salmerón, who made a unique film about...
This month's dancefloor hits by award winning Cuban DJ, Javier...