The Noche Fiebre Foundation
A night dancing to the songs of Saturday Night Fever, dubbed in Spanish? Sounds like Latinas on a hen night. Spanish kitch is how you might describe Fundación Tony Manera, Spain's most successful disco band, but it also happens to be damn good funk music (no, its not really dubbed) and its eleven members are hilarious on stage.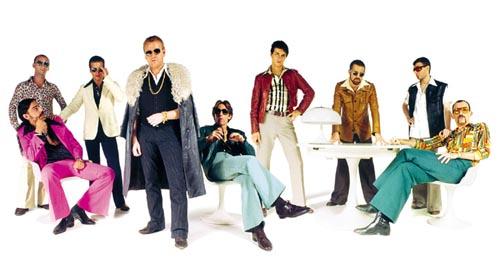 Latinolife: To those who don't know, who is Tony Manero and why has he set up a Foundation?
Fundación Tony Manero: Well, we thought if Tony Manero set up a foundation, it would have been to make Disco live forever. So the mission of our foundation...er band, was to bring back the songs that John Travolta danced to. So we started doing our very own cover versions of 70s and 80s hits, and little by little we came up with our very own identity. Based on funny lyrics in Spanish, full of love, party and dance. We base our sound on a very powerful horn section, a kick on the beat, a lot of funk and two singers: Migueli to Superstar and Paquito Sexmachine, who transport the audience to another disco dimension.
LL: Barcelona has a big music tradition. How do you fit into Barcelona's musical landscape?
FTM: The Manero has been a pioneering band of black music in Spain in the last decades. We hit the masses in 2002 with the tune "Supersexy Girl" and since then we have not stopped touring and making the country dance. Though Spain was a bit late to it, Black music, which is basically what we do, has been getting more and more popular and a lot of good bands have come up in Barcelona in the last few years, and Now there's a good black music scene. We area city full of rhythm. Yeeaah.
LL:How are you dealing with Spain's atrocious economic situation?
FTM: We have lived hard years, the number of gigs in the cities have decreased, but you know that music and creativity do not understand crisis, they adapt and survive. In our case we have dealt with the situation by developing parallel projects: Los Fulanos, Bestias del Boogaloo, Chocadelia Internacional who do a more traditional Funk- Rock and Cardova, a deep-Funk cinematic quartet. And we have also created the Nacion Funk collective (www.nacionfunk.com) in order to promote the work of all the people involved. Fighting to spread the rhythm!
LL:This is your London debut..what can people expect?
FTM: It is really exciting for us. Our gig in London is part of the launch of our 6th album, "Superficial", a work more orientated towards the electro disco of the 80's, but we are still bringing the best of our repertoire, and we are confident that we will make people dance, wherever Latinos or British. The live events of Fundacion never disappoint, sweat and dance are 100% guaranteed. So, see you there, brother and sisters.
Cuba's natural setting, with its own historical and cultural...