Smoulder, Smoulder...
If you've never heard of Luis Miguel, you've been living an empty life. In Latin America the Mexican crooner is bigger than Jesus. Reinventing the meaning of heart-throb, by the age of fifteen he was making Julio Yglesias tremble in his white slacks. An English girl testifies to his appeal…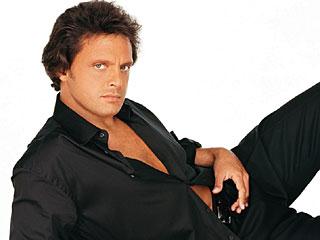 The last two weeks has been a time of loneliness and solitude for Latin America's men. As Luis Miguel, once Mexico's teenage heartthrob now a full grown hunk and America's most wanted Latin-lover, tours the continent, wives, girlfriends and daughters have thrown themselves into a fever known as "Miguelism" leaving their men at home to sneer resentfully at this male home-breaker with a tanned smile.
"Julio Iglesias is one thing, I don't think women took him that seriously. Even I quite liked listening to him." said Fabián, a Buenos Aires lawyer whose wife left him last Friday night to go to see the Mexican macho sing. "Luis Miguel is just too much, women are obsessed by him. I think that's why men don't like him that much."
This Green-eyed, copper-haired Aztec babe has swept through Latin America with his romantic repertoire drawing three quarters of a million women into football stadiums converted into fantasy cocoons. He has sold 30 million records across America. And, although most of his public is in Latin America, he is the first artist to pack stadiums in New York and Los Angeles singing in Spanish.
Apart from drawing the huge Latin population in the US, gay communities pledge their desire for "Loooouis's" masculinity. And, recently showered with Grammy awards, he is chipping away at the neurotic resistance of America's most hardened Anglo-Saxon women. Next year, with an album in English, Luis will be love bombing Europe.
Some might say that Luismi, as he is known by fans, is the new Julio Iglesias. Yet not even Julio Iglesias could make 120,000 feminine hips sway in unison as they did last weekend in Buenos Aires, simultaneously bringing heart-wrung tears to the eyes of mothers who had accompanied their teenage daughters to the Wembley-sized stadium.
The combined high pitched mother-daughter chorus, singing over every word of Luismi's songs, drowned the heart-throb's voice completely. When he tried to lift his verbal passion an octave, fans shed their song for uncontrolled screaming. And even a minor muscle flex in Luismi's robust body, if it produced a ripple in his suited garment, provoked deafening mass hysteria.
That was nothing compared to the roaring human wave that swept the stadium when the open sky-blue shirt came out. It's ripples, tickling a hairless top half sent mouths foaming (not enough to shut them up). Only a 500 seated VIP section in front of the stage (for which Argentina's high society paid 250 dollars per seat) kept the knicker-throwing rabble at safe distance behind them.
It seems incredible that, even after the Sexual Revolution, a single man can still provoke a show of such desperate sexual desire as if it were banished or repressed. The Luis Miguel impact, intent ruining Julio Iglesias' prophesy that his myth will live on in posterity, can be compared only to what Elvis Presley did to American women in the 1960s.
No other Latin crooner has done the same. Though Luismi's open shirt flapped in the wind much like Julio's do when singing to the sea air, the Warner Music product is a world apart from the Spanish heart-throb. While Julio, with his tinny romantic pop which pampered blue-rinsed grannies and slotted eased into the sleazy disco scene of the 70s and 80s, paved the way for Latin melodies in the Anglo-Saxon market, Luis Miguel is exploiting the market in a much more serious way.
At 34 years old Miguel has already had 20 years in the music business. Almost without effort he transformed his teeny-bop appeal into a superstar personality which Iglesias's sleazy profile never permitted. Luis is elusive. He never gives interviews. He is grumpy and capricious rather than affectedly charming, he is arrogant rather than vain. He goes out with high-profile MTV beauties and is unfaithful to them. He doesn't bother to present himself as eternally available.
Luismi knows a bit about music too. He produces his records, and knows where he wants to go with them. After growing out of his teen-market he made two albums of "boleros" (traditional Latin American love songs) which landed him like an atomic bomb into the fantasies of grown women. He made old and young scream alike. Then, seeing his success in the States, he strategically ladened his most recent album with the street-soul and dance beats which now dominate the US music market. In 1997 he will be working with Quincy Jones to insert himself on a bigger scale in the First World market.
Luis Miguel at 15!
But the really scary thing about this Latin meat machine is that, unlike Julio Iglesias who seemed glide around a world of pastel colours in matching teeth and garment like a surrealist caricature, Luismi is not the figure of fun that we love to make out of a "Latin lover". Luis is the real masculine stuff. You fear him, desiringly, before you dare to mock him. "You certainly wouldn't be laughing if those manly arms got hold of you," giggled Maria, pshycho-anylist, 35, whose face glowed with sweaty-joy as she stretched her arms to the stage.
Fans temporarily residing outside Buenos Aires' Hyatt Hotel to catch a glimpse of their pop-prince talked of Luismi's large soft hands, clutching the microphone, which could squeeze them easily into a putty of pleasure. (It is true that the boy has the muscle matter of a young Marlon Brando). They continued their delirium, explaining that, unlike Julio's weak, shaky feminine voice, Luis had the voice of a man powerful enough to take them forcefully into his arms, but soft enough to caress with care.
While Luismi's voice may pour passion liquid over his fans his songs do not pamper, but are imbued with the arrogance of a man who knows you want him. In one song he tells "I want you to discover the world, to know other men, to kiss other lips... so that you can compare me, today and forever."
And like the characters in his songs, Luismi assumes that the world will come to him, in his own language and his own style. Although he speaks perfect English he refuses to sing in English unless he considers it absolutely necessary (he even got Sheena Easton to do a duet with him in Spanish when he was 13 years old). There have been exceptions- a duet with Frank Sinatra for the American legend's album "Duet's II" . But not even Madonna would earn an exception, Luismi says. "I can't sing songs that I don't feel. If I did I'd be losing my personality."
So, at his press conference last week, warning the peck-hugging, black T-shirted figure before me that those British girls might not buy into his romantic verse so easily, I asked how he thought he might seduce them? For a moment I froze under a pair of emerald eyes. Had I been caught in the spell of Miguelism? Then he said, smirking without lifting his gaze, as if he had seen right through me, "If they are anything like you I don't think it will be so difficult."
Luis, what will those gringo girls make of you? Will they misunderstand you and take your melodies with their handbags to the dance floors of Cha Cha's disco? No doubt some work will have to be done for Northern women to appreciate the true pleasure of Miguelism, as exploited by their Latin sisters in the South. Here Luis is certainly not for the discos but to be safely tucked into the CD player, crooning for you and a few friends only, in an evening of pure eye-watering self-indulgence. Men, of course, excluded.
This article was first published in 2003. To find out about Latin America's love for Romantic music and where it's at today, check out our next issue on Latin Music coming soon!
Corina J Poore marvels at an enchanting documentary about the...
Discover the Latin history of Hollywood, as we turn the spotlight on...