...Peruvian Bands and Artists
Music is and has always been a key ingredient to Peru's collective cultural identity, write Martin Morales and Duncan Ballantyne of Tiger's Milk Records. The evolution from the Afro - Peruvian creole tradition of the 1950's to the psychedelic cumbias of the 70's to the bleeps, basslines and cumbia mashups of modern day Lima, has always reflected Peru's unique national and indigenous identity. Here is their list of top ten Peruvian artists and bands of all time.
by:
Martin Morales & Duncan Ballantyne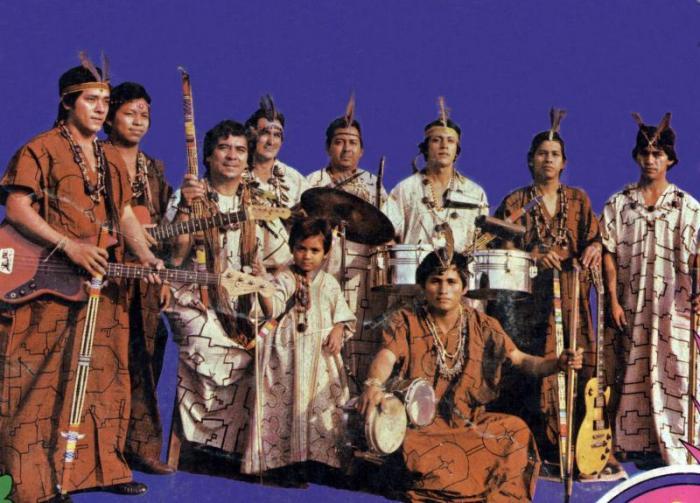 1. Juaneco y su Combo
Juaneco is a treasured musical icon in Peru due to their chicha sound, a style of music exclusive to Peru that came to roost out of the popularity of cumbia. Hailing from the Amazon with electric guitars and a musical appreciation of the modern Amazonian sounds of Brazilian Carimbo , Cumbia and Rock n Roll but with a large respect to huayno and the traditional elements of Peruvian culture. Sadly the creative leader Noe Fachin was killed in a plane crash in 1977 and Juaneco died in 2004 but the band still continue after the mantel was passed onto the son of Juaneco, Mao Wong Lopez.
2. Los Saicos
The Peruvian punk outfit who outdated the New York Dolls and The Sex Pistols with their brand of loud, fiery and high octane punk and garage. Los Saicos were the first ever punk band in the world and Lima was their stomping ground. Their guttural and stripped back sound of guitars, drums, bass and vocals was the ideal soundtrack to an epoch defined by a burgeoning counter culture and exuberant youth movement.
3. The Mad's - Peru's Latin Psyche rock band
Los Mads were a Latin Psych rock band whose sound bears much resemblance to the psychedelic rock that came from the west during the hippie movement of the late 1960s. From the district of Lince, its no surprise that Mick Jagger and Keith Richards fell in love with their charm in 1969 especially as much of their lyrical content was in English.
4. Chacalon -The Pharoah of Chicha
literally known as the pharoah of chicha music (El Faraon de la Chicha), Lorenzo Palacios Quispe AKA Chacalon was a sensation for a criminally short time living to only 44 years old but receiving much acclaim as one of Peru's brightest stars reigniting the electrified chicha tradition connecting with new audiences in the city and the countryside.
5. Lucha Reyes - the Nina Simone of Peru
Her heartfelt criollo songs have become anthems. When you come to symbolise your nationhood, It's fair to say that you have indeed made your mark as did Lucha Reyes, the singer from the district of Rimac in Lima who has been compared to global figures such as Nina Simone. Her heartfelt criollo albums have become anthems in her homeland. October 31 marks the day of her death and the national day of the creole song - what a legacy!
6. Arturo Z. Cavero - Peru's own Nat King Cole
Another representative of the Afro Peruvian tradition and leading male crooner deemed a treasure within the Peruvian cultural identity. Comparissons have been made with Nat King Cole yet his style was born out of the festejo sound, grounded within AFrican tradtion and celebrating the emancipation of slaves.
7. Bareto - Popular Cumbia activists were formed in Miraflores
The latest record by Bareto Ves lo que quieres ver' mixes reggae, cumbia, psychedlia and dub with various Latin styles and done in a socially conscious manner lyrically referencing racism, social differences and lack of security on the streets of Peru. The band have just been nominated for a grammy and are based in Miraflores, Lima and promise to have a sustained and successful career ahead of them.
8. La Sarita - Peruvian activist and socially conscious punk rock group
From El Agustino and formed in 1998, La Sarita has a sound and variety similar to Manu Chao and a sensibility that retains a grounding and awareness around environmental and social issues in Peru, La Sarita are internationally recognised and huge across all of South and Central America. Formed in 1998, the band have released 3 albums and combine Latin rock with Andean and Afro influences led by the charismatic Julio Perez.
9. La Inedita: Leaders of the new Peruvian urban cumbia.
Direct from the barrio of La Victoria, Lima...La Inedita are tough! Masters at rhyming and rocking these guys are not for the faint hearted and are massively talented with a sound and style akin to Rage Against the Machine and Asian Dub Foundation. Often drawing on their cumbia or reggae roots these guys are the leaders of Peru's urban underground.
10. Novalima: Cutting edge Grammy nominated contemporary electronic and Afro-Peruvian band
Starting out in Lima's bohemian barrio of Barranco, Novalima transcend categorisation often playing with a myriad of musicians and collaborators from around the world yet their electronic sounds always kicks but with a charm that evokes laid back Lima, African style. Recorded on labels Cumbancha and Mr Bongo, Novalima have become internationally recognised and will probably be playing a festival or club near you soon - loads more to come from these guys.
Tiger's Milk Records is a brand new record label and sister project of Ceviche, a newly opened Peruvian restaurant based in Soho, London.
BUY LINKS: http://tigersmilkrecords.bandcamp.com/FACEBOOK: www.facebook.com/tigersmilkrecords