Evo Morales, President of Bolivia
Ana Caistor-Arendar falls under the Aymaran charm of Bolivia's first indigenous president.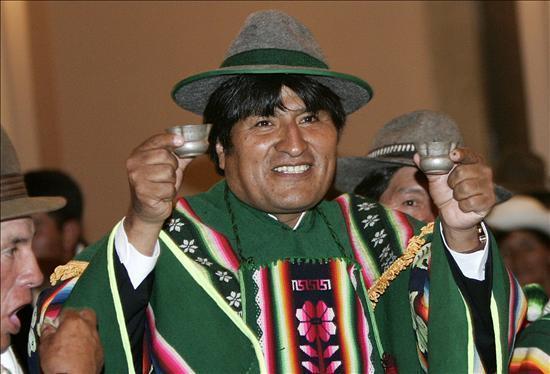 President Evo Morales is tired. Having woken before sunrise, by the time we meet at 8am he has already convened with the Vice President, attended a gathering with trade union representatives and travelled to the outskirts of the capital, La Paz, to catch a flight to the provinces. "I wish I could find a pill that would make it possible for me not to sleep at all,"he says, his eyes sleepy but full of sparkle. "But as one doesn't exist I'll just have to get on with it, there is a lot to do!"
Mr Morales' mandate as President of Bolivia, a landlocked country in the heart of South America, began four years ago. Since then he has had the curious eyes of the world on him as a result of his international alliances with U.S. foes Ahmadinejad of Iran and Hugo Chavez of Venezuela, his controversial policy shifts and his penchant for woolly jumpers.
The day we meet he is on his way to the inauguration of a school in Mizque, a small rural town in the centre of Bolivia. "A journalist from the hometown of Margaret Thatcher!" Mr Morales says, unleashing a fit of giggles, as I board his tiny private jet. "The iron man. Isn't that what they used to call her?"
Born the son of indigenous Aymara peasants in rural Bolivia, Mr Morales spent his formative years playing football and working as a coca leaf farmer. It was when a friend and fellow coca farmer was burnt alive by the military government's anti-drug forces that his political consciousness awoke. He swiftly joined a trade union, and was propelled into the political arena. In the 2006 general elections Mr Morales campaign focused on the nationalisation of Bolivia's energy sector. He won by a landslide.
"I never imagined that I would become president of Bolivia, mainly because of my economic upbringing," Mr Morales says as we fly over the arid mountains of the Bolivian interior. "My mother was illiterate. She would bring her agricultural products from the countryside into the city to sell them and the authorities would throw her out of the plaza because she was an Indian. It was then that I began to understand that there was racism and inequality in my country. These issues compelled me to enter into the political arena."
Bolivia is the only country in South America with an indigenous majority. Two hundred years after its formation Mr Morales is the country's first indigenous president. Since coming to power he has tirelessly pursued a controversial programme of social change. Pressing ahead with his vision of a "democratic revolution", he initiated the part-nationalisation of the country's energy resources. Foreign companies were given six months to sell at least 51% of their holding to the state or leave.
This produced immediate results. Last year foreign debt was reduced by over 35% and Bolivia achieved a fiscal surplus for the first time in three decades. This was followed by a policy of land redistribution and the formation of a constituent assembly responsible for the re-writing of the constitution, with view to giving more representation to the indigenous population. Yet analysts have accused Mr Morales of scaring off much needed foreign investment through his policies. They argue that Bolivia lacks the infrastructure or expertise necessary to make his programmes successful.
"The poor people of Bolivia want equality," Mr Morales observes. "To achieve this we have to recover our natural resources through nationalisation and then we move onto the second phase which is industrialisation." Picking up the strawberry yoghurt pot he is eating from to illustrate his next point, Mr Morales continues. "Imagine this is a measure of petrol," he says motioning to the yoghurt pot, "which is currently being sold abroad and giving us a profit of $1 boliviano. If we produce this all ourselves we can sell this pot and make a profit of $40 bolivianos, this is what I want to advance. Bolivia is not going to be the poorest country in Latin America for long."
Unsurprisingly these policies have sent shock waves through certain sectors of Bolivian society; especially in parts of the oil rich east of the country where the population is mainly made up of wealthy European descendents. A number of provinces in this area called for greater autonomy. Then came demands for the relocation of the executive and legislative government from its current location in La Paz, to Sucre, a city of 250,000 inhabitants. Sucre had once been the colonial capital of Bolivia but lost its position to La Paz in a 19th century civil war. Today Sucre is an opposition hotbed, moving the capital would be sure to clip the president's wings.
Talk of these issues makes Mr Morales become visibly agitated. "There are a few groups, very few, who feel irritated by the policies that we have initiated, because we have begun to affect their businesses," he explains. "Now they have started to make demands of the government and are trying to wear us down. But there is a pretext behind their demands, they understand that autonomy means division and they know that Bolivia would not survive."
Is there also a racial factor at play? The calls for autonomy are coming almost exclusively from the white sectors of the population. "It is pure racism!" Mr Morales says firmly. "They treat us as if we are ignorant, they refer to us as "the Indians". They want to divide Bolivia, but the people don't want to be divided."
According to recent polls, support for Mr Morales' government does indeed remain strong, with 59% of the population revealing that they would vote for him if an election were to be called tomorrow. Inquests also show that 66% of the population are against the relocation of the capital to Sucre. Yet the opposition still exerts a great deal of power. Opposition protests held over the last few months forced the government to temporarily suspend the constituent assembly and have created the sense that the country is critically polarized.
As we descend upon the small town of Mizque, located at the base of a mountainous valley, well-wishers clamour over each other to cover the President in confetti and garlands, which they bundle around his neck. Mr Morales, and his modest entourage, are ushered into the new school. Standing on the school balcony, wearing his new petaled gifts, he addresses the gathered crowds.
His oratory style is unceremonious and affable. Shying away from the simplistic, populist one-liners favoured by his regional ally President Hugo Chavez, he instead attempts to bring his audience into the political process.
During his speech he details the economic situation of Bolivia; reading out recent inflation, growth and debt figures, to a 3,000-plus crowd who cling to his every word. He reveals that before becoming president he did not know the meaning of financial terms such as "fiscal surplus" and "deficit." He stresses how important it is for those gathered to understand this argot if they are to improve their future. As he wraps up his speech after 40-mins, record time by Latin American standards, the gathered crowd begin chanting "Viva Evo" ("long live Evo").
Shortly after the speech we are steered through the crowds and onto a helicopter. Onboard are a group of pilots, their uniforms carrying the Venezuelan flag. It transpires that not only are the helicopter and the pilots a gift from President Hugo Chavez of Venezuela but the school we have just visited was funded by the Venezuelan leader.
Chavez's largesse has played an important part in Mr Morales' mandate. Billions of dollars, of what Mr Morales refers to as "unconditional donations," have been given to Bolivia from Venezuela to help excavate natural resources and build new public works. "Chavez and I co-operate in matters of politics, ideology, culture and credit," Mr Morales says, leaning towards me with excitement. "We are both aiming for the liberation of Latin America from imperialist powers".
Statements like these and the strength of relations between the wave of socialist countries that have emerged in Latin America, has created cause for concern in the United States. A country that once enjoyed a great deal of control in the region is now finding itself labelled enemy number one.
"We are considered the Axis of Evil by the United States," Mr Morales says, "when in reality we are the Axis of Humanity. We want to be able to live well without being exploited. The U.S say that the Axis of Evil is growing, when what is really happening is that underground, the Axis of Humanity is getting bigger."
Mr Morales is convinced that the U.S. government is funding the right-wing opposition in Bolivia in order to protect its interests in Latin America. "There is an open conspiracy between right-wing groups in Bolivia and the United States government," Mr. Morales says. "They thought about implementing a coup against me. They even thought about eliminating me, but they got scared because the people wouldn't accept a coup."
So is this the reason why he has turned to the Bush administration's archenemies for support? "Bolivia is going to have diplomatic relations with all the world," Mr. Morales explains. "We have relations with the U.S. and Iran. Just because I have dialogue with a country doesn't mean that I am compromising my country's politics or political leanings. We are looking for ways to find partners, not bosses."
As the helicopter propels itself into the sky, the crowds of supporters who had gathered to wave their president off disappear into the landscape. Mr Morales has the 30-minute length of the journey in which to repose before attending yet another political engagement.
This jet-setting diplomacy seems a far cry from the grassroots politics that Mr Morales played a prominent part in for years. Is it possible to move successfully between grassroots to the presidency? "Initially I was hesitant about moving into the mainstream political arena because the politician is always seen as a criminal, a thief, corrupt, and I didn't want to join a group of criminals, I preferred to work within the trade union movement," he explains. "But there were calls from within my union for me to stand as president and I had to heed those calls. Ultimately I believe that politics is about creating an authority that is able to serve the community, be that a grassroots community, an indigenous community or a national community. Since becoming president I have been able to be an effective authority for the (Bolivian) community and that is all that matters."
Does he like the life of a President? "I feel obligated to assume a position of responsibility," he says, his face becoming sombre for the first time during our encounter. "This is the only time in Bolivia's history that there has been an indigenous president. If I do a bad job the people, the indigenous population and the middle and upper classes, will never trust an indigenous person again. So I have to work very hard at this and do very well, so that in the future we can continue to see indigenous presidents in Bolivia."
I wonder if this is a lot of pressure for him? "It is a lot of responsibility, for myself and for my indigenous brothers," he says. "If I do badly no one is going to trust me or them. Most people have family commitments to keep, but I don't. I'm not married, my mother and father have died and my siblings have wed, so I am able to dedicate myself to serving the community."
Corina J Poore marvels at an enchanting documentary about the...
Discover the Latin history of Hollywood, as we turn the spotlight on...