Venezuela Rising
As international artists hail Venezuela as 'the future of music' Candela explores why recognition has taken so long to come.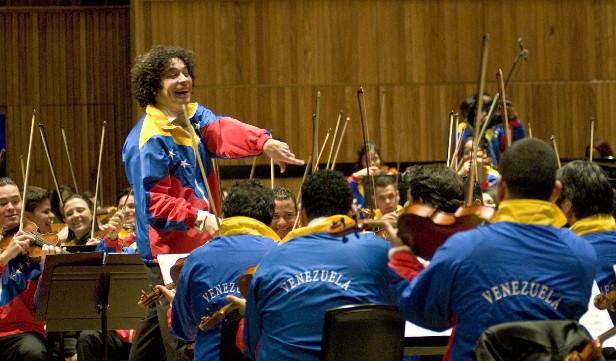 When, back in 2005, one of the world's most famous conductors uttered the words "I don't think there's anything more important going on in music in the world right now than what is happening in Venezuela," it may have been no news to those familiar with Venezuela's rich musical life. Yet it began the ripples of what was to become a veritable cultural Tsunami, proving that it takes a few words from the right person to focus the global spotlight on a country.
Simon Rattle, director of the Berlin Philharmonic, was of course referring to the now world famous Simón Bolívar National Youth Orchestra and El Sistema (The System) that created it and 400 other Venezuelan orchestras. "The rest of the world has so much to learn," Simon rattled on "And we're all going to go back to Europe and America and bore them endlessly about what's going on here, because I think this is the future of music."
Since then, little rattling has had to go on. As international invitations to perform trickled in, ears have been pricking up across the world's concert halls like a Mexican wave. The Orchestra's joyous and energetic performances have turned the stiff world of classical music upside down. London got it's fix last year with a week-long residency at the South Bank
Suddenly, Venezuela's cultural pandora's box has been opened. Venezuelan creativity seems to be bursting out of every musical pore onto the global stage; Gabriela Montero, the inspirational pianist who played at Barack Obama's inauguration, the trumpeter Francisco Flores - the youngest ever member of the Berlin Philharmonic - and Gustavo Dudamel, who at the age of just twenty-eight is now the director of the Los Angeles Philharmonic. The V-word is also buzzing in Jazz, World, Dance and Latin music, where the Quintero family of percussionists rule. Even the British indie-supergroup Mongrel recently hailed Venezuela "the new Jamaica, or Brazil, or Cuba… it's kicking off. "
For years Venezuela's rich musical talent and heritage remained under-exposed, while Brazil and Cuba pretty much monopolized the world's musical appreciation for South America. The question is not the quality of Venezuelan music, but why the recognition of it has been so late coming? And what is behind the new Venezuelan uprising?
A culture sold cheap
"In the early 1970s the arts in Venezuela were a social luxury," Maestro Jose Antonio Abreu, founder of El Sistema, explained to Candela. Like most Latin American countries at the time, official cultural policy was designed to show off the sophistication of the elite and their knowledge of Western culture, not their own. Yet, while elsewhere in Latin America the early seventies saw a reaction against this elitist undermining of native culture, in Venezuela soaring oil prices and an oil-boom economic strategy that favoured quick money and imported goods over long-term investment in national production and independence was also reflected in culture. Whether it was car parts or art and culture, what was imported was seen as better.
"Even though there was much love for our music all over the country, for many decades the media, government and commercial culture in general never reflected this pride and promoted imported culture over national," says Venezuelan percussionist Robert Quintero. "Venezuelans bought into what they were sold from the US, whether it was American pop or New York salsa and this undermined our confidence in our own culture and, eventually, our ability to play our own music."
Afro-Venezuelan music, for example, had always been looked down on by the white Venezuelan elite as music of and for malandros (delinquents) and chusma (riffraff). The soaring oil prices, placing even more wealth in the hands of a few, simply fed this attitude: whilst outstanding Venezuelan salsa bands such as Trabuco Venezolano remained in relative obscurity, in 1977 Venezuelans were buying 90% of New York produced salsa vinyls. Afro-Latin music could be cool as long as it wasn't Venezuelan.
Venezuelan wealth was represented less in supporting and exporting the arts than in the damedos (gimme-two) caricatures that Venezuela became known for all around Latin America – after their reputation for buying two of everything in their shopping sprees to Miami and New York. In literature, Venezuela was conspicuously absent from the Latin American boom that flung the likes of Colombia's Gabriel Garcia Marquez, Argentina's Jose Luis Borges and Julio Cortazar, Peru's Mario Vargas Llosa, Chile's Pablo Neruda, Cuba's Gabriel Infante Cabral and Mexico's Octavio Paz onto the international scene. The prestigious International Theatre Festival that began in 1973 in Caracas and brought the likes of Peter Brooke, was soon to be neglected to a state of virtual abandonment.
The disinterest turned into desprecio when it came to popular music and this had a cultural impact, says Robert Quintero: "Many excellent Venezuelan salsa musicians and percussionists who went abroad often played Cuban, Puerto Rican or even Brazilian rhythms, because they hadn't learnt their own." It is no surprise, then, that no big international producer or artist did for Venezuelan music, what Ry Cooder did for Cuban with Buena Vista Social club.
There were other factors: reliance on lucrative oil-rents meant Venezuela never generated a tourism industry like Brazil's, that took the likes of Stan Getz to adopt Brazilian music; neither did it have a revolution like Cuba that made it an exotic taboo for Dizzy Gillespie; nor a dictatorship that ejected the likes of Caetano Veloso and Gilberto Gil to Britain, where they made their name. It was as if consumer culture sapped all creative energies, ambitions and, ultimately confidence.



"Entrepreneurship is not a national trait," says Gloria Carnavale, Venezuela's ex-cultural attaché in London. And this explains much she says, from the lack of political will and vision to export their culture to Venezuelan people's own relationship with culture. "Traditional Venezuelan music went on stage for the first time in Venezuela in 1975. Before that it was simply played and enjoyed in houses and parties as part of a social occasion. The idea of performance as something separated from the audience was not part of our culture."
Like the oil fuelling the Ford and Chrysler cars cruising the Caracas highways, Venezuela's rich culture was also being sold cheap, nurturing another's glory while it lay still undiscovered. But a revolution was brewing…
The Uprising
It was a sense of horror and indignation of living in a country so rich in cultural and financial wealth, and so neglectful of its most valuable human resource that José Antonio Abreu decided to act. He proved to be a visionary and entrepreneur that was an exception to the Venezuelan rule when he began taking music teachers into the poorest neighbourhoods of Caracas and training children in classical music. Today Abreu's initiative has 500,000 Venezuelan children in classical music training. Its transformative effects on individuals, their families and communities became so evident that it was impossible to ignore. Now El Sistema being reproduced in three UK cities, attempting to reverse youth disengagement and rebuild broken communities.
"In Venezuela I saw first hand how the process of creating beauty was transforming young people, the way they behave and relate to others," Richard Holloway, the founder of El Sistema Scotland. "This transformation had injected their families and communities and, ultimately society, with hope and opportunity, driving out the cynicism and hopelessness that deprivation causes."
Abreu says: "Aesthetics and Ethics are two sides of the same inseparable dimension. Art is a sign of the glory of man." His simple vision of planting art at the centre of communities, as if it were a basketball court, had been nurturing excellence for years by the time Venezuela's Ry Cooder finally arrived in the form of Simon Rattle.
The timing of the arrival and recognition of Venezuelan talent on the international scene is no coincidence. Experts such as University of East Anglia's Hazel Marsh suggest it is a symptom of a wider renaissance that is sweeping Venezuela as a result of government cultural policy over the last ten years. As well as adopting El Sistema as a state programme and pummelling money into it, Hugo Chavez' newly created Ministry of Culture, with its slogan la cultura es el pueblo (culture is people) has embarked on a two pronged social policy to make high art accessible to the general public and give previously denied esteem to Afro-Venezuelan and indigenous Venezuelan musicianship.
The initiatives include offering free entry into the previously exclusive Teresa Carrreño theatre, establishing a national network of affordable bookshops, cinemas and galleries and funding folkloric and amateur artistic expression. They have involved building 400 new community centres around the country with community radio stations, computer rooms, courses such as learning to play the Cuatro, how to record local culture and setting up community museums (In 2007, the Misión Cultura gave courses to 35,000 Venezuelans). One participant said: "We aim to recover popular tradition, art and music that is characteristic of our country…to recover our heritage, local history, not history told by a group that imposes a version that never was."*
In 2005 the government funded Venezuela's biggest ever embarkation to record grassroots culture. The Patrimonial Cultural Catalogues involved retraining leading Venezuelan anthropologists who had previously been in charge of recording culture from the top down to travel across the country, go into communities and learn about culture from Venezuelans themselves.
"The aim," says Marsh. "is that ALL Venezuelans see themselves reflected in the mirror of culture and as a consequence feel they belong to the nation." This approach was inconceivable under previous governments.
The result of this new local pride can be seen on stylish websites, such as www.El23.com showing off their neighbourhoods. It also means recovering popular musicians and heroes such as Ali Primera from the official sin-bins. In 2005, the government named Afro Venezuelan troubadour known as "the people's singer" patrimonio cultural.
Not all may agree with the political demagoguery that inevitably accompanies Hugo Chavez's 'cultural revolution.' But the new pride in Venezuelan creativity and culture and its contagious effect is hard to dispute.
Gloria Carnavale, who worked as cultural attaché both pre and post-Chavez, noticed a more pro-active approach in terms of exporting culture. "When they came in, the new administration asked you directly what we wanted to do and how much we needed and they stayed true to their promises."
"I am not interested in politics, but it is evident that over the last ten years there has been a lot more support for Venezuelan music, especially Afro-Venezuelan and Joropos." Says Luisito Quintero, the world's leading timbal player. You can see the pride and willingness to show it off reflected at an international level. You are seeing more musicians with the skills and knowledge to play our own music."
Back to roots for new routes
Perhaps, combined with the newfound confidence in the Venezuelan sound, the previous tradition of learning others' music has not been in vain. The Quinteros have gained unparalleled recognition as world class percussionists precisely because no others can master Afro-Brazilian and Afro-Cuban percussion as if it were their own, as Luisito can, as well as bring their own Afro-Venezuelan uniqueness. As one critic says, "You'll be hearing Luisito in a jazz club in New York or on a house track in a club in Ibiza. He can just play everything with style." Gabriela Montero wows audiences by playing Bach divinely and encoring with playful improvisations on any tune requested by her audience.
Even more noticeable is how The Simon Bolivar Youth Orchestra has put a uniquely Venezuelan stamp on classical music, leaving behind any idea of a 'third world' orchestra playing European music. Critics rave about the players' sense of rhythm, the musicality and flair that give the orchestra a unique quality, their passion and inclusive style that draw the audience in.
This innate musicality – born of a culture where music is an integral part of life from birth and in which all participate, as oppose to 'perform' – was for a long time simply part of popular Venezuelan life considered nothing very special. Now, the Youth Orchestra is showing-off it off, as well as including Venezuelan and Latin American composers, sounds and instruments in its repertoire, and leaving a Venezuelan stamp on the musical map. This revolution is irreversible.
Corina Poore talks to Gustavo Salmerón, who made a unique film about...
With a name like Che Sudaka, you can't help but be curious. We...