Life After Kirchner
The death of former president leaves power vacuum in Argentina.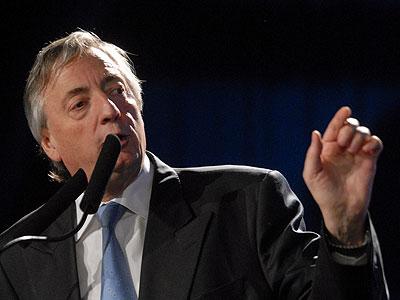 Argentine politics is currently in a state of limbo after the death of the former president, Néstor Kirchner, on October 27th. Kirchner, who underwent two arterial procedures earlier this year, suffered a severe heart attack and died after being taken to hospital. His wife, the current president Cristina Fernández de Kirchner, was at his side as he died. Following a state funeral at the presidential palace, the Casa Rosada, an enormous popular procession, thousands strong, accompanied Kirchner's remains through the streets of Buenos Aires to the city airport. His body was flown to his home town of Río Gallegos, Santa Cruz Province, where another gathering of people accompanied the funeral cortege to the cemetery. People held placards declaring 'Gracias, Néstor' and 'Strength, Cristina.'
Eight South American heads of state accompanied Fernández de Kirchner at her husband's wake, as well as local celebrities including the former footballer Diego Maradona. Three days of national mourning were declared. Tributes to Kirchner flooded in from all sides of the Argentine political spectrum. His enemies – and he was a man with enemies – observed the convention of speaking well of the dead, or not speaking at all. 'Néstor Kirchner deserves the respect of the Argentine society that he had the honour of representing,' said Eduardo Duhalde, Kirchner's presidential predecessor, now a political opponent. His supporters were more effusive. 'Someone indispensable has gone. Our country needed this man so much. He gave his life for his country,' said Estela de Carlotto, the president of the influential human rights group the Grandmothers of the Plaza de Mayo.
Kirchner was president from 2003 to 2007, and is widely credited with overseeing Argentina's recovery following the economic crisis of 2001. He was a fierce critic of the neo-liberalism of Carlos Menem's presidency during the 1990s, and argued that the state should have a more active role in the economy. His presidency was also notable for the overturning of amnesty laws protecting former military and police officers of Argentina's last dictatorship. This paved the way for a number of high profile prosecutions, including those of two de facto presidents. Kirchner also forced the retirement of other state officials considered to have links with the dictatorship. Through these measures he attempted to reverse the culture of impunity for human rights abusers that has – to some extent – polluted Argentina since the return of democracy in 1983.
His influence extended beyond Argentina's borders. In May this year he was appointed Secretary General of the Union of South American Nations (UNASUR), a supranational organisation modelled on the European Union. Kirchner wanted to see a stronger, more unified Latin America, one that could manage its own affairs independent of the United States and global financial institutions. In his role at UNASUR, he mediated in the diplomatic crisis earlier this year between Colombia and Venezuela. 'We Latin Americans are mature enough and showed that we are able to solve our own problems,' he said, following the resolution of the dispute.
To the extent that he was loved, he was loathed also. His domineering, combative style has seen him accused of authoritarianism, and cronyism. The Kirchners have fought a long battle with certain sections of the press (primarily with the daily newspapers Clarín and La Nación) which has drawn accusations of restricting press freedom and silencing opposition. They have also been accused of corruption, having seen their personal wealth increase by 700% since 2003, thanks to lucrative property development in Patagonia. They have been cleared of breaking the law, but given their positions in public office there is an obvious conflict of interest. Kirchner also had enemies abroad, who objected to his tough stance with the International Monetary Fund and with foreign investors. Argentine bond prices increased following the news of his death.
Kirchner's death is significant far beyond his presidency. Despite stepping down in order to allow his wife to run in 2007, he was still a major political heavyweight. Officially he was a Representative for the Province of Buenos Aires, and the president of the Peronist Justicialist party, but his real power lay in his marriage to Fernández de Kirchner. They were often referred to in the media as a 'husband and wife team' and as the 'presidential marriage.' Some of Cristina's harshest critics have suggested that in reality she has been little more than a puppet president, and that Néstor was the real power behind the throne. We shall now begin to get a sense of just how much power he wielded. No longer will it be possible to say that Cristina just dances to Néstor's tune.
All eyes will now turn to the presidential elections next year. Kirchner was widely predicted to run again. The assumption in Argentina had been that Néstor and Cristina were planning to alternate the presidency between them, effectively using their marriage to bypass the constitutional limit on successive presidential terms, a move which their critics decried as authoritarian and dynastic. Had Kirchner run again next year, he might well have won. Though his popularity in Argentina before his death was not what was during the days of his presidency, the popularity of most of his opponents is currently even less. The opposition remains weak and fractured and there has still yet to appear a credible alternative candidate. Kirchner's death leaves an enormous void in the current political scene.
The million dollar question is now whether Cristina will run again or not. 'There is no-one else that could unify the project that Néstor Kirchner personified and that she continued,' said Edgardo Depetri, the representative sworn in last week to replace Kirchner. Kirchner's death has also provoked a sudden and dramatic reorientation of public opinion in favour of his wife and of their shared project. Kirchner's own popularity is back up to around 75%, the sort of figure he enjoyed whilst in office. Meanwhile, polls suggest that if the elections were today, Cristina would surpass the 45% of the votes required to win the election in the first round. This is quite a turnaround for a president whose approval rating was languishing in the low 20s at one point. It remains to be seen, however, how long her newfound popularity will last.
This revival in Cristina's political fortunes following her husband's death also reveals a little of the curious importance of the dead in Argentine political life. Death is no obstacle to political influence in Argentina. The most obvious examples of this tendency are Juan Perón and his first wife Eva Duarte, more commonly known as Evita. Perón died in 1974 and Evita in 1952, but these two ghosts continue to haunt contemporary discourse. Néstor and Cristina had invited the obvious comparisons with the Peróns, using their images and footage during campaigning, and following Néstor's death, this parallel is likely to be brought into even sharper focus. The scenes of the enormous multitudes accompanying Kirchner's funeral cortege through Buenos Aires clearly brought to mind the great outpourings of public grief following the deaths of Perón and Evita.
Néstor Kirchner was respected rather than worshipped, never having the charisma of Perón, but there are other similarities. Like Perón, Kirchner was a highly intelligent and perceptive individual, aware of social movements, public mood, and how they could be harnessed in order to affect political change. Like Perón, he was a transformative figure, one who, with his death, leaves the country a very different place to the one in which he assumed power. The 27-year-old Argentine democracy has been bruised: from the culture of impunity, from corruption, and from years of economic mismanagement, but Néstor Kirchner did manage to restore a little faith in it. Like the Peróns, he will continue to dominate politics in Argentina from beyond the grave.
After a debut La Ciénaga (The Swamp 2001) that shook the world of...
Ciro Guerra's El abrazo de la serpiente/Embrace of the Serpent takes...