Latin Albums produced in the UK
Artists from all over the world come to record in London, and Latin Americans are no exception, from Soda Stereo to Buena Vista. But we are not interested in these 'parachute recordings', only the Latin artists who lived here, even for a brief period, to bring 'their' London experience with them into the recording studio. There have been a lot of disasters as a result, but when it goes right this combination has produced some original and outstanding results. The following list pays tribute to this London Latin uniqueness as expressed through music.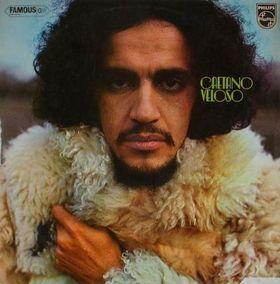 | | |
| --- | --- |
| | No 1. CAETANO VELOSO (Polygram 1971) Caetano Veloso. A French saint once said that it is as dangerous for a writer to try a new language as it is for a believer to try a new religion: he can lose his soul. When he made this album, Brazil was under military dictatorship, Caetano was in exile in London nd he was probably not the happiest he's ever been. Nor did he probably think he was writing the best music of his life. And yet, the Brazilian legend was reaching his prime as an artist, and several songs on this album are some of the best he's ever written. One of them, 'London, London', Caetano often says he thought was a silly little song when he write it but that "listening to it over time I am surprised at how good it is". Like the album itself, it encapsulates the loneiless one can feel about being far from home, in a strange if not unfriendly place, in a simple but beautiful way. Caeteno's use of English is very special and for english ears throws a great perspective on our city. Nick Griffin should be forced to listen to it. |
| | No.2 GILBERTO GIL ( 1971)Gilberto Gil. Tropicalia co-pioneer Gilberto Gil was in exile at the same time as Veloso. And like Veloso this album has become a classic in a way he probably never imagined. Similarly low key and nostalgic it balances hippie-era optimism and a melancholy longing for home (the latter exemplified most obviously in a great cover of the Blind Faith song "Can't Find My Way Home"). It's acoustic nature gives it a vulnerable and true-to-yourself feel, except for the full-band rave-up of the tongue-in-cheek "Crazy Pop Rock". The album mixes modified bossa nova rhythms with folk-rock influences and a pronounced psychedelic side (see "Three Mushrooms" and the bonus-track live versions of Hendrix and Beatles tunes). A great way to get into this Brazilian legend if you haven't already. |
| | No.3 SPITERI (Vampisoul - originally issued in 1973) Spiteri.Another oldie but goodie. Why don't they make experimental music like this any more? (Or if you do...send it to us!) This is a true gem that got reissued recently, a visionary albumproduced by some top class and slightly crazy Venezuelan musicians living in London at the time. It went unnoticed for decades and only now, through its reissuing by visionary label Vampisoul, is finding its way to record collections. A mix of psycadelic rock, salsa and Venezuelan afro-music. |
| | No.4 OTROS TIEMPOS (Deep South 1999) Tumbaito Led by Venezuelan master percusionist William Cumberbache, Tumbaito only released album to date was a mixture of Latin, jazz, urban and folk music, a mix never seen in the UK before. Heavily influenced by Weather Report, this album sounded ten years ahead of its time. |
| | No.5 EL CAMINO (Discos Leon 2006) Salsa Celtica As every other music hack has said about this group, it should not work...but it does: Salsa Celtica are a true representation and a beautiful fusion of two great creative and musical cultures. It's Salsa and Celtic (yes bagpipes and all that) and it rocks!. They are the only British salsa band to boast gigs around the globe. "El Camino" solidified their sound and their reputation. |
| | No.6 SALSA PA' TI (Candela Records 2005) Dorancé Lorza One of the best salsa releases of 2005 around the world, This album got fantastic reviews by Straight No Chaser, Descarga.com (one of their top 10 albums of that year) and Latin Beat. Lorza, a fantastic vibraphonist, took some great salsa classics (EL Titere, El Negro Bembon) and made them his, giving it a great colombian flavour and a high degree of sophistication along the way |
| | No.7 EXPOSURE (Loft 2001)Grupo X A true english salsa group. Led by Jonathan Enright, Grupo X first album is a classic salsa album, a 2 trombone affair, kinda of updated La perfecta/Conjunto Libre. It really put UK salsa music out therewhen it got nominated for a Latin Grammy. |
| | No.8 SKA CUBANO (Casino Sounds 2004) Ska Cubano A match made in heaven, the percussion and soulfulness of Cuban son mixed with the bass driven sound of Jamaican Ska. They were not the first to mix afro Latin ryhtms to Jamaican music (Los Pericos from Argentina and Desorden Publico from Venezuela made careers out of that) but was the use of Benny Billy an old Cuban singer what made them sound unique and open the door for them to become one of the most successful Latino bands in the Uk since Edmundo Ross. |
| | No.9 BRIDGES (2007) Omar Puente and Robert Mitchell An outstanding and classically trained Cuban Violistist who developed a passion for Jazz settled in England after meeting his Jazz musician wife in Singapore. He has played with all the greats and recorded some great experimental music of his own. This album with British pianist Robert Mitchell is a great example of pushing those jazz-fusian and cultural boundaries. |
| | No. 10 INGLATERRA (2007) Alex Wilson. The most accomplished non-latino latin piano player to come out of the UK, Alex Wilson may not be for salsa purists, but his tracks are gratefully received by the UK salsa dance community and have great cross-over appeal. He might not be a Papo Luca, but he is a tremendous jazz pianist and his forte of mixing soul and salsa together in a highly credible way is an acheivement not to be dismissed. His renditions of "Ain't Nobody" and "Show me" on this album are testament to that. |
In his film X500 (2016) Colombian-Canadian director Juan Andrés...
There is still a commonly held view that 'Day of the Dead' is Mexico'...