...Latin America's Paralympic triumphs at London 2012
From Yunidis Castillo's incredible 200m, to Alan Oliveira's crushing of the world's biggest Paralympic athlete, Latino athletes have brought London 2012 some of the most exciting moments in the competition's history. We bring you a selection of our heroes so far...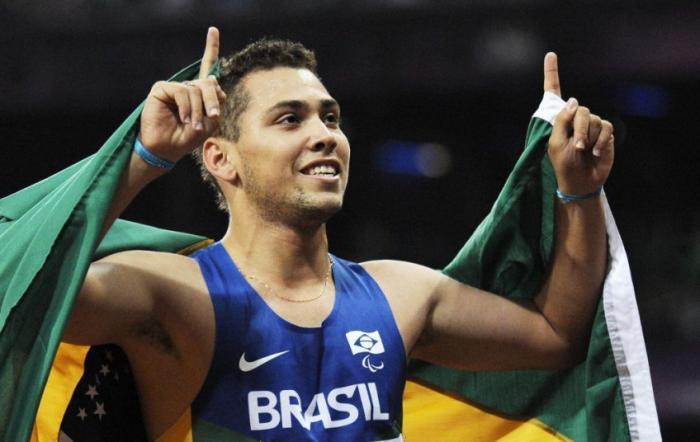 BRAZIL - An astounding Paralympics, 7th in medals table above France,Germany, Spain and Canada
Oliveira causes the biggest upset of London 2012 and ignites one of sport's greatest rivalries
In one of the Games' most unexpected moments, Brazil's Alan Oliveira beat world champion and Paralympic superstar Oscar Pistorius in the men's T43/44 200m final with a time of 21:45s. In a race that had been seen as a foregone conclusion, Oliveira overtook Pistorius with 30m to go and left the capacity crowd shocked. Pistorius was outraged and claimed the blades the Brazilian athlete used were too long and not within official regulations, although the IPC has said the blades were well within legal lengths. Oliveira meanwhile put his victory down to 'commitment and hard work' and referred to Pistorius as 'a really great idol'. The controversy unfairly to the shine over what was an astounding achivement on the Brazilian's part.
Pistorius got his own back by beating Oliveira on the last leg of the 100m relay for South Africa, fighting off another of Oliveira's last 50m flight. Brazil took silver, and with the 100m and 400m to come the rivalry looks set to continue!
Yohansson Nascimento won two medals - gold ahead of Simon Patmore of Australia and Antonis Aresti of Cyprus in the Men's 200m - T46 final and won silver in the 400m - T46
The dazzling Terezinha Guilhermina, with her sparkling outfits, soared to victory in the 100m and 200m T-11 with her guide Guilherme Soares de Santana. Unfortunately, she left him on the track floor of the 400m as he failed to keep up with her. Two golds proved enough to forgive him though.
Andre Brasil and Daniel Dias, Brazil's swimming champions
Andre Brasil went home with an incredible five medals in the S10 category. Brasil lost the use of his left leg as a child after a bad reaction to a polio vaccine and was prescribed to take up swimming by doctors. He is Brazil's top medallist at the 2012 Paralympics, taking silver in both the 100m Backstroke and 200m Individual Medley. He also won gold in 100m Butterfly, beating Russia's Dmitry Grigorev by 0.54s and gold in the 50m Freestyle where he broke his own own world record by 0.08s.
Daniel Dias put in a breathtaking performance at London 2012, taking six golds and becoming Brazil's top medallist of this Games. In the S5 category, Dias won the men's 50m, 100m and 200m freestyle, the 50m butterfly, and scooped gold in the final of the men's 100m breaststroke SB4. Dias learnt to swim at the age of 14 after being inspired by Clodoaldo Silva at the Athens 2004 Paralympics. He entered his first international competition, the IPC Swimming World Championships, in South Africa two years later, and he won five medals. At Beijing 2008 he won a total of nine medals including four golds, more than any other athlete at the Games. Latinolife were lucky enough to meet the Brazilian delegation as they flew out of Heathrow after the Games, with Dias telling us he had 'loved' London and 'was looking forward to getting some rest and getting excited for Rio 2016'. We'll see you out there Daniel!
Also looking for glory was Shirlene Coelho, one of Latinolife's most hotly-tipped Paralympians. She grabbed gold in the women's F37/8 Javelin Throw in an impressive display at Olympic Park, beating China's Qianqian Jia and Australian Georgia Beikoff and setting a new world record of 37.86m in the process.
Brazil continued their illustrious men's 5-a-side football trajectory by beating France 2-0 in the gold medal final match on Day 10 of the Games. With the impressive accolade of never having lost a 5 -a-side match at the Paralympics, confidence was never going to be an issue for the side, which they proved with confident ball-dribbling skills and two great penalty saves by keeper Fabio de Vasconcelos.
COLOMBIA
Moises Fuentes swims to Colombian glory, in a Latino medal trio
After a tragic shooting accident at the age of 17 which left his brother dead and himself without the use of his legs, Moises Fuentes was originally involved in wheelchair basketball, until friends invited him to try swimming. He quickly became Colombia's most active Paralympian, participating in the Sydney, Athens and Beijing Games. He took silver at London 2012 in the men's SB4 100m breaststroke with a time of 1:36:92, with Brazil's Daniel Dias winning gold. Fuentes' achievement was recognised by a phonecall from Colombia's president Juan Manuel Santos, who called the swimmer 'an example to the whole country'.
Our Colombian pick, Elkin Serna, didn't let us down andrepeated his success at Beijing by taking another silver at the men's T12 marathon on the final day of London 2012, losing out to Spaniard Alberto Suarez who set a new world record of 2:24:50.
CUBA
Luis Felipe Gutierrez smashed the Paralympic long jump record
The Cuban won gold in the F13 men's long jump with an astonishing leap of 7.54m, creating a new Paralympic record in the process. The win was made all the sweeter as he was accompanied at the podium by compatriot Angel Jimenez Cabeza, who scooped the silver with a jump of 7.14m. Gutierrez also shone in the men's T13 100m by bagging a silver and narrowly missing out to 'Ireland's Usain Bolt' and world champion Jason Smythe.
Yunidis Castillo lived up to her nickname
Cuba continued their strong showing at London 2012 with an amazing performance from the 'Queen of Speed'; comfortably taking gold in the women's T46 100m, 200m and 400m finals. Castillo beat Poland's Alicja Fiodorow and South African Anrune Liebenberg to complete the 200m race in just 24.45s, beating her own world record set at the Guadalajara Para Panamericans in 2011 by a hundredth of a second.
Argentina's Jose Effron dominated in the judo
22-year old Jose Effron won silver in an exciting match against the Ukraine's Olexandr Kosinov in the men's 81kg. Argentina's current medal haul stands at four, with bronzes for Rodrigo López in the C1 men's individual pursuit, Jorge Lencina in the men's 90kg judo, and Nadia Baez in the SB11 women's 100m breaststroke.
MEXICO - their best games ever
With 21 medals at London 2012, Mexico basked in its best Games ever, with seven times' as many medals as Beijing 2008, an impressive transformation in only four years. 18-year old swimmer Gustavo Sanchez Martinez brought home four of those medals, taking gold in both men's 100m and 200m freestyle S4, silver in the men's 150m independent medley SM4 and bronze in the men's S4 50m backstroke. fellow swimmer Juan Reyes grabbed another gold for the country in the men's 50m backstroke S4. In an amazing battle against China's Yang Yan, Amalia Perez also won gold in the women's -60kg powerlifting competition. When Latinolife caught up with her, she was already getting ready for the Mexican National Championships and looking forward to getting home to see her daughter.
SPAIN
Women on top form in the aquatics centre
The country put on a very strong performance at the Games, with a healthy 42 medals on their tally and eight of them gold. The Spanish women have proved integral to this strong showing, particularly in the swimming. Relative newcomer amd Barcelona native Sarai Gascon did Catalunya proud when she won silver in the women's S9 100m butterfly and a bronze in the S9 100m freestyle, and with it hundreds of new followers to her Twitter page (follow her, she's funny, sweet and gives some good backstage stories from Paralympic Village!) Gascon's teammate and carrier of the Spanish flag at the Opening Ceremony Teresa Perales continued to prove herself as one of Spain's premier Paralympians, adding six medals to her already impressive eighteen won at other Games. She took gold in the S5 100m freestyle final, silver in the S5 50m and 200m freestyles and the S5 50m butterfly, and a pair of bronzes in the 100m breaststroke SB4 and 200m individual medley SM5.
Cuba's natural setting, with its own historical and cultural...
From garage parties in Panamå to the awards ceremonies of Miami, how...