In Praise of Chavela Vargas 1919-2012
A tribute to one of Latin America's most iconic female role models.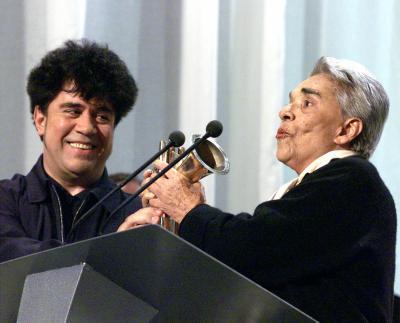 'La voz aspera de la ternura' (the rough voice of tenderness) is possibly the best description of the gutsy, liquor-swigging ranchera legend Chavela Vargas. Best remembered performing on stage in her characteristic red 'jorongo' (poncho), dressed in men's clothing with a bottle of tequila, Chavela served not only to embody Mexican-Cantina stereotyping but questioned and proved how a female singer could be equally successful in a male dominated music scene.
Her arrangements of Piensa en mi, La llorona and El Ultimo Trago, live on through ranchera music, as her haunting voice captures a lifetime of suffering and irony, to an extent, at the constraints for women and sexual prejudice that still exist in Mexico right to this day.
Born in 1919 in Guanacaste, Costa Rica, Chavela dreamt of bigger, brighter surroundings, swapping the lull of the countryside during her teens for the hustle and bustle of Mexico City. With this change came the abandonment of her name Isabel, and saw her adopt Chavela to encompass her new identity and personality. Starting off in post-Revolutionary Mexico by singing in the streets, Chavela soon progressed to become a star of stage and screen with her own versions of tangos, boleros and rancheras.
Her personal life was a lot more complex, facing the pressures of homophobic Mexican society, Chavela did not openly confess her lesbianism until much later in life, but slept with women and wrote songs about them prior to this. She was a woman ahead of her time in more ways than one, refusing to change the pronouns in many of her versions of Mexican folk songs from the feminine version. Amongst her numerous friendships with intellectuals, writers and painters: Juan Rulfo, Carlos Fuentes, Federico Garcia Lorca, Diego Rivera and Dolores Olmedo. Chavela was closest to Frida Kahlo, having spent a period of time living with the artist and her husband Rivera in Mexico City.
It was only with the publication of her autobiography, 'Y si quieres saber de mi pasado', (If you want to know about my past) at the age of 81 that she spoke openly about the homophobic atmosphere in Mexico and her liasons with women, using her autobiography as an opportunity to come out. Chavela wrote: 'What hurt was not being homosexual, but how they throw it in my face as if it were the plague,'. Even her supreme talent and musical genius was unable to dissolve harsh gender stereotyping and the machismo attitudes of Mexican society.
Best known for her weeklong drinking binges with Jose Alfredo Jimenez, composer of many of Vargas' works, Chavela described herself as 'an old drunk'. The pair were renowned for drinking bars dry across Mexico City, helping each other woo and serenade varying women. When Jimenez suddenly died young, this served as somewhat of a wake up call for Chavela's head, heart and liver, with her stopping drinking entirely after one final shot of tequila. Alcoholism, and the emptiness and solace it incurs feature heavily in the lyrics of Vargas' songs and ballads about love and loss in Mexican cantinas, which transcended and touched audiences not only in Mexico and Latin America, but also across the Atlantic to Spain.
In the later years of her live, it was Spain rather than Mexico that opened its borders to the Mexican legend. Chavela's friendship with the Spanish film director Pedro Almodovar, described by Chavela as her 'soulmate', provided Chavela with more formal projects. Almodovar commented: "I don't think there is a stage big enough in this world for Chavela,'. She appeared in Almodovar's film La Flor de mi secreto and also features heavily on the soundtrack. Later, in 2002 she featured in the film Frida alongside Salma Hayek, singing 'La llorona' (the weeping woman) as an ode to her deceased friend.
During her later years of life, Vargas performed at Carnegie Hall and also received the Latin recording academy lifetime achievement award in 2007. Her twilight years after confessing her sexuality were more meditative, recording her last of eighty albums, La Luna Grande in 2011 – homage to her deceased friend Lorca, in whom she still confided. Chavela's confidence and trust in the esoteric heavily influenced her personal life – having once suffered from polio she was convinced that her recovery was due to her trust and belief in her Shamans. Finally, in Spain, she felt accepted, commenting during an interview with El Pais the Spanish newspaper in 2009: 'It required tears of blood for me to get ahead.'
Refusing to accept help whilst hospitalised from breathing apparatus, Chavela's closest friend and biographer Maria Cortina commented that the singer went 'with great peace.' She continued to perform well into her nineties, performing from a wheelchair in 2011. Her free spirit and close circle of friends looked after Chavela up until her death.
'Now I have the desire to lie down in death's lap, and I am sure that will be quite beautiful.'
Isabel "Chavela" Vargas Lizano: born 17 April 1919 - died 5 August 2012
Corina Poore talks to Gustavo Salmerón, who made a unique film about...
This month's dancefloor hits by award winning Cuban DJ, Javier...