Paco Peña's Fantasy Island Tracks
If you were stranded on a desert Island, which tracks would you absolutely need to have to get you through those times of loneliness and despair? Man cannot live on sun and fish alone right? Our castaway, Flamenco guitar legend Paco Peña puts in his request for musical salvation...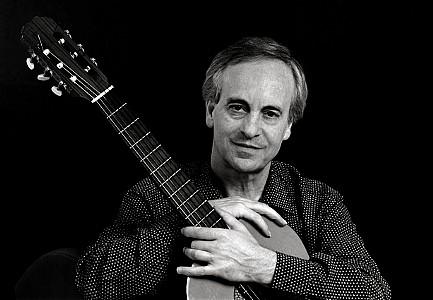 1. Solea by Sabica
When I was very young, perhaps just 8 or 9 years old, I already played the guitar, but a boy, older than me, went past the front door of my house in Cordoba playing a flamenco falseta that made such an impression on me. It was so beautiful that it trapped me in an unstoppable way. It was a soleá and even now I can still picture vividly that moment. So I would take a Ramón Montoya or a Sabicas record playing soleá. Sabica's Flamenco Puro arrived in Spain when I was a lad towards the end of the 1950s . He lived in America and his work was truly revolutionary. This record is simply amazing.
2. Bach's Moonlight Sonata played by Alfred Brendel
Also whilst I was still quite young, I subscribed to a magazine called "The History of Music" that came out every week and it included a record. I remember that on the first such record they were talking about the history of music, from guttural shouts within jungle- based societies, to the sounds that man used around the time of the wonderful creations of Johann Sebastian Bach. I recall clearly the phrase that mentioned "the greatness and distress of Beethoven" and the musical example was the sonata in C# minor known as Moonlight Sonata. I have listened to many people perform that sonata which is so well known but I listened to Alfred Brendel and I find his interpretation is so marvellous as it comes closest to reflecting exact what the composer was feeling that I would choose this record.
3. Hier Encore by Charles Aznavour
When I first met my wife Cari, she listened to French music and we used to listen to Charles Aznavour, a french singer, together. There is a song called Hier Encore which whilst a bit sad has a lot of meaning. While I remember the song I remember my wife who led me to the discovery of different music and showed me how to appreciate other art forms or art in a different way.
4. Bach's Preludio, Fuga y Allegro played by John Williams.
Later on in life I continued pursuing the concepts that were mentioned in this magazine, like for instance the purity of Bach's work, and afterwards I listened to Bach on the guitar and it amazed me. As I am a great friend of the brilliant classical guitarist John Williams, I'd include a piece by Bach called Preludio, Fuga y Allegro played by John Williams.
5.Camaron de la Isla and Paco de Lucia
If the music of Bach or Beethoven is amazing then the music and song of Camarón de la Isla is no less amazing. An absolutely huge figure who passed away and as it happens just a few days ago it was the 20th anniversary of his passing. So I'd include a piece by Camarón de la Isla from his Potro de rabia y miel record . There is a taranta that is called Se me partió la barrena which is performed with accompaniment on guitar by another genius Paco de Lucia.
6. Inquilino del mundo Diego Carrasco
Following on in that vein, there is another flamenco artist called Diego Carrasco who shares nothing in common with Camaron's style. But he is so alive, I love his sense of humour and his way of understanding flamenco and I would like to include in the list a piece called Inquilino del mundo. Diego is very funny and his music has great rhythm. He is simply wonderful!
7. Tonada del viejo amor Eduardo Falú
Eduardo Falú is a great Argentinean guitarist, composer and singer that I have performed with and consider another very good friend as well as a wonderful person. In fact in a few days it will be his birthday. He has a song called Tonada del viejo amor which is brilliant and can be found on a record called "Coronación del folklore" and that record also features pianist Ariel Ramírez , a great composer and Los Fronterizos, another excellent Argentinean group.
8. Blues for Alican Joe Pass
Another great artist who I have had the pleasure of sharing a stage with was Joe Pass. We did a few tours across the USA and Australia. Joe was a great friend and fantastic jazz guitarist from whom I learned a lot. Unfortunately, he passed away right at the end of our last tour in America. Blues for Alican is the song by him that I would like to include on this list.
Paco Peña performs his Misa Flamenca Africa at the Southbank tomorrow, as part of the Africa Utopia festival. Click for more info
Cuba's natural setting, with its own historical and cultural...
From garage parties in Panamå to the awards ceremonies of Miami, how...