Keeping Cumbia Real
Whilst global explosion has taken cumbia on a wonderful, if sometimes weird, journey, pioneering producer, composer and bandleader Mario Galeano has found himself in the unlikely role of guardian of the cumbia truth. We speak to Cumbia's frontman in advance of his OndaTropica concert with Quantic @ The Hackney Empire next month.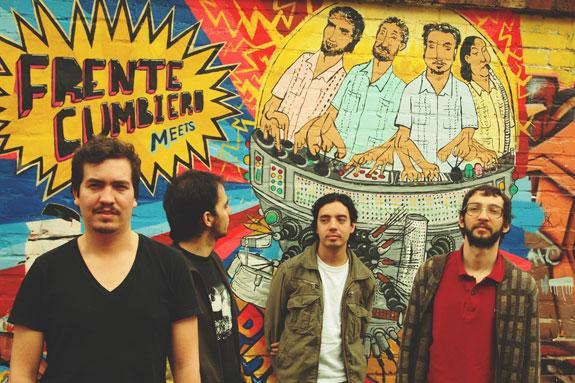 Cumbia is Latin America's most popular genre, so huge that every Latin American country has it's own version, making this genre - born out of the Colombian slave- trade, it's own.
From it's folkloric roots it has evolved into Ibiza dance anthems, via Hip hop versions and Reggaeton fusions such Los Compadres by La Perfecta Operación, not to mention the left-field productions of peruvian kumbiero Tommy Portugal who also uses the occasional synth. But no one has been more central to this explosion and to bringing it back home than Mario Galeano of Frente Cumbiero.
A true neo-cumbia ambassador, Mario has been collecting cumbia records and following the migration, dissemination and mutations of cumbia for over a decade, while producing his own sample-based music. Most importantly, in a new brave world of barstardized cumbia (I mean what some of those Argentine groups have done to it makes you want to bury your head!) the presence of a cumbia pioneer who can do the contemporary while possessing real knowledge of and respect for its roots, must come as a relief to many music fans.
Next week this Colombian cumbia magician brings his bandFrente Cumbiero to London's Brixton Jamm. We couldn't miss the opportunity to talk to this band leader, composer and artistic director.
So how does Frente Cumbiero differ from the many bands who've used technology to adapt and diffuse this folkloric style of music?
"The style of Frente Cumbiero is more based on Colombian styles from the past. Melodically it is more connected to its roots and also it relates to classic styles of cumbia from the 60s and 70s," says Mario Galeano.
So its cumbia goes techno but in a much more charismatic and original way, much like the difference between reggae roots and Trojan Records dubplates back in the 60s. It's the 60s sound that plays a major role in Frente Cumbiero's compilation "Frente Cumbiera Meets Mad Professor".
"In Mexico there's a style of cumbia called rebajada." says Galeano. "It's really slow and sounds like dub. In general, reggae has many similarities with Colombian music. The bass has a strong tempo.. you can skank. In a way, ska is like gaita and reggae is like cumbia if you listen to their basic musical structures."
Cumbia has already captured alternative music fans in the UK, France, and Germany, not to mention Scandinavia where tropical music has hit the mainstream, probably due, like reggae, to its very simple rythmn which means us no-rythmn whiteys can feel it and enjoy it. As Mario says, diplomatically: "it is a much easier style to dance to. It's kind of more friendly to non Latinos." A kind of Cha,Cha,Cha for the modern day era.
Mario adds, "It's strange that in countries like the UK and the rest of Europe, it is not the immigrant latino community that have embraced it so much but rather the contrary; those seeking something new on the alternative scene. It's also the same in Latin America. Whether in Argentina, Mexico, Chile, it's always a specific alternative crowd that comes to see us. The retro appreciatives that like to buy vinyl."
Only in Colombia, says Mario, is the cumbia market totally traditional. "In the 50s, 60s and 70s it was very commmercial but later in the 80s, 90s it stopped being commercial. There's still the question of the countryside and its traditional, folkloric themes."
"In the rest of Latin America it became popular with the lower classes and there its status grew. In Argentina for example it started with much lower classes, but now you hear it in wealthy clubs in Buenos Aires, as it takes on a kitch role. In Mexico it was always a kind of upper class niche thing. But in Colombia, the question of social class does not exist really relate to cumbia, its just part of tradition and just isn't commercial music. It's been this way for a few decades. Whereas in Mexico it is. Their radio stations play it. In Colombia, Vallenato is the commercial music."
So cumbia is like the morris dancing of Colombia? The Internet of course has revolutionised the way that niche music like this has spread. "Thanks to the web it was easy to connect with the alternative scenes in other countries in Latin America and Europe. We got meeting other musicians in the alternative scene, including musicians from different alternative genres, sending mixtapes and songs. About five years ago we started growing internationally, even though new cumbia had been around since the late 90s."
The extensive and sometimes weird journey of Cumbia is such that you could be forgiven (although some might not forgive) for thinking, if you'd been listening to A.B Quintanilla's Kumbia Kings or Selena's Technocumbia, that Cumbia was from Mexico. And many people do think that.
Mario recognises, "in like the last twenty years it became part of the whole continent what with Argentine, Chilean and Peruvian groups and their radically different forms and use of synthesisers in their melodies. Then there are groups in, for example Copenhagen who do Cumbia. They have their own style. In Holland too, musicians and groups have their own way of incorporating cumbia. New cumbia is already really diverse."
In this light, Mario's role is even more essential, someone who knows the technology but also appreciates the roots. I can see him being a saviour for those original Cumbia artists who would otherwise be winging on the sidleines about how their music's been bastardised and corrupted. It's like Mario is putting the black back into the Cumbia…
"Not only we want to put the black into it, but also the indigenous and the european. Cumbia is a great mixture of those 3 elements, which makes it very different to others in Latam where perhaps the mix is more black-european or Indigenous-european." Mario insists. "We just want to work and create around Colombian melodic phrasing and rhythms. At the same time though we are part of a progressive scene, and very underground. Not so really traditionalists.
So, its like Frente Cumbiero is the bridge between the traditional and modern?
"We are focused on making music for the dance floor with electronic sounds but not mainstream electro nor reggaeton loops. Rather a contemporary interpretation of colombian cumbia. In the future Cumbia will be a more established genre, one that people know and recognize like they do Salsa, Merengue, Son etc. And with that the knowledge of where its all from will spread."
Corina Poore talks to Gustavo Salmerón, who made a unique film about...
This month's dancefloor hits by award winning Cuban DJ, Javier...