Flamenco's Poetry in Motion?
Inspired by the purist Flamenco that he learnt from his teachers, Rafael Amargo, Spain's most eclectic dancer and choreographer, was influenced by US contemporary dance schools such as the Martha Graham, while living in New York. He brings to the fore this experience in his work 'Poet in New York' at Sadler's Wells, based on the poems of Federico Lorca, who also lived in New York. Flamenco's poet, Rafael Amargo, talks with Angela Alonso ahead of his show.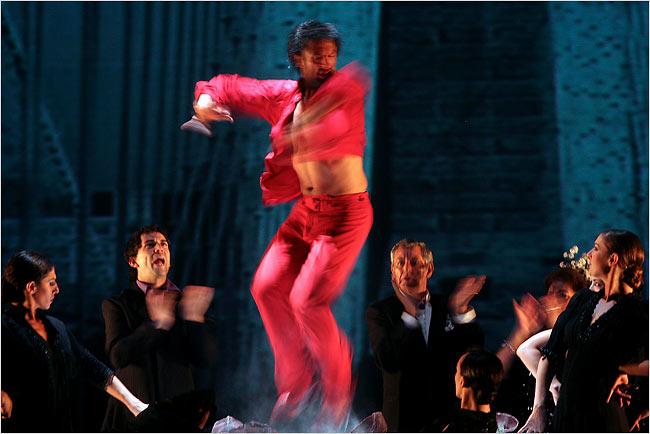 'Amargo'..is that your real name?
My full name is Jesús Rafael García Hernández, my artistic name is Rafael Amargo. Amargo means "bitter" in Spanish and it refers to the Romance del Amargo poem written by Federico García Lorca, who is also from Granada. This has been sung by many artists including the legendary Camarón de la Isla.
Where were you born and where do you live now?
I was born in Valderubbio, a village of the Alpujarras of Granada. I currently live between Madrid, Los Angeles and stopping in London now and then.
How old are you?
I am 36: when Franco died I was born, just at the right time!
Are you from a flamenco family?
My father is the artist in the family but not a flamenco artist. He is a big "aficionado al cante". In fact he acts in two of my plays Quixote and Poeta en Nueva York (A Poet in New York)
How did you first come to flamenco?
When I was a child my father took me to the cinema to watch the Carlos Saura movie Carmen, starring Antonio Gades. From that moment it was clear to me that I wanted to dance and interpret. I was eight or nine years old.
Where did you train?
I started in the schools of Granada until, when I was 16, I decided to move to Madrid to formalise my career. I was lucky to be working with Lola Flores at the age of 16! There was an audition and I was selected.
With which famous artists have you performed?
Eve Yerbabuena, Rafaela Carrasco, Lola Greco, Remedios Amaya, Antonio Canales, Rafael Aguilar, Farruco, Montse Cortes, Sorderita, Juan Parrilla, and so on…..I have done so many collaborations.
I have also been support for blues singer B. B. King. I recorded with Mylene Farmer, rated at the time the most famous female singer in France, and I was dance coach/mentor at the Spanish TV "X Factor" programme called Operacion Triunfo.
What is your style: traditional, incorporating contemporary dance….?
I consider myself to be more traditional but nowadays with all the information available to us and the musical influences, it could be said that I am an eclectic bailaor -according to the Spanish press,,, he laughs
How do you see your future?
I see myself surrounded by my own children, a large family, living close to the sea, a good jamon serrano, a tortilla, and a lot of compás….
Tell us about the projects you have been working on since you choreographed Zorro, the musical that had a long run in London's West End after touring different parts of the UK?
After Zorro's premiere at the Garrick Theatre in 2008 we took it to Japan, Russia, France and Holland. I had to re-arrange and choreograph the whole piece in each country, such a lot of work!
I also had the premiere of Enramblao 2 a new flamenco dance production dedicated to Barcelona and Las Ramblas, and the premiere and tour of Solo y Amargo, a show where for the first time I faced a whole music band on my own.I did more than 70 shows worldwide and currently I am presenting at Casino de Barcelona Burlenco, a story of love and hate between burlesque and flamenco. All that together with teaching masterclasses in many schools around the world! I also filmed the movie Marisol inspired by the child prodigy of the Sixties and Seventies... and I have collaborated on several TV soap operas...
That's what I call being busy. What plans do you have for the future?
I would like to do a show combining Brazilian music - bossa nova, samba - and flamenco...
Tell us about A Poet in New York (which he is performing at his first visit to Sadler's Wells Flamenco Festival).
It is a production that marked a line in my career - this year is the 10th anniversary of its premiere and for this reason I wanted to remake the show and tour with it in festivals and cities around the world. This year the London Flamenco Festival is dedicated to Federico García Lorca, so it is the perfect excuse to visit
Where do you think flamenco is going? What is its future?
Flamenco is an "arte grande" (great art) so it doesn't need to go anywhere. I mean by this, flamenco goes on - we don't have to wait for it to get anywhere, its magnetism and beauty is brutal, a major thing, past, present and future ... flamenco is timeless, it is much more, it is a continuous heart beat, let it breathe!
First published in Flamenco News, magazine of the Peña Flamenca de Londreswww.flamenco-london.org.uk
A book which tells the story of the Amazon and its ports-towns near...