In Colombia, Who Needs to Invent a False Victim, President Santos?
While Santos enjoys an official visit to the UK, his inflamatory remarks about a group of human rights lawyers who have worked for years to end impunity in Colombia, has left them fearing for their lives in Bogotá. What does this say about the new president's commitment to justice, reconciliation and peace in Colombia?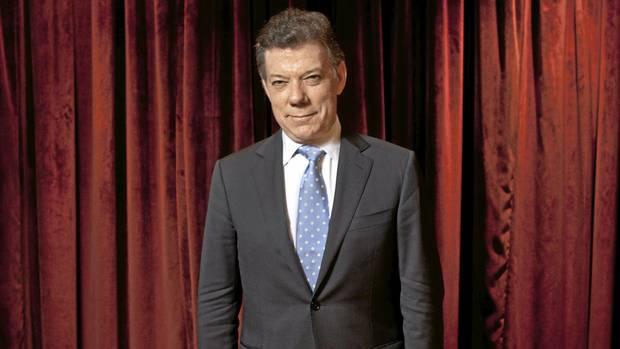 President Juan Manuel Santos of Colombia could be seen sauntering out of the Ritz Hotel on Tuesday afternoon during his official visit to London, reportedly indistinguishable from the usual crowd of tourists milling around Green Park, but for a few photographers and security guards. It's nice to see the Colombian President so relaxed on his visit to London. Not so fortunate are the group of well known human rights lawyers in Bogotá whom Santos has left fearing for their lives again, their security situation put on high alert by international human rights groups, because of statements Santos made about them the previous week.
As we know, to be a human rights lawyer, trades unionist, journalist or community leader in Colombia is to be one of the people most at risk on the planet. Every day human rights defenders and those who try to protect their land rights and resist displacement in the face of increasing international investment in agro-industry (one of the reasons Santos is in London) receive death threats and are often murdered. Between 2000 and 2010 2,000 trades unionists and 15,000 community leaders were murdered. More than 5 million people have been displaced from their land.
Prior to Santos' inauguration last year, under President Alvaro Uribe's 'Democratic Security', being linked to human rights at all was a virtual death wish. 'Informers' were paid to snitch on their neighbours and right-wing paramilitary activity, and its links to the army, reached its height. Under Santos, things looked more promising. "We shall move from democratic security to democratic prosperity" he said, and made statements supporting human rights. For the first time in decades, human rights defenders slept more easily.
So when last week Santos accused the human rights lawyers at the José Alvear Restrepo Collective (CCAJAR) of being, "opportunists" and "corrupt" and seeking to "enrich themselves at the cost of the public resources of the State", it was a chilling throw back to a time of terror, when President Uribe often pubically linked them to the guerrilla. This kind of deligitimization encouraged death squads to identify them as "military targets" and many received death threats as a consequence.
The Power of words for the trigger-happy
CCAJAR hasn't exactly been the Colombian government's favourite entity. It has been fighting impunity in Colombia for decades and has represented victims of high profile acts of state violence such as the Trujillo massacre in Valle del Cauca, the La Rochela massacre in Santander, the Cajamarca massacre in Tolima, the Chengue massacre in Sucre, and most notorious of all, the massacre in the village of Mariripán.
Santos' statements, followed by several other ministers', came after an investigation was announced into the possible existence of false testimony in the Mapiripán massacre after new declarations by Mariela Contreras, who had been recognized as a victim of the massacre in various legal decisions, that the disappearance of her two sons and the death of her husband had in fact occurred in circumstances unrelated to the massacre.
The Mapiripán massacre took place between July 15-20, 1997, when the Colombian United Self-Defence Forces (AUC) detained, tortured and killed 49 inhabitants of Mapiripán with the collaboration of the Colombian Army's VIII Brigade. The methods employed during the massacre—dismembering bodies and throwing them in the river—made it impossible for the authorities to fully identify the victims.
The dangerous implications of Santos' statements against CCAJAR brought an immediate statement by UN High Commissioner for Human Rights. The possibility of fraud, perpetrated by people who took advantage of the uncertainty over identification is neither new, nor does it put into doubt the atrocity itself, "nor the right of victims and their representatives to make use of international tribunals."
The Bar Human Rights Committee in London went even further, expressing its "fundamental objection to President Santos and other high level members of government condemning CCAJAR, which places the lives of the members of the Lawyers Collective in danger." It clarifyied that it was the Attorney General's Office, not the lawyers, who had taken Ms Contreras' original statement and had referred the case to CCAJAR for victim representation.
The Mariripán masscare - an emblem for Colombia
"Why would we need to invent victims, the country is drowning in them?" Alirio Uribe, Director of CCAJAR (and no relation to the ex-President) told Caracol TV. There is certainly no need to invent false victims in the Mariripán massacre.
"Every night, through cracks in the wall, I watched kidnapped people go by, with their hands tied behind their backs and gagged, to be cruelly murdered in the slaughterhouse of Mapiripán," testified the municipal judge in Mapiripán, Leonardo Iván Cortés Novoa. "Every night we heard the screams of people being tortured and murdered, asking for help..." In order not leave any evidence, body parts were disposed of in the Guaviare River in what paramilitary chief Carlos Castaño called "the greatest combat activity in all the history of the self-defense groups," when he admitted to murdering 49 people in Mapiripán.
Indeed what a case with which to try and discredit the Lawyers Collective. The Mapiripán Massacre is emblematic in Colombia. For it was not just another massacre, it was the start of the expansion of army-backed paramilitarism throughout the country.
When the paramilitary unit first arrived, Judge Cortés made desperate calls for help to the authorities. He spoke with Army Major Hernán Orozco Castro, who immediately asked his direct commander by radio and in writing to send "an immediate airlift to Mapiripán." However, not only was he prevented from taking action, his superiors forced him to amend his original communication. In the years that followed, thousands of crimes against humanity have been committed in Colombia, including extrajudicial executions, torture, forced disappearances, massacres, sexual violence, land seizures, and forced displacement, as part of the government's counter-insurgency strategy.
Mariripán is also emblematic because the criminal investigation led by CCAJAR achieved the first conviction against senior army officers in Colombia, and proved that the paramilitaries had acted under the protection of the 8th Brigade of the Colombian Army commanded by General Rito Alejo del Río. In 2005, the Inter-American Court of Human Rights convicted the Colombian State for these acts. In its ruling, it also placed the sole responsibility for identifying victims on the state, not the lawyers.
Even in London, Colombia's shadow of conscience follows
Ironically, on the eve of Santos' arrival in London, CCAJAR lawyers were receiving a prize at London's prestigious Middle Temple hosted by the Alliance for Lawyers at Risk. Receiving the award on their behalf, British barrister Bridget Petherbridge said "These are difficult times for CCAJAR, as they struggle with a wave of public denigration. Without any investigation, President Santos who arrives tomorrow, has publicly accused CCAJAR of being fraudsters and corrupt, speaking of "dark forces" who sought to mock the Inter-American court to enrich themselves at the cost of the state and the public."
What is Santos' aim in all this? Media coverage has attempted to show that the massacre was not as serious as previously reported, since there were fewer victims. Already, in the aftermath of the comments, the Inspector General announced that he would request a review of the conviction against General Uscátegui, a former army general who was found to have ignored calls for help during the massacre. There are even voices demanding impunity for the perpetrators. This is after years of CCAJAR trying to get criminal punishment of the perpetrators and guarantees of non-repetition as a way of preventing more Mapiripáns.
Amnesty International believes the timing of the remarks is no coincidence: "It comes at a time when the military high command and some senior politicians, including former president Álvaro Uribe, are calling for the convictions of military officers, including Uscátegui, to be reviewed and overturned. President Santos and the Commander-in-Chief of the Armed Forces recently criticized several such convictions as unjust. The Colombian Congress is also currently debating a change to the 1991 Constitution which could see cases of human rights accusations against the army tried in military courts rather than civilian courts. Military courts in Colombia have a shameful history in regularly closing such investigations without holding those responsible to account."
Unlike Uribe, Santos is not seen to be a contraversial figure. Yet, the real figures speak for themselves. Santos' first year in office has seen more than 250,000 newly displaced people, 54 human rights defenders killed, more than 250 disappeared, and one attacked every 36 hours. According to ABColombia "This administration has seen a worsening environment for those working on land and victims issues." As increasing multinational interest in Colombia's resources place ever more pressure on land rights and their defenders, this is no time to get complacent, no time to tolerate attempts to undermine the work of human rights groups. We need them more then ever,
The statement from CCAJAR in response to the various statements, for me, sums it up. "CCAJAR members have risked their lives —and will continue to do so— in their representation of thousands of victims. We have never purchased testimony. We never "buy convictions." We do not resort to fraudulent maneuvers to achieve judicial decisions. We do not search for false victims. We have never employed irregular practices to sanction the State. We fight to achieve a democracy, which deserves such a name, and a society, which loves life and defends its dignity and rights. With respect to the confidence that the victims have entrusted in us, we will continue to believe in their testimony. It is preferable to be mistaken in good faith than weave doubt over the millions of victims of socio-political violence who demand truth, justice, and reparations, guarantees of non-repetition, and the achievement of peace."
If you would like to express your support for CCAJAR, please contact Peace Brigades International, an international NGO that provides protective accompaniment to lawyers at risk in Colombia. Without this 24 hour accompaniment, the lawyers would not able to do their work. Visit www.peacebrigades.org
After a debut La Ciénaga (The Swamp 2001) that shook the world of...
Moqueca is A Classic from Bahia, mixed seafood and fish stew made...