Patrick Rice
The Irish Priest who became one of Latin America's most committed and loved Human Rights activists. He dedicated his life to the defence of human dignity and to the hope of a better world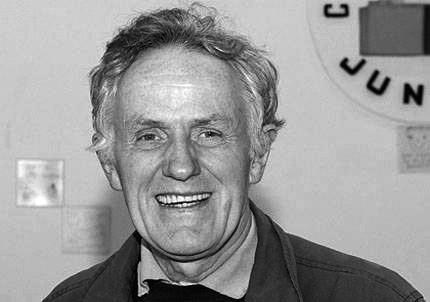 One of Latin America's leading human rights activists died last month aged 64. Patrick Rice died in Miami on Wednesday the 7th of July. He was on a flight stopover en-route to Buenos Aires having visited family and friends in his native Ireland. Rice had spent the majority of the last forty years in Argentina, working first as a priest, then as an activist.
Patrick Rice was born in Fermoy, a small town in County Cork. He studied philosophy and theology in Saint Patrick's college, Maynooth, and was ordained into the order of the Divine Word Missionaries in 1970. He was sent to Argentina initially as a chaplain to the University of Santa Fe, and as an assistant professor of philosophy. In 1972 he joined the Fraternidad Hermanos del Evangelio Carlos de Foucauld, and began work in Santa Fe helping to unionise forest workers and agricultural labourers.
He later returned to Buenos Aires to continue his work. He lived at first in the barrio of La Boca, and then moved to Villa 3 in Villa Soldati, one of the most deprived areas of the city. Inspired by the French saint Charles de Foucauld, the hermanos are a unique religious order that not only preaches to their parishioners, but also lives and works among them. Their stated objective to be within 'the heart of the masses.' As such, Patrick worked as a carpenter as well as a priest.
This was not to the liking of Argentina's military regime, which seized power in 1976 and waged a seven-year campaign of terror upon the nation. It targeted not only suspected left-wing militants, but also academics, teachers, students, trade-unionists, priests and anyone else suspected of having any left-wing sympathies whatsoever. Human rights groups estimate that around 30,000 people disappeared during this period.
On the 11th October 1976 Patrick left a prayer meeting in Villa Soldati accompanied by Fátima Cabrera, a 21-year-old catechist. They were kidnapped by a group of armed men and taken to a secret detention centre. Both were brutally tortured over a number of days. It was only thanks to the intervention of the Irish embassy in Buenos Aires that they did not share the fate of those who were permanently disappeared.
Before being permitted to see a member of the embassy, Patrick was instructed to explain his injuries by saying he had fallen down some stairs. He was told that if he failed to comply with this demand he would 'end up at the bottom of a river with a block of concrete.' Fortunately the Irish government was able to secure his release and the Argentine police put him on a plane to London. When being released from jail his captors asked him to write something about his time in detention. 'I might have been treated better,' he wrote.
It was in London that he began his work as a human rights activist, working with Latin American refugees. From 1978 to 1980 he lived in the United States, where he put his energies into campaigning against the human rights abuses which were still occurring daily in Argentina and all over Latin America. In 1981 he became one of the founding members of The Latin American Federation of Associations of Relatives of Disappeared-Detainees (FEDEFAM), and served as its executive secretary from 1981 to 1987.
With the collapse of the military government in Argentina in 1983, Patrick returned to Buenos Aires. There he was reunited with Fátima Cabrera, whom he had last seen in prison after their abduction. He left the priesthood, and they were married in Caracas, Venezuela in May 1985. Two of their children, Carlos and Amy, were born in Caracas. The family returned to live permanently in Buenos Aires in 1987, and a third child, Blanca was born.
Patrick was the type of individual one does not easily forget. He had striking clear blue eyes and a shock of wild, white hair. Although he claimed it had softened considerably, he still retained much of his Cork accent. He always wore a broad, ever-present smile. I visited him at home on a few occasions. His house was invariably full of people, both friends and family members. His sister described it as like 'living in a railway station.'
Yet somehow within his busy family and social life he found time for his activism. Above all, he was an extremely diligent individual, happiest when he had a new project or task ahead of him. His recent work had consisted in giving lectures on human rights, especially in relation to the ongoing exhumations of the victims of the Dirty War. He was also closely following the ESMA trial of several senior officers of the Navy Mechanics School in Buenos Aires.
He was always unfailingly kind and polite, and well-informed not only on human rights, but international politics in general. While to me he certainly both looked, and sounded Irish, it was clear that he was very much at home in Buenos Aires. Walking the streets with him, it seemed that Patrick – Patricio as he was here – knew almost everyone, and was always greeted with great affection and warmth by those whom we encountered.
In a beautifully-worded statement published in Argentina's Pagina 12 daily newspaper, Patrick's family wrote: 'Patrick was our father and comrade. Ex-worker priest, ex-disappeared detainee. He had the most beautiful smile, the clearest gaze, the kindest heart. He lived all his days with joy, convinced that a just world, with solidarity and without discrimination, was possible.'
Patrick is survived by Fátima, his wife, and Carlos, Amy and Blanca, his children, who continue his work through their involvement with HIJOS, a group started by the children of those who were victims of the last dictatorship in Argentina.
Corina Poore talks to Gustavo Salmerón, who made a unique film about...
This month's dancefloor hits by award winning Cuban DJ, Javier...