The Latino Behind the Legend: Phil Manzanera
Before being presented with a Lifetime Achievement Award for his contribution to British Music by PInk Floyd's David Gilmour at this year's the LUKAS Gala, few people knew much about this London born Latino. We invite you to get to know this Anglo-Colombian guitar legend and world renowned producer, who started out as a member of the iconic 70s art rock group Roxy Music.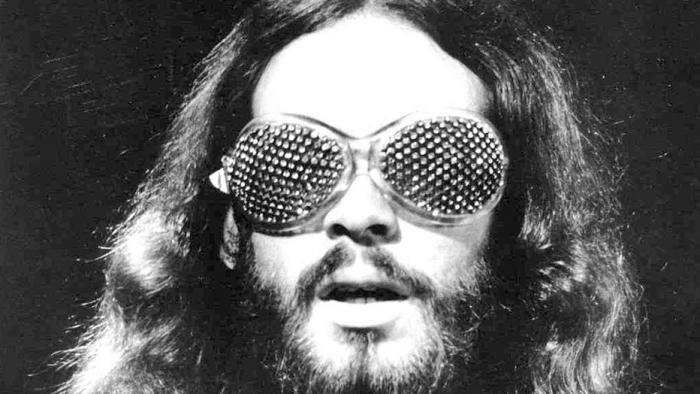 The essence of what it means to be Anglo-Latino can be very hard to define; the two cultures often seem so diametrically opposed that to merge them is simply unthinkable. But as Phil Manzanera proves, contrast is the very thing that makes this such a fascinating and successful cultural combination.
For what could be a more appropriate melting pot than the creative mind of an 8-year-old Anglo-Colombian boy, living in Cuba, filling his ears both with 1960s British rock 'n' roll and Mexican boleros? The twin influences of psychadelia and merengue, the intoxicating sound of the electric guitar and the insatiable swing of cumbia, are perhaps at the heart of Manzanera's success as a musician.
After spending his childhood in various locations including Hawaii, Venezuela, Colombia and Cuba, a teenage Manzanera found himself in the boarding house at Dulwich College, South East England. Fortunately, this proved a suitable environment for getting together with fellow musicians from amongst his peers, and forming bands. Manzanera had several such projects during his time at Dulwich.
Through writing and performing with these bands, Manzanera became certain that making music was what he wanted from life. In 1971, he was one of twenty to audition for the place of guitarist in a newly-formed art rock band Roxy Music. Impressive as he was in both his skill as a guitarist and in the range of musical knowledge he possessed thanks to his Latin background, the band chose the more experienced David O'List, allowing Manzanera to tag along as a roadie.
But as luck would have it, with O'List's experience came a hot temper. Under a year later, he was seen marching off stage forever after exchanging insults with the band's drummer. Fortunately for Roxy Music, Manzanera was on hand to fill in as guitarist; fortunately for Manzanera, he blew them away with a performance of their entire set list, which he had learnt off by heart. And so it was that on Valentine's day 1972, Phil Manzanera became the official guitarist of Roxy Music.
1972-1983: The rise and fall of Roxy Music
What follows, of course, is history. Their debut single, 'Virginia Plain', shooting straight to no. 4 in the British charts, was a sign of things to come. Numerous international top-selling albums, ten of which made the UK Top Ten, and uncountable tours around the world marked the rise of the band commonly credited as one of the defining sounds of the early 70s, a unique and pivotal stylistic influence of the time.
Yet all this was not enough for the Manzanera's insatiable creativity. In addition to his work with Roxy Music, he worked on several solo projects, both recording his own material and producing that of other artists.
After twelve whirlwind years together as a band, in 1983 Roxy Music went on what they retrospectively dubbed a "long break". This allowed Manzanera to further pursue his solo projects and develop his skills as a producer.
He has worked with the likes of David Gilmour, Steve Winwood and Nico; he also co-wrote numerous tracks, including Pink Floyd's "One Slip", released in 1987.
Latin roots
Although it was in the UK that Manzanera's music career truly flourished, he never lost sight of a deep connection with his Latin half. He actively sought to bring his music to Spain and Latin American countries, and as such played a key role in involving these nations in the contemporary British rock scene.
Perhaps one of Manzanera's most spectacular moments was his performance at five-day festival 'Guitar Legends' in Seville, in October 1991. Musical director of the entire outfit, Manzanera also played alongside the top guitarists of the era, including Keith Richards, Bob Dylan, BB King and Steve Vai. The show also reflected Manzanera's diverse musical tastes, including a rock/flamenco fusion set which blew audiences away.
As a solo musician, Manzanera toured primarily to Spanish-speaking destinations, including countries where he spent his childhood, such as Mexico and Cuba. It was in Cuba, in fact, that in 1992 he famously appeared on stage with Cuban Nueva Trova band Grupo Moncada, with whom he recorded several tracks.
During this time, Manzanera also continued producing albums for a number or artists, including the hugely successful Colombia rock band Aterciopelado, whose 1996 album 'La pipa de la paz' was produced by Manzanera in London. He has also produced albums for the likes of Enrique Bunbury, Nina Hagen, Fito Paez and David Gilmour.
Manzanera also revisited his Latin American past through his music. In 1982, ten years after beginning his career as a professional musician, he released 'Primitive Guitars', his third solo album. The album maps a semi-autobiographical journey through a series of solo pieces, and as such, it begins with music reflecting his childhood in Latin America. This demonstrates the full extent to which Latin music has influenced Manzanera, and the album as a whole is testament to the broad range of musical interest and appreciation which he brought to his bandmates and to the world.
Roxy Music reborn
But the new millennium saw Manzanera turning over an old leaf rather than a new one. At the British Gas Millennium Concert held in Greenwich, Manzanera appeared on stage alongside fellow Roxy Music star Bryan Ferry for the first time in 18 years.
And sure enough, one year later the band put the kibosh on their 'long break' – and they did it in style. Not only did Manzanera and Ferry reunite, they were joined by bandmates Andy MacKay and Paul Thompson. Together the foursome embarked on an almighty 52-date world tour which sold out and grabbed media attention worldwide. This allowed a new era of music fans to truly appreciate the massive influence that Roxy Music has had over rock since the early 70s.
The band have remained active since, and there have even been rumours of new Roxy Music material being released in the future.
Manzanera has also continued with his production projects, working with contemporary artists such as Hot Chip, Annie Lennox and Chrissie Hynde at his studios in West London.
His legacy as guitarist of a very British rock movement has not shadowed Manzanera's Latino roots - quite the contrary. After all, Philip Geoffrey Targett-Adams chose to be known by his Latino name. It is undoubtedly thanks to his very different dual influences that his music has been recognized worldwide as truly groundbreaking.
After a debut La Ciénaga (The Swamp 2001) that shook the world of...