The Revenge of the Latin Oldies
First there was Buena Vista, now there is Ondatrópica, a new Afro-Latin big band embracing the past, present and future of Colombia's cumbia sound, and bringing to the global fore some of the greatest talents from the seventies golden age of Medellin's Discos Fuentes. Saxofonist Michi Sarmiento is one of them, and Viviana Castillo and Charlie DJ of La M Radio talked to him before their much anticipated London show at KOKO on Friday May 31st.
by:
Viviana Castillo and Charlie DJ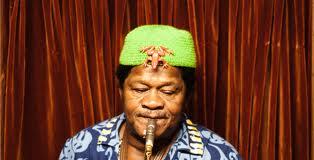 Michi Sarmiento is a living legend of tropical music. Born in a family of musicians, Michi became famous in the 1970s with Michi and his Combo Bravo, pioneering the (by then) new salsa sound coming from NY and opening the doors to the Colombia salsa movement that followed after. He preceded the greats of Colombian salsa such as Fruko and Grupo Niche and was also the arranger for one the greatest salsa songs ever "La Rebelion" which catapulted Joe Arroyo to international fame.
Charlie DJ: Michi, good morning, how are you?
MS: Good morning to everyone, all good here thank good
CDj: Tell us how is it going in Athens?
MS: The tour is going well, last night we performed and tonight we are repeating the venue, tomorrow we travel to Istanbul, then to Holland, Hamburg and Berlin. Then Madrid and Bilbao, but the Bilbao gig got moved to Zaragoza and finally London on the 31st
CDj: Great to hear, we were listening to your music and it sounds great, very interesting, with loads of different rhythms, from past and present. We would like to hear from you more about the history of the group.
Michi Sarmiento: It all began when William Holland and Mario Galeano started selecting musicians from the old and new wave and that is where we came in, alongside Pedro Ramavan, also Anibal Velazquez, Jorge Gaviria and those were more or less the ones that were first called. Then Fruko and a group from the Pacific with Nidia singing, Wilson on the drums, Fredy on Congas…Rafael also on the Tumbadoras (Congas). There is also a kid from Pasto on some instruments; I cannot remember his name and also Mr Panyagua from Medellin…Luis Bravo from Medellin…an all-star cast!!!
VC: We can see that, everyone has a tremendous career, very well known musicians but also they seem to have been working for Discos Fuentes in Medellin at one point or another
MS: That is right, I'm one of the ones who worked for Discos Fuentes and worked with Joe Arroyo, made the arrangements for the song La Rebelion and also the solo trumpet was made by Jorge Gaviria who is my roommate in this tour! I can tell you the people in Onda Tropica are a very well selected bunch
CDj: To me the most interesting thing Michi, after listening to Onda Tropica is how different it is, fusing rhythms from everywhere, then keeping a lot of the coastal sound, and yet being faithful to the sophisticated and traditional sounds of our musical roots
Michi Sarmiento: Yes, it has all been well received, but one thing is the album and a different one is the live show, as the people can feel the energy of the live music, the force of the music that maybe is unknown to them but it is charged with a positive vibe
VC: I also saw that the album was recorded in the studios Discos Fuentes (like Colombia's Abbey Road), full of flavour that either makes you dance or listening to but it demands your attention. Where did the idea of creating a new interpretation of cumbia come from?
MS: You know things move on and evolve, we could not just stay in the tropical branch. We need it to move forward without loosing our cumbia identity. It is like dressing up cumbia with a new style and refilling it with energy and modernity and the result is what people have been enjoying.
CDj: Tell us a bit more about your London gig.
Michi Sarmiento: to be honest with you Will and Mario look after the itineraries and the production of the show so I have not clear idea of what is going to be happening, but last year we had 3 concerts in London and they were fantastic
VC: William Holland was the person who decided to get this band together, how is that working
Michi Sarmiento: William did a very careful selection, he looked into the experience each one of us had. Myself for example. I had a group called Michi y Su Combo Bravo, we recorded 9 Long Plays and we did great back in Colombia and I was the first person who recorded salsa in Colombia. After that Fruko came, Niche and the rest…a chain of salsa that entered Colombia through my first compositions. I can say that I was the pioneer of salsa in Colombia, but as with every one you have your times of slumps, and sometimes don't feel you get the recognition…its the same with artists, or even footballers...look at Pique since he got married to Shakira he never scored again (laughs).
It goes to show that Sometimes you just have to keep doing your thing and persisting and suddenly on day everything gets reactivated and all that energy that has been accumulating has its time to explode again…and Onda Tropica is channelling all that good energy!
CDj: But also we can see that the band is not just formed of different musical trends but different ages to, the new generation together with the experts who already have been doing this for a long time
VC: that combination of two generations is great but also you have a female voice amongst all those men, apart from the Englishman! it is a very interesting mixture of elements! But here we cannot promote you enough so people come and support the event on the 31st of May as we know last time you came the events were sold out and the reception was amazing so we want people who have not seen you to go and see you and experience the great show
For tickets to the OndaTropica show at KOKO on May 31st go to http://www.comono.co.uk/live/ondatropica-3/