The Talent
An encounter with superstar Puerto Rican rapper Voltio in a London hotel.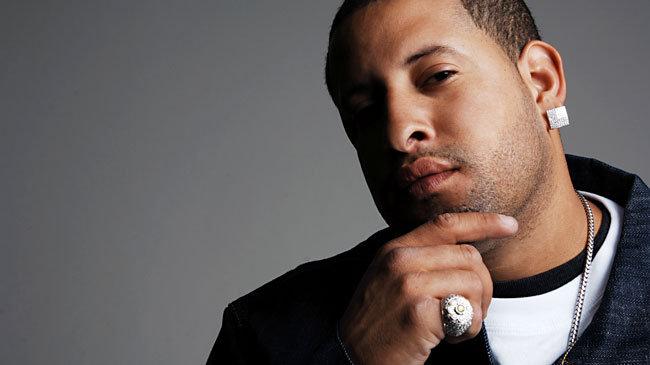 By Felix Charnley
Having previously been advised that the new reggaetoneros can be primadonnas, as if their fame entitles them to a certain…well, attitude, it was a real surprise to find how friendly and down-to-earth Julio Voltio was when he walked into the hotel foyer. Admittedly, in superstar style, I did have to wait three hours while he slept off his jet-lag but, hey, he had only just got off the plane and was due to perform that night.
My initial introduction was more of a surprise for him when, having arrived from the airport, he was bombarded by eager journalists. "Qué pa'jó ma?" he gestured (I'm not kidding, he actually said that) and then demonstrated his need to rest. Which he did.
It was not until half past midnight that the interview finally took place. He emerged rested, ready to perform in shades, chains and diamond-studded belt to match the show's microphone. Other than that, no superior five star attitude, medallions or major-league bling. Merely a travelling sweater, accompanying dj and fannypack (or bumbag as we say in English). He pointed to the sofa, the one on which I had just spent the past three hours. Sitting back down in the company of his animated crew, he listened attentively and curiously at what this white geeky English boy was about to ask him.
Voltio could be considered one of reaggeaton's old skool artists, known for his free styling skills, and with a tropical, salsa flow. For a longtime respected as a talent on the Puerto Rican music scene, his break didn't come till later; perhaps veering towards the wrong side of the law kept the big labels away. But his habit of demonstrating his beefs with other artists through his lyrics, his tirarera, started to get him a lot of attention, and his popularity built up from below. And when the industry caught on, it couldn't get enough of him, soliciting numerous appearances on albums and remixes ranging from Akon to Beyoncé, delivering spanish raps on tracks from Jagged Edge to Snoop Dog plus an Omarion/Wyclef collaboration and appearance in Jennifer Lopez' Nuyorican Production, Feel The Noise (2007).
To date Voltio has released three official albums of his own. Voltaje AC, Voltio, En Lo Claro and El Chamaco coming soon, hopefully in December.
Having begun in 2003 when the reggaeton sound was different, how much has reggaeton has changed in the last decade?
"Reggaeton is changing all the time and will keep changing with new artists and new producers'
How have you followed the changes?
'Well you develop as an artist. Lyrically you mature. Most importantly your style matures but I have always kept my esencia. It is the same style but modernised. Now reggaeton producers are more elaborate with their productions, lots of synth (autotune). That's what kids are downloading these days. This is it takes to remain relevant, featurings, collaborations with new producers, new artists. I keep making music and updating my style. Te doy cualquiera, I'll give you whatever: old skool, new school etc."
Most tellingly and perhaps unusually Voltio has good relationships within the industry and reflects on how much he owes to people like Tego Calderón, which he recorded several spectacular track such as Julito Maraña. "Thanks to them I am part of the game. I owe a lot to Tego and to White Lion Records."
As far as the time period is concerned, Voltio's gangster background, raw lyricism and political motivation relates to a certain sound the genre knew best between 2000 and 2005. Has your audience stayed the same?
"It has stayed the same. Well that's the thing. It has stayed the same because I have always been there. Voltio has always been there."
Indeed, Julio Voltio was there when Reggaeton went global and was repackaged as 'Urban Latin' , with all the mainstream artists J-Lo, Ricky Martin, Shakira, needing to get in on the act to seem relevant. Voltio seems confident in his knowledge that the only thing you need to do to be relevant is to stay close to the street where real music is made and where the changes happen.
"When dealing with reggaeton I move with the changes but don't forget que ya arranca con cambios, it has had many varieties: reggaeton romantico, distcoteca, calle etc."
And the subjects, the themes, the lyrics that people want to hear, do these stay the same? Does this mean sex, drugs and violence.
"We will rap about what we want to rap about. I give meaning to my lyrics but ladies and partying is still part of what we do and is not out of the question."
Being the diverse and flexible Puerto Rican artist that he is (not specifically reggaetonero), and known for his melodic lyrical and tropical infusions as opposed to hardcore rap, Voltio dabbles in all aspects of his heritage, most recently creating Ella Lo Que Quiere Es Salsa with salsa superstar Victor Manuelle, the video for which premiered last week. It goes to show that beyond previous collaborations with N'Klave and highly celebrated salsero Jerry Rivera, he sticks to Caribbean roots, 'these rythms [salsa, bomba, plena] run in my blood.'
On top of that Voltio was always making a subtle cross betweeen genres and markets without any sort of blatent commercial attempt such as Yankee's El Cartel: The Big Boss which consciously focused on meeting r&b/hip hop. The main impression that one gets from this dude is his independence and self- confidence
'Yo soy artista. I'm a rapper. Hip hop, reggeaton. I appear on all these songs because I'm not assigned to one genre.'
Not every artist vying for the commercial market is brave enough to play in a notorious prison, like Voltio did at Oso Blanco.
"I did that concert because I felt I needed to. I believe and I know that a lot of prisoners in Oso Blanco are innocent. On top of that I could associate with them having been in their position."
I ask about his ongoing relationship with the island's police, with which he has always had a rocky relationship, and he tells me 'these are problems I had.' It's been the subject of his tirarera (rap diss) history for years, crime, corruption and the island's greatest social issues, which its his job as an artists to expose rather than promote.
There is an uncompromising honesty and realism about Voltio, and this probably explains the initial down to earthiness that I first encountered. He feels and is first and foremost an artist, and that came across in the show that followed after the interview. There was remarkable energy accompanied by party hits like Chulin Culin Chunfly, Chevere and later, anthems like Julito Marana to stir the crowd.
After a debut La Ciénaga (The Swamp 2001) that shook the world of...
Moqueca is A Classic from Bahia, mixed seafood and fish stew made...