The People's Salsero
At first dismissed for his wordy complexity, Rubén Blades - composer, singer, salsero, lyricist, narrator, poet, social conscience and political activist - soon proved to be Fania's biggest money spinner. In this retrospective we explore what set this People's Salsero apart from his peers and eventually earned him the legendary status he has today in Latin America and all over the world.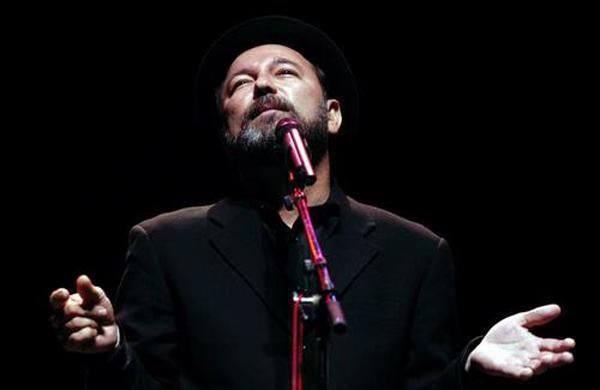 Leaving the hospital, after seeing my mother, battling against a cancer that can't be cured, I saw a family pass by. A father, a mother, two kids and various others. Beside the man, a youngster was walking, his head down, with an air of regret. He was the cause of a discussion, which we were invited into, as the old man cried: "Even if you're a thief and you're in the wrong, we're duty bound to help you. And however many drugs you use, and however much you abuse us, the family and I have to attend to you. When you have children, you'll understand that the duties of a parent never end, that the love of a mother and father never tires, that we want for you what we never had, that despite all the problems, family is family and love is love."
As I saw this family move away with their tears, walking together, into a labyrinth of better and worse, I thought about my family, whom I loved so much in that moment, that my feelings overwhelmed me…
This is a scene I have imagined so many times I almost believe I have seen it myself. It is the story of my family, your family…a family in Panama, London, in Latin America and all over the world. And yet it is just a song, a salsa tune.
There are many great salsa tunes, famous salsa tunes, tunes that, when a DJ spins them and you are dancing, you don't want them to end. But when you hear this salsa tune you find yourself, well…as the song itself goes, overwhelmed with feeling. You want to cry, you want to embrace the person you love, tell them that you love them and, in the end, as its tempo quickens into a crescendo of optimism, you want to dance and celebrate life. This is the Rubén Blades effect.
This song, Amor y Control (Love and Control) ,and the album by the same name is not one of Rubén Blades most famous. But when it was released. In 1992, it marked a huge leap in defining Rubén Blades – the composer, the singer, the lyricist, the narrator, the poet, the social conscience, the political activist, all rolled into one - which would set him apart from every other Salsa artist and eventually earn him the legendary status he has today in Latin America and all over the world.
A Salsero beyond his genre
By the time Amor y Control came out in 1992, Blades had already had a major impact on Salsa sales for the New York based Fania label and, subsequently, became a best-selling artist on Elektra and Sony. His seminal 1978 Fania album Siembra, which began his partnership with producer Willie Colon (the Lennon-McCartney of Salsa some say), became the best selling Salsa album of all time. His first post-Fania album Buscando America (Looking for America) in 1984, broke him into the non-Spanish Speaking world,
"Both Siembra and Buscando America had been groundbreaking albums in different ways," says Britain's leading Latin DJ Jose Luis. "Siembra because it was Salsa's first million seller, despite the industry saying the tracks were too long and the lyrics too complex, Buscando America, because the label's decision to translate his lyrics into English made him a worldwide artist. But I remember in Venezuela when, years later, Amor y Control came out it just blew everyone away. Venezuelans are not generally the deepest people. And it was still a political album, but it was more intimate and emotional. His portraits of family failure and human tragedies touched people on another level, people who maybe could not grasp his political ideas. I mean, for example, the song Adán Garcia, about a guy, struggling to make ends meet, and when his wife says she wants to borrow money from her parents, it's like the last straw and he cracks up. People think he looks a bit weird that day. And then they read in the paper the next day that he'd tried to rob a bank, was killed by police…who then found his weapon to be one of his children's plastic gun. Who couldn't empathise with that? It's a working man's tragedy that could happen in Caracas, in Sheffield."
Indeed, everybody has his or her favourite Rubén Blades. He is of that rare breed of universal musicians whose versatility and richness means his music has something for everyone. Into the nineties and the 21st century, albums such as Tiempos, broke ground again, this time musically, by transcending the salsa genre even further with more experimental compositions and showing off the ingenuity of his melodies and arrangements. Today Blades is not only essential for any Salsa lover's collection, whether in a Caracas slum or the ordered shelves of a London connoisseur, he's hailed by music fans globally, from jazz and world music aficionados in Tokyo to even passionate haters of Salsa in Latin America (there are many who mock those men in pleated trousers). Most importantly, Blades has had a major influence on the next generation and some of the biggest names in Latin Music today, such as Calle 13 to Tego Calderón,.
"Together with Ismael Rivera and Bob Marley, Blades is the artist that has most inspired me," Tego Calderón, the Puerto Rican 'Godfather' of Urban Latin music, told Latinolife. "Siembra I think is the album that most affected me growing up, when I was a child. Blades made me realise: 'this is what I wanted to do. I want to make music, I want to express myself. I want to talk about the reality I see.'"
The Latin American rebel in New York
Born in Panama to a Cuban mother (of Spanish and American-French heritage) and a Colombian father (of English descent, hence the name) Blades was of a notably more mixed, middle class and whiter heritage than many of his New York and Puerto Rican salsa peers. Blades identifies two important things that marked his upbringing; one was the mixed environment of Panama at the time, musically, culturally and ethnically. The Panama Canal had brought labourers and engineers from all over the world - the West Indies, Europe and Asia – hence, Blades said in a recent interview, "the mix of music on the radio was very diverse. There were no commercial constraints in those days so radio deejays would play absolutely anything they felt like, from Reggae to Sinatra to Mozart. And because of the Canal and the big American presence, we also had access to TV stations that broadcast the latest music from the US, like the Beatles, just a week later than in the US. We were very connected to what was going on." The other defining factor was his family's great emphasis on education. "I was always taught that I could do anything I wanted."
Allegedly, Blades' mother was so intent on Blades finishing law school, at one point she virtually banned him from playing during Carnival, and Blades had to take down the banners advertising his performances on her driving route, and put them up again everyday. Nevertheless, the gifted Panamanian was already composing and making a name for himself as a performer beyond the country's borders. It was Salsa's golden era and during Carnival season the big Fania stars would come down from New York to perform and in Panamá they had to be paired with local talent. Blades claims it was Richie Ray, Bobby Cruz and Roberto Roena who first spotted him and went back to New York singing his praises.
In 1973, just as Rubén was graduating from law school, the Blades family was exiled to Miami, because of his father's problems with the military regime. Figuring that he wasn't going to be a lawyer in a place where there is no law, Blades joined them. While his talent for song writing was known to many of the Fania artists, when Blades, desperate for money, approached the already legendary label to offer his services, the big boss Jerry Masucci, turned it down. Masucci did offer him a job in the mail room, however, and that was enough to leave his parents in Miami, in search of his future in New York.
Once part of the Fania Family, Blades' talent as a singer-song writer proved too tempting not to exploit. With the Motown-style production and marketing machine that was Fania, and a creative partnership in Willie Colón, Blades compositions took Salsa beyond New York and the Caribbean and Fania to new places on balance sheet.
The New York based artists at Fania's epicentre, such as Willie Colon and Hector Lavoe, were mainly Puerto Rican, copying the Cuban model of popular Latin dance music, singing about girls, heartbreaks, and having fun. Blades was the first to arrive with the Latin American experience, influenced by its daily realities and the political plights against the dictatorships sweeping the continent. His lyrics tapped into truths and emotions of Latin Americans at a deeper level than salsa ever had, the sceptics were proved wrong with a six-minute-long musical narrative of a low-life crook called Pedro Navaja that became an instant hit.
"I mean, in Latin America, when we arrived in places like Venezuela it was just...it was something else," remembered Blades in a 1998 interview. "I don't think that in New York people in the Latin field understood what we were doing, nor accepted it that much. I think that other, more rhythmically oriented bands, like El Gran Combo, had better reception. But outside of New York City, we were kings. We had something to say. Whenever we played, people didn't just dance, they listened. Club owners hated that because their thing is-- you dance, you get hot, you drink and that's where they make their money. They don't want people behaving as if they were in a theatre. So we had a situation there where we had tremendous success outside of New York."
There is a saying in Latin America: Life and death dance together with a beer in hand. And people's hips would sway, even whilst listening to Pablo Pueblo, (Pablo Public) about the down trodden common man, betrayed by politicians who buy votes with promises they never keep, or Plastico, (Plastic) about the shallow Miami-loving Latin American elites ('you see their faces but never their hearts') or Padre Antonio, the real life story of a Central American priest who worked with the poor and was brutally assassinated by El Salvador's CIA backed military on the alter as he was giving mass. Indeed these are among Blades' most popular hits (the last played in his honour by the famous Simón Bolívar Youth Orchestra). And invariably, half way through a Blades song the tempo speeds up, reaching a climax in which Blades makes a call for solidarity that makes you feel good, because the music is great and you feel inspired and empowered.
Tego Calderón remembers: 'When Tiburón (Shark) came out, it was like a calling, it changed my life. Rubén Blades was always important in my house. There were other Salseros, but they never talked about the things he talked about. My father paid a lot of attention to his lyrics and that album was very important here, especially to the people of Puerto Rican independence movement.
…The moon lies cushioned in the silence
Of the great resting Caribbean
Only the shark stays awake
Only the shark keeps searching
Only the shark remains restless
Only the shark watches your every moves
'Hmmmm, what a nice little flag
Shark, if yours is another sea
What are you doing here?
From Rebel Rousing to Hollywood and back again
True to Masucci's fears when he initially turned away the young educated salsero, Rubén Blades began playing out his own discourse of the downtrodden man when he became more and more outspoken about the exploitation he witnessed at Fania. "There's no question about it, Jerry facilitated the talent's opportunity, but he ended up keeping their money. He's a millionaire... and the people who made him the money? Every time one of them died we had to sort of pass the hat around to try to see how we could bury this person. And so, I don't have a good memory of Jerry Masucci. I mean, you ask some other people and they'll say, "Oh, Jerry! Jerry was very nice." I say, "Why was he nice?" And I'm probably the only one at Fania who got back something. I mean, I sued him. They sued me, I sued them back and I got my music, my publishing. To this day he owes me money. I can respect his acumen and his vision, which he did have, and if it hadn't been for Jerry Masucci and Fania, the impact of Salsa music would have never occurred. So I respect that part of it. What I do not accept is the fact that so many people's talents were ripped off. And that part of it I am upset about to this day. And I don't think that it's correct to be quiet about it, because that's why these things happen."
After leaving Fania and going on to have great success. Blades decided to enter politics for real. Having completed a Masters in Law at Harvard University, in 1994 he ran for president of Panama and managed to get 15% of the vote. Perhaps disappointed by the outcome (his critics questioned how he could claim to represent a country that he had not lived in for most of the previous 20 years).
At the same time Blades embarked on a film career that resulted in an astounding thirty seven movies, with rather mixed results, it has to be said. Again, his motives were idealistic, to help change the way . One can debate the success of Blades diversions. Like many of the characters in his songs, he too has his contradictions, his ego, his flaws. But, after his recent diversion - a four year stint as Panama's Minister of Tourism - where, as such, one can see him in interviews, rather uncomfortably, talking about the security that a tourist will find in Panama, Blades has come back to music with his Todos Vuelven (Everyone Returns) tour, named after one of his most loved songs.
True to that song's lyrics, 'Everyone returns to the land where they come from,' Blades now lives in the neighbourhood where he grew up. Older and chubbier the Latin icon retains the spirit of the rebel of always, as one recent Spanish interviewer learnt when he referred to him as the Bruce Springsteen of South America. "I think what you mean…" Blades replied,"...is that Bruce Springsteen is the Rubén Blades of North America." What other answer would you expect from The People's Latino?
A finely curated "best of" and a great introduction to the world of...
Flamenco Festival London, Sadler's Wells' renowned annual season of...