Tropicalia - Brazilian Act and Dancer Performers of the Year
Vanessa Carvalho from Salvador, Bahia – Brazil. started singing and dancing at the age of 8 and performed with many Brazilian artists. She embarked on a musical adventure together with Leo Mantini from Rome, which became that became Tropicalia Show Band, 3 times LUKAS winner between 2011 and 2012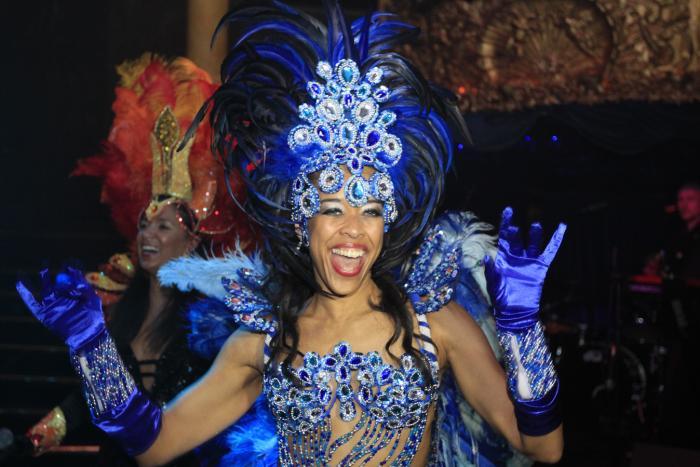 Vanessa Carvalho from Salvador, Bahia – Brazil. Co-founder, lead Singer, dancer and choreographer of Tropicalia Show.
I started singing and dancing at the age of 8. In Brazil, I performed with many Brazilian artists but definitely the highlights of my career were performing with the "Trio Electrico" during the Carnival in Salvador-Bahia and taking part at the famous Rio de Janeiro Carnival as "Passista de Samba" (samba dancer) with the "Imperio Serrano" School of samba. I moved to London in 2000.
Leo Mantini from Rome. Co-founder, Managing Director, Band leader and Drummer of Tropicalia Show.
I got my first job as a professional musician in 1985. I have been working as a full time musician ever since. I settled down in London in 1996.
We met in 2001 and embarked on a musical adventure together because we believed that our different artistic experiences could produce something with the potential of breaking the Latin/Brazilian entertainment market. We wanted to create a fresh and innovative performance and blow some new life into the traditional entertainment scene.
It was quite difficult to making people understand the difference between our show and other form of Latin entertainment available on the market. We were introducing a Latin Brazilian Cabaret style show production featuring performers who would be singing as well as dancing with the support of an established live band. It took a while before audiences started to value our performances. Appreciation came after attending our shows. Having such a complete performer like Vanessa, to be able to sing and dance at the same time, was definitely a breakthrough.
We are proud to have coined the term "Latin Brazilian Show" and have developed it into a unique form of spectacle well appreciated by audiences all over the UK and abroad. We started out with only few people. Today Tropicalia can provide up to 30 people between musicians and dancers. We also have a small office with a dedicated customer service.
Producing your own show gives you the power to choose your songs, make your musical arrangements, create choreography and design costumes. You can drive the creativity and talent of the people working with you onto your project creating positive energy. We love sharing ideas among professional performers in general.
The first two years settling in another country can be pretty difficult and tough. You are missing your family and friends, have to learn a new language, understand a new culture and most of the time have to accept poor jobs at ridiculous wages to pay your bills and studies. If you have the strength to get through this and slowly make yourself succeed in what you are good at, then the UK offer you many opportunities to develop your skills and eventually start your own business. We are no exception as we went through all this but...
....Our achievements made the sacrifices worth it. Tropicalia is a successful business which ended up in being awarded with 3 LUKAS Awards over the past 2 years. We are doing what we love most, proudly keeping the Latin culture alive and kicking!
The love and passion for our profession and, of course, the success and positive feedback received over the last 10 years in the Latin entertainment. On behalf of
Tropicalia performers and musicians we would like to take this opportunity to thank all our voters for their support. We were overwhelmed by the number of votes received for the LUKAS Award. Only this year our 3 nominees received over 11,500 votes!
Happiness is to see people having fun and sharing smiles at our shows. To win these Awards it is also a great achievement which recognized and valued our efforts. Definitely this makes you feel very happy and proud.
Unhappiness is still to see people not respecting our artistic profession unless you are an International well-knows pop star. I am pretty sure I could say this on behalf of many artists not only in the UK but all over the world. I would not even call it unhappiness but rather sad moments.
We are always looking to create unique performances to surprise and entertain audiences all over the UK and abroad, bringing and spreading the Latino culture as much as we can and possibly at its best.
Corina Poore talks to Gustavo Salmerón, who made a unique film about...
Can Venezuela's new state-sponsored cinema live up to its Cuban and...