Azymuth 'Aurora Remixes'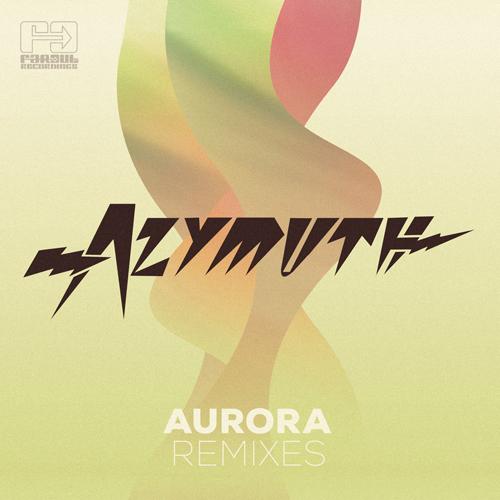 Azymuth ooze cool. Their brand of 'samba doido' (crazy samba), mixing groovy riffs with psychedelic effects has been around since 1972. Their last major hit single 'Jazz Carnival' reached number 1 here in the UK in 1980.
The band's Pianist, songwriter Jose Roberto Bertrami (1946-2012) is recognised as one of the legends of Brazilian music, creator and instigator of Azymuth's unique blend of traditional and modern sounds. Ivan Conti, Azymuth's drummer and percussionist (or Mamao), still plays with an incredible energy. The bassist Alex Malheiros, is a well known carioco groove master. The trio is responsible for twenty-five studio albums from 1975 crate-digger favourite debut 'Azimuth' to 1979's 'Light as a Feather'. I was fortunate enough to see Azymuth live on their last UK tour and was keen to hear how their classic jazz funk would be remastered and remixed. The results don't disappoint.
The artwork for 'Azymuth: Aurora remixes' is fresh. The album boasts collaborations from some of dance music's heavyweights: 4Hero, Zed Bias, Mark E, LTJ Experience amongst others… The CD is a fitting tribute To Rio's coolest funk trio and well worth having in your collection. The second disc Bonus recording was initially released in 2011 to celebrate 35 years of the 'Samba jazz legends'. It is a unique blend of bossa nova, heavy samba, funk and electro with a heady mix of sounds and effects to fill your ears and get your toes tapping. Synths combine with piano solos and dance beats in an updated version of a classic Brazilian genre MPB-jazz (Musica popular Brasileira). Aurora remixes is a true homage to a band that shaped and influenced so many artists today.
ITUNES: JULY 1 (exclusive to iTunes for 1 week)
https://itunes.apple.com/gb/album/aurora-remixes-deluxe-edition/id655957909
FAR OUT SHOP:
http://farout.greedbag.com/buy/aurora-remixes-originals/
A book which tells the story of the Amazon and its ports-towns near...