...Guatemala
From a mansion to a school trying to make ends meet, this couch surfer found a warm welcome in Guatemala.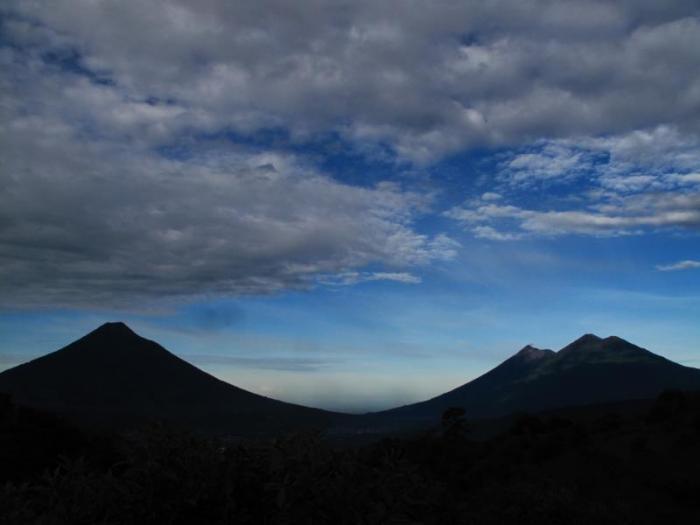 The three of us sat on the car bonnet, still warm from the steep drive from Antigua's colonial centre to the summit of one of the many hills which encircle the town. Bleary eyed from the 5:30am start necessary to appreciate a view unrestricted by cloud, and clutching bowls of cereal we were yet to be hungry for, we gazed in awe at the imposing - sometimes smouldering - volcanoes which envelop Guatemala's favourite tourist town.
My friend and I had picked the cobbled streets and pastel hues of Central America's best preserved colonial city as the place to begin our CouchSurfing experience - an online process whereby willing hosts advertise themselves and their couches to travellers seeking a more enriching, or at least cheaper, hostel alternative. And as novices, we expected nothing more than a couch or two to crash on.
Instead, we were welcomed into a mock-colonial mansion. Our room - two double beds adrift in an expanse of polished wood flooring and newly purchased antiques - opened out onto a balcony with views of the ornate fountain and manicured garden which filled the courtyard below. All the comforts of a hotel, then, for the price of a night's conversation with our new roommate. Yet it was not just a question of economics. Sleeping on a Guatemalan 'couch' offered an otherwise unobtainable snapshot of typical, if somewhat privileged, life in this fascinating country.
As the website had assured us, CouchSurfing was all about sharing "cultures, hospitality and adventures." So over a high altitude, sunrise breakfast, our amiable host excitedly explained the intricacies of the Marimba - Central America's answer to the xylophone, though we refrained from saying so - and offered stories of treks into his country's sweaty northern jungles. We in turn offered our own accounts of Antiguan adventures: toasting marshmallows near the peak of tempestuous Volcan Pacaya; or stumbling across a farm which served up pancakes made from home grown macadamia nut flour, with blueberry jam.
Antigua has an abundance of bars, spas and English bookshops cashing in on the steady flow of travellers en route from Mexico to Panama. But this is matched in number by crumbling churches, artist studios tucked down alleyways shaded from the heat, and curious shops selling Mayan fabrics, exotic sweets and herbal remedies. Typical of Antigua's culinary bounty, Doña Gavi's ice cream flavours (avocado, beer) offers welcome refreshment amidst the town's cultural offerings. Many come to Antigua for its profusion of Spanish schools (though the prevalence of English can make this counter-intuitive), but its beautiful 17th century cathedral and earthquake ruined monastery are a constant reminder of the town's historical and geological potency.
Buoyed by our initial good fortune, we arranged for our final night in town to be spent in the company of another obliging host. This time, however, we were shown the tiled floor of a Spanish school moonlighting as a temporary home for those willing to rough it. We were told there might be a spare sleeping bag, had we not brought our own (we hadn't), and promised the room was ours "from 7pm, or whenever the students are gone."
Corina Poore talks to Gustavo Salmerón, who made a unique film about...
Can Venezuela's new state-sponsored cinema live up to its Cuban and...