Granada: The Jewel in Spain's Crown?
It's embarrassing to admit that landing in Granada was a total fluke. Yet, if its true that the best things are discovered by mistake, Granada is an absolute gold mine of an accident; undiscovered by the masses and yet with so much more to offer than many of Spain's most popular tourist destinations. If you are willing to bear a two hour bus journey, Granada is a stone's throw away from Malaga airport, and I can already promise you that it's worth it.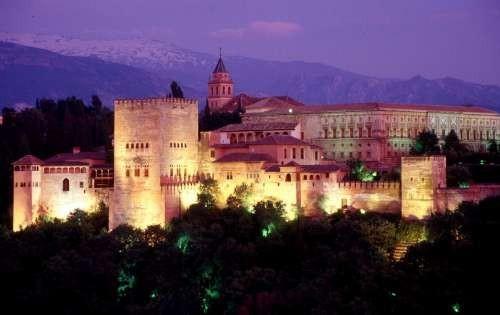 Spain's Arab stronghold
Granada is one of the most important cornerstones of Spanish history; it was the last Muslim territory to be conquered by the Catholic monarchs in 1492, the same year that Christopher Columbus set off in search of the New World. Being on the southern cusp of the continent, Granada's proximity to Africa made it an easy territory to conquer by the Moors in the early eighth century and to this day, Granada's arabic roots are found everywhere, most emphatically in the UNESCO site that is the Alhambra.
The city itself is not very big, but it boasts a smattering of what I consider 'quarters' that give it a more expansive feel. The cathedral is right on the high street, an impressive presence at the heart of the bustling tourist centre. In central Granada, there is the lovely barrio of Realejo, of which I am proud to be a resident. I was lucky enough to find a steal in a charming Spanish house with two other housemates, and we live in moderate luxury in comparison to the standard student dig. Realejo is cluttered with rustic town houses and cottages, all painted vibrant colours and different shapes and sizes, no building is uniform; a refreshing change from the characterless monstrosities that are sixties' British apartment blocks.
The Arab Camden and a wonderful view
To the north west of the city centre there is the Albayzin quarter; a hilly, residential area filled with beautiful, white spanish cottages. The detailed porcelain-tiled doorframes and the steep cobbled streets are perhaps reminiscent of a more authentic version of Capri or Iscia in the Mediterranean.
On the way up, there is the arabic equivalent to London's Camden, Calle Elvira, which is filled with tiny shops selling handmade leather bags, tapestries, Moroccan jewellery and every kind of ethnic trinket you could imagine. I love this area, especially for its lavish arabic tea rooms, in which I have happily sat for hours smoking shisha and drinking tea so high in sugar content I swear the kebab shop around the corner was built as a safety precaution.
Fifteen minutes uphill trek from the last tea room on Calle Elvira, you'll find the highest view point in Albayzin, Plaza San Nicolas, to which people flock in good weather to take in the stunning view of the Alhambra and the city in the depths of the valley. From this point, you can see Sierra Nevada, the snow-capped mountains that offer a great ski retreat in winter, all the way to the more industrial parts of Granada, extending past the miles of motorway towards more fields and mountains. Next to Albayzin is h, a more secluded part of the city home to a couple of grandiose houses and quaint bars and restaurants enjoyed by locals. In Spring, the view of the Alhambra is absolutely spectacular, the vegetation is in full bloom and the palace is enveloped by a voluptuous body of forest that contrasts stunningly with the pale terracotta of the Moorish fortress. On a clear day, there are few sights more impressive.
The Alhambra - Spain's Taj Mahal
The Alhambra, in my mind, is the ninth wonder of the world. It is an expansive palace, surrounded by immaculately kept gardens; the perfect setting for a nauseatingly romantic gesture. The view from the gardens of Generalife, connected by a walkway to the Alhambra, is another to behold. As well as offering the outdoor viewpoints, the Alhambra's Palacio Nazaríes is what you really pay to see. Access is monitored and allotted in half hour intervals to ensure a comfortable passage through the various rooms. Upon entry, people slow down and marvel, there is little else to do but gape in awe. It is made immediately clear that the Moors had more than a little conviction in their power for them to invest so much in this base; the detail in the hand carved marble walls is not dissimilar to the Taj Mahal, and yet I'm dumbfounded that the Alhambra is not as famous. Now that it's Spring, the palace is teeming with admirers, but it is encouraging to note that they seem to be considerately more discreet than those that mob St Peter's Basilica for instance. The palace also offers various museums, and currently it houses a traveling M. C. Escher exhibition.
One last jewel I'll mention and it's little more than five minutes from the Alhambra: Jardin del Carmen de los Mártires. I stumbled across the park during a walk with my housemate, and once more, I can't believe it is not overrun with nature enthusiasts. I guess there is nothing particularly noteable about it other than its immense palm trees, beautifully kept hedges and fountain, but what gets me every time are the wild peacocks that stroll about, regally asserting their authority over their flowery haven. I suppose it's just me, but there's something undeniably incredible that these creatures are not exploited in cages for commercial purposes, in this day and age. That remains something that I truly admire about this city: its refusal to impose upon its own natural beauty. It seems the local municipality has got it just right betwen corrupting Granada's attractive resources and gently cultivating a profit in order to maintain their upkeep. Obviously, all 'Granadinos' are immensely proud of their city and it is the openness and willingness of the people above all that allows the city's charm to permeate the experience of every visitor who comes here. Granada is truly a diamond in the rough.
A finely curated "best of" and a great introduction to the world of...
Flamenco Festival London, Sadler's Wells' renowned annual season of...