Copán: The jewel on the southern tip of the ancient Mayan Empire
Located in western Honduras only an hour from the border with Guatemala, Copán was an ancient Mayan city that dominated trade and commerce in the area. It holds great importance in Mayan history due to its geographical position, located at the southernmost tip of the ancient Mayan Empire and the style of carving employed in the city. Having been told of its architectural beauty I decided to see if it would live up to its reputation...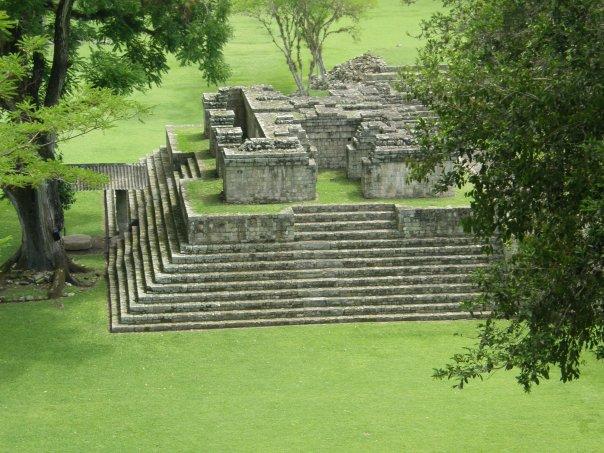 The long slog to Chiquimula
Awoken by a ringing alarm on my phone I rolled out the bottom bunk and splashed my face with water. The feeling was very familiar; it was 6am and I was tired, covered in raw bites and caked in sweat. Welcome to travelling in Guatemala.
I jumped in the shower and when I came back to the shared dorm I could see my two friends stirring under the covers. Standard procedure, I was always the first one to wake up. I was travelling with an English couple from Kent who decided to take a month out after University and see what Central America had to offer. Stumbling down the stairs of the Black Cat Hostel, there were a host of fellow travellers sipping strong black coffee in preparation for a long day travelling. Given strength by a brew from a local finca I was ready to embark on a journey that would end in Copán, Honduras. From Antigua (old colonial capital of Guatemala) it would take us 8 hours on a plethora of chicken buses to reach the border and then half an hour to reach the border town of Copán.
We left the cobbled streets of Antigua and hopped on a packed chicken bus that would take us to Guatemala City.
Nodding to the beat of reggaetón with my head out the window I was excited to go to Honduras - there was news that it was politically unstable but some travellers who had come from the Bay Islands just two days previously had told us that it was still safe to travel as long as we avoided the capital where there were numerous riots and manifestations going on.
Changing bus in the City we headed east to the town Chiquimula, slowly edging closer to La Frontera. After enduring a hot and restless journey we decided to stop for some food at Chiquimula. We soon found that this was to our detriment though. It was 4pm and we had just missed the last bus towards the border.
A change of luck
We proceeded to a café next to the bus stop and as we were sitting down a man asked if we needed a taxi to the border.
We jumped at the opportunity and even though we were fully aware we were getting heavily overcharged, we were content that we were a) getting to Honduras and b) not in a sweaty chicken bus - although it was a common consensus that everyone missed the charismatic blasting of reggaetón that we had been subjected to all day.
Arriving at the border we were ecstatic to see the flag of Honduras floating in the evening breeze on the mountainside. This joy was soon put into a brief period of jeopardy though.
At the border control, the man behind the desk wouldn't let us through.
I was finding it hard to understand why weren't being allowed through because I knew that we still had a whole hour left until the border closed for the night and we were all UK citizens with the relevant Visa details. After protracted talks he explained that because of the political instability the border was closing that evening. We were exhausted and it was another hour and a quarter back to Chiquimula so I pleaded with the man to let us through and helped by the fact I was travelling with Alice - who the man clearly had a soft spot for - he agreed to let us through but said we had to come back in 3 days because it was dangerous to go further than Copán.
A short half hour journey from the border and we were in Copán.
Introduction to the toque de queda
On arrival, Copán was like a ghost town and this was at 7 30pm when one thought it would have been buzzing.
There was an eerie silence in the streets so we decided to head inside the first hostel we saw. We asked why no one was on the streets at the information desk.
"You don't know?"
"No, should I?"
"Toque de queda señor."
He booked us into the last three beds and explained that the government had issued a 8pm curfew due to the political situation and that they had been closing borders all over the country.
He said that people were stuck all over the country and with a cheeky wink said we might be staying with him for a few days longer than we had planned.
However, exhausted and glad to have a bed, we thought nothing of it. We were content to just relax listening to a fellow traveller strumming a few chords on his guitar in the hazy twilight.
We dropped off our stuff, ordered dinner and made plans for the next day. Alice read in her guidebook that there were hot springs an hour outside Copán so we thought if we had time we would visit them after the ruins.
The ancient city
Appreciating sleeping in after 6am, I arose around 10 and was geared up to go see these ruins- I just hoped they would be worth it, it had been a substantial effort getting to them.
The town Copán was only 30 minutes away from the ancient Maya city so we were glad not to get on a bus and just stroll over into the forest.
This ancient civilisation was extremely advanced in its period and from pictures seen on the Internet I struggled to compute how they had managed to build such enormous, intricate buildings that had managed to beat time and survive for so long.
We approached the entrance and not surprisingly there were a host of people in the queue.
Apparently, most travellers were trying to head to Copán because it was the border which would most likely open first so there had been an influx of travellers and subsequently they had all decided to check out the ancient ruins that were lying only 30 minutes away from town.
We bought our tickets and walked to the old city centre.
Stuck by the intricacy of the carvings and the grandeur of the buildings there was a few minutes of silence where everyone was soaking up the myriad of ancient buildings which surrounded us.
In the trees above us there was a building built into the hill and we could just about see a person on top of the building waving at us.
Wanting to experience that view we briskly walked over and climbed up the hill to the summit.
The view was breathtaking and enabled us to see the entire city below.
However, not only was I taken aback by the wonder of the ancient city, I was also surprised about the tranquillity of the place.
Yes, the entrance was quite busy but the queue was only five minutes and I could hardly see anyone walking around the city. We practically had the whole site to ourselves, bar a handful of guards sitting in the shade of trees at strategic points around the city.
Weaving our way through burial sites and temples, images of how life must have been like living in this ancient city flooded my head: was life good here? What were the people like?
We climbed another temple and sat for a while drinking some refreshing drinks admiring the city and the surroundings. We could have sat there for hours but true to form I was starting to look like a lobster so we descended the temple for some respite in the shade.
After having walked around the rest of the City we left and took a bus to go relax at some hot springs nearby.
Relaxing in the springs was heavenly and it gave us some time to reflect on what we had just seen.
Political turmoil
We hadn't really discussed the border situation mainly because we could do nothing about it, but I heard some people talking about the border and it had been closed all day. I started to get slightly worried because some people in the springs had said that they had tried to head to the Bay islands in the morning but couldn't get further than an hour east because people had burnt tyres on bridges and were fighting with the police.
At the hostel later when I was checking my emails, I noticed Honduras was all over the news and I realised the gravity of the situation.
However, we were still having an amazing time and we had encountered no problems so we were still in a positive mindset. Our original plan was to return to Antigua the next day so we thought we would check out the border situation the following day to see what was happening.
Slightly hesitant of what we might find we took a bus to the border and arrived at 11am. It had been reopened at 10am and not surprisingly there was a huge queue to get back into Guatemala.
We waited a while and eventually crossed back into Guatemala, extremely happy to be back on the chicken bus listening to the reassuring beat of Guatemalan reggaeton!
Corina Poore talks to Gustavo Salmerón, who made a unique film about...
This month's dancefloor hits by award winning Cuban DJ, Javier...