...The Greatest Latin American Plays of all time
A selection by Daniel Goldman, Artistic Director of CASA Latin American Theatre Festival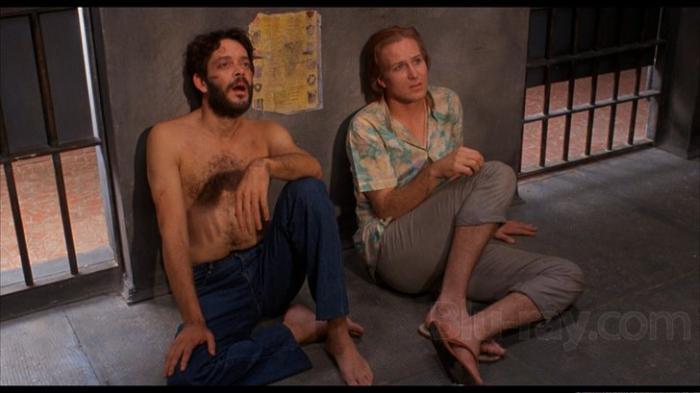 El Beso de la Mujer Araña (Kiss of the Spider Woman) by Manuel Puig (Argentina)
Set in a cell at the Villa Devoto prison in Buenos Aires in 1976, it shows the developing relationship of revolutionary Valentin Arregui Paz and his cellmate Luis Alberto Molina, a homosexual who has apparently been 'planted' to sniff out the secrets of Valentin's Marxist group. They argue. They fight. They fall in love. One betrays the other. Manuel Puig adapted his own 1976 novel while in exile in Mexico in 1983. By then he was already considered one of Argentina's most talented novelists, but because of his politics and homosexuality, he was forced into exile. The play was first staged in London in 1985 at the Bush Theatre, in an English-language version by translator Allan Baker, starring Mark Rylance and Simon Callow. Baker's version was revived in April 2007 in a brilliant production at the Donmar Warehouse with Rupert Evans as Valentin and Will Keen as Molina. It'll be back. And in the meantime, there's a pretty good film version…starring William Hurt and Raul Julia. William Hurt and which won Hurt the Oscar for Best Actor. The film was also nominated for Best Picture, Best Director, and Best Adapted Screenplay. It has even been made into a Musical.
Beijo no Asfalto (The Asphalt Kiss) by Nelson Rodrigues (Brazil)
Nelson Rodrigues helped usher in a new era in Brazilian theatre with his complex exploration of his characters' psychology and use of colloquial dialog. Widely regarded as Brazil's greatest playwright, I've always imagined Nelson Rodrigues writing his plays in fishnets (something he apparently did). Though his reputation is built on shock and sex, look a little closer and you'll see he's a master storyteller with a brilliant knack of challenging prejudices and state violence. I've not seen a great deal of his work (his most famous is Vestido de Noiva, The Wedding Dress) but this one I have and it's superb. Its starts with a man kissing a dying man in the road and it ends… Well, I won't tell you. It was performed last year by Stonecrabs at the New Diorama featuring our international programmer and actress extraordinaire Gaël Le Cornec.
La Muerte y la Doncella (Death and the Maiden) by Ariel Dorfman (Chile)
A brilliant three hander about a woman who believes that her husband has invited the man who once tortured her, into their home after an accidental puncture. If you watch this show, you'll never be able to listen to Schubert's masterpiece the same way again. One of Latin America's most successfully exported plays, it had one reading and one workshop production prior to its world premiere at the Royal Court Theatre in 1991. A year later, the play opened on Broadway with Glenn Close, Richard Dreyfuss and Gene Hackman. Both productions went on to win major awards. In 1994, Roman Polanski made it into a film starring Sigourney Weaver, Ben Kingsley, and Stuart Wilson. Last year the play returned to London's Harold Pinter Thetare starring Thandie Newton. A particular version of this play was held in 2010 in the Arab Theatre in Haifa, Israel, directed by Juliano Mer Khamis the arab-Israeli filmmaker and activist, who was assassinated a few months later.
Requiem para un Viernes a la Noche (Requiem for a Friday Night) by German Rozenmacher (Argentina)
With a title like that it could only be Argentine. My favourite play of the lot and that's because it's incredibly personal. You know you're onto a good thing when you're crying as you're translating the damn thing. The story of an Argentine Jewish family that implodes over the course of a Friday night Shabbat dinner. A heart-breaking take on a father-son relationship that self-destructs within the context of a family trying to maintain their post-Holocaust Jewish identity in 1970s Buenos Aires, it's a play about belonging, tradition, love and memory. But most brilliantly it captures the difficulty of following the previous generation's footsteps when you need make your own choices. Gérman Rozenmacher was known for his narrative related to solitude, discrimination and social-politic preoccupations. The Ricardo Rojas cultural centre in Buenos Aires created the Germán Rozenmacher award in 1999 to recognise young playwrights.
Los Empeños de una casa (House of Desires) by Sor Juana Inés de la Cruz (Mexico)
What's a Mexican nun doing writing one of the funniest plays of the Golden Age? I don't have the answer but this is as good as it gets if you like your plays full of sexual intrigue, young love, servant romance, mistaken identities, cross-dressing and very angry money driven fathers who get their comeuppance. Is it a feminist work? Is it a critique of other Golden Age writers? Who cares! You'll laugh and laugh and laugh.
Luz Negra (Black Light) by Alvaró Menén Desleal (El Salvador)
Basically this is as close as Latin American theatre gets to Waiting for Godot. This was one of the first plays we ever produced at CASA in 2007 and it's a dark comic masterpiece. The premise is brilliant. Two heads that have been cut off following a public execution wake up and start to chat about life, love, betrayal, politics and art. The flies start landing. Their noses start itching. And worst of all, the town square cleaner arrives. And if you were wondering about the writers name, yes, he did change it from Leal to Desleal. Chapeau.
La Orgía (The Orgy) by Enrique Buenaventura (Colombia)
Buenaventura is one of the GREAT Latin American theatre makers and thinkers and teachers, and The Orgy, is his master piece. On the thirtieth day of every month, it's orgy day at a libidinous old woman's house. Three local vagrants and a dwarf are invited to take part in a game of make believe where, in return for a belly full of leftovers, they will act out the old woman's fantasy of an orgy. These beggars play their parts half-heartedly, wanting nothing more than to be fed, but when the woman tarries in delivering their payment of food, they revolt against her. The old woman's mute son returns home at the end of the day and finds his mother dead. 'Why?', he asks the audience. This grotesque black comedy is a fascinating example of Buenaventura's Collective Creation theatre.
En un Sol Amarillo, Memorias de un Temblor (Under a Yellow Sun) by César Brie and Teatro de los Andes (Bolivia)
The story of the Aiquile earthquake that struck Bolivia in 1998 and the political corruption and greed that followed once the TV crews had left, En un Sol is a verbatim piece which means the entire text is based on interviews and real life testimonies – not a word is made up. It's difficult to see a more powerful and visually stunning piece of political theatre anywhere.
La Nona (The Grandmother) by Roberto "Tito" Cossa (Argentina)
Never before has old age seemed so destructive. Tito Cossa is one of Argentina's great 20th Century playwrights and this is his masterpiece. As funny as it is shocking, the play charts a family's disastrous attempts to look after their incredibly old grandmother and at the same time pursue their own misguided dreams of a brighter future. It was made into a comedy drama film in 1979 by Héctor Olivera and starring José Soriano, Juan Carlos Altavista and Osvaldo Terranova.
Nuestra Senora de las Nubes (Our lady in the clouds) by Arístides Vargas (Ecuador)
Exiled from Argentina and founder of Teatro Malayerba in Ecuador, Arístides is without doubt the great poet of Latin American theatre of the past 30 years. Political, absurd, funny and tragic, Nuestra Señora is a series of vignettes that tell the story of a town, its inhabitants and their interaction with such poetic power that it always makes me weep. CASA produced it in 2008 to great critical acclaim and we are now delighted that Arístides is coming to CASA 2013 to perform in two plays that he has written. Click here to see what they are!
CASA Theatre Festival starts on September 27th. For full program and tickets go to www.casafestival.org.uk/
Corina Poore talks to Gustavo Salmerón, who made a unique film about...
This month's dancefloor hits by award winning Cuban DJ, Javier...