It Takes Two Worlds to Tango
Representatives of 25 countries converge on the River Plate for the Third World Tango Summit.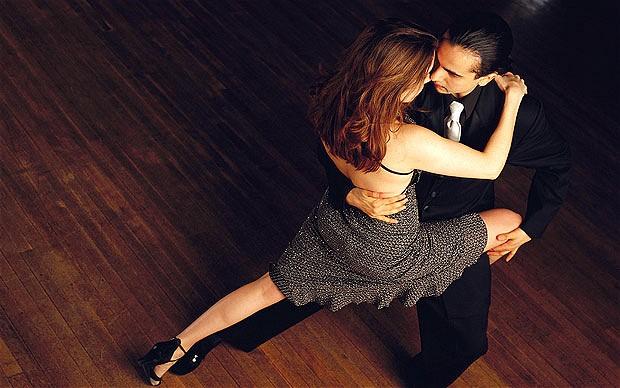 Long pin-striped legs glided like gazelles up the marble steps of the Uruguayan Congress. Then, like peacocks fluttering behind them, feathered hair clips and fish-net tights stretched skirt-slits to disappear behind the pillars protecting Montevideo's grand political theatre.
No less a dramatic a venue could have been considered to launch the Third World Tango Summit, an event drawing visitors from twenty five countries for a three week immersion in the culture of the River Plate, dividing Uruguay and Argentina.
The tango poetry, song and dance has always been as passionate an indulgence for the people of Montevideo and Buenos Aires as politics. Distant fanatics swarmed here last week in desperate search of its sensual secrets, its passion and its grace.
Visitors held their faces- from high-cheek boned oriental to tight-lipped European- proudly out of pink, purple, and red-polka dotted cravats. Imitating the shiny black lacquered waves of their Latin mentors, they pressed their stringy hair down with brilcreem, and held chairs out for their tango ladies.
A stench of make-up powder seemed to collect in a haze with that of after-shave as the Mayor of Buenos Aires and Uruguay's President took their seats for the opening show.

The Congressional gallery flaunted this fantastic theatre of macho coquetry, but it was no tacky ballroom dancing bonanza (better know in England as "Come Dancing"). Haters of tango mockery, these participants have met to keep tango from falling into the realms of ballroom contests and banality.
Even at the formal opening there was no striding across the floor at high speed in a ridiculous clinch. The passion in real tango is in the bead of sweat hanging on his clean-shaven cheek as her red-painted lips gasp at his ear, her breasts pressed against his chest, her legs brushing in and out of his, but her hips always safely out of reach.
The German delegation (by far the largest here) glared admiringly at the masters of this breathtaking courting culture which had its golden era in the days of Argentina's Evita and President Juan Peron. The macho audacity and the quivering but defiant female; these seemed to be envied as a philosophy of life. "Tango has everything we don't have," said young Jochen Hoettke, a member of the German sextet Realtango. "It has sensuality, seduction, charm, sexual humour. It is so close to your emotions"
But as the festival got under way, in the colonial squares, streets and theatres of Uruguay's capital it became clear that the European delegations saw snippets of their own cultures reflected in the tango, atleast in its music.
"It has a bit of everything. Waltz and polka, some Jewish influence, and a very gypsy attitude. Add to that the very Italian folk song and French melancholy and artistry and you have a complete European art form," said the very excited French bandoneonist from Orleans after bowing to roaring applause for his Artango (an abstract interpretation of tango) from city workers crowding the square on their lunch break.
Local people were charmed by such impassioned efforts from the old world, the nostalgia for which formed such a large part of tango's original pining poetry. A young Italian from Naples, Luciano Fugalli, with his heavy Italian-accented spanish, almost brought tears to the eyes of his audience as he dedicated songs to his Genoan ancestors in Buenos Aires, who arrived on the boats at the beginning of the century to start new lives.
The young beau, long black hair tied in a pony tail and eyes smiling seductively at the elderly women before him, sung his way cheekily through his tale of the women he kept for each day of the week... through Friday's conquest, Saturday's glory and then "Sunday, Sunday, I reserve for the most special woman of all, the dearest to my heart....Mama!"
Many "ooooohs" and tuts were chuckled at the tango tales with their natural drama. Tango is the tension which pivots on their life's contradictions: the passion of a new world and the nostalgia for the old, their consolation in seduction humour and the anxiety from the sin of sensual pleasures, the music of a sophisticated tradition and street language and dance of bandit cities.
"Tango is vely elotic (sic)," said one young Japanese delegate, "but it is not indecent," she assured, "no,no, it is decent, ploperly glacious." Sayaca Osaoshwaya came all the from Kioto in Japan where she says tango was brought, "by a very rich Japanese man who saw it in Paris in the 1930s."
Sayaca, 27, says that her generation is going through a tango revival. "We want to express ourselves but we are very frustrated in Japan because it is very difficult to let your feelings show. "Through tango we can do it because it is very expressive. You can let out all your anxieties and your desires." Not even Sayaca's severe difficulty in rolling her Rs blighted the apparent extacy she felt singing out her tango troubles.

Many like Sayaca had come to this corner of Latin America to discharge the emotional hang ups of their own cultures. Jemima Perkins, a former primary school teacher from London gave up all after meeting the firm grip of an Argentine. Now she and her husband Jaime travel the world teaching the art of flirtatiousness. "I have never felt the same since," Jemima said grinning. "I know its all macho verse and you have to give in to the man and all that, but I don't care. I love it."
Couples from Britain, Holland, Australia, Canada and Germany came to show how they had fallen to the Latin way. But not all could prove they had got the gist. One German couple had to bear the chuckles from the audience as the two shuffled stiffly, wincing at the evocative lashings from the tango violins, rather than absorbing them.
"They have less sensuality than a freezer," one local observer mocked under his breath. Nevertheless, he clapped graciously, prophesizing that the changing winds of the River Plate, out of which tango was born, will soon "shake their emotions up a bit." That, no doubt, was the hope held by so many of those who had come.
Cuba's natural setting, with its own historical and cultural...
From garage parties in Panamå to the awards ceremonies of Miami, how...