Beyond Andean
Few people think of heading to Peru for Christmas. But, as Amaranta Wright finds out, summer in Lima and its amazing coastline, Machu Picchu without the crowds and jungle experience without the heat, conspire make Christmas a perfect time to explore one of Latin America's most fascinating countries.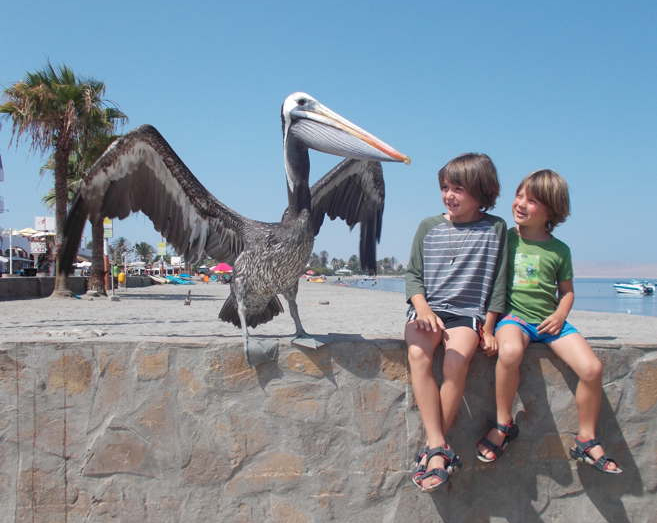 Panting our way up one of Cusco's lovely Incan walled streets to the church of San Blas, famous for its 17th century baroque pulpit, which Inca artisans carved in cedar under the orders of the Conquistadors, I suddenly wondered why I had not thought of taking any precautions against altitude sickness. It was too late now. Whilst observing the busts of (evil protestants) Henry VIII and Elizabeth I, perched in hell, Manu, my four year old, announced an explosion of diarrhoea and Rafa (eight) that he was about to faint.
This was the first day of our quest to explore Peru's three natural regions - mountain, rainforest and coast - and the doubts began streaming in. Beyond the hazards of altitude or jungle mosquitos, would Inca ruins be wasted on children so young? Would Machu Picchu live up to its hype? Was I being completely reckless, taking two occasionally obedient boys into the rainforest, rife with the world's most dangerous predators?
MOUNTAIN
Over the next couple of days, The Belmond Palacio Nazarenas that we stumbled back to after the 'incident,' became our sanctuary as we negotiated sight-seeing with bouts of altitude sickness. Luckily, archaeological sites such as Sacsay Huaman, a massive Stone Henge with its hundreds of giant slabs polished to fit seamlessly into a jigsaw puzzle, doubled up as great playgrounds. Rafa also loved the sacrificial temple at Cuenca with its deathly labrynth, complete with huge butchering slab, drainage system, embalming and mourning chambers. For an hour, CBBC's Horrible History world of the Inca King 'I drink from their skulls' Pachacuti became an exciting reality.
At night the wonderful hotel staff plied us with muña tea. Free yoga at dawn invigorated us for our big trip to the spiritual heart of the Inca kingdom: Machu Picchu. I was apprehensive. Chances are you'll only have one shot at getting this experience right. Yet I'd put little thought into it, my only decision being the luxury Belmond Hiram Bingham train, rather than risk the four-day hike with a 4 year old.
The train journey was spectacular, however. Few people talk about the beautiful countryside that accompanies you as you descend from the pastel beiges of the high Andes into the lush cloud forest that surrounds Machu Picchu. We hung out of the train's open rear, mesmerised as we followed the tree lined Urubamba river and its surrounding meadows.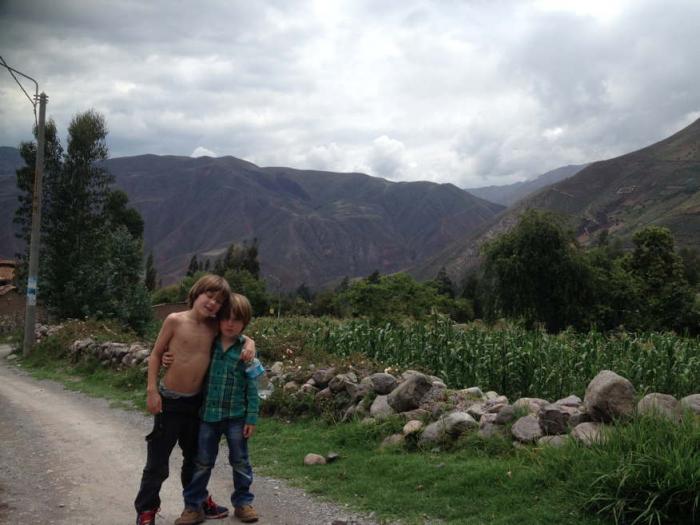 When we arrived at the village of Aguas Blancas, lying at the foot of Machu Picchu, we were greeted with ominous torrential rain (yes, rainy season, another factor I had not considered). But I was too busy herding the boys onto the bus to worry and it was only as we walked into the site that realised I could not even see my hands, let alone what we had come to see.
"Just wait," our guide whispered reassuringly. It was a strange moment of silence. Then, bit-by-bit, glimpses of the ruins broke through the cloud and, within minutes, the splendid vision of the ancient city that I'd seen so many pictures of, revealed itself. It was breath taking. No number of photos could have prepared us for the live experience. No amount of hype could diminish the magnificent human creation that lay before us, perched on top of the most stunning landscape of jungle peaks. It was one of those rare moments when time stood still.
Not for long. As soon as his path was clear, Manu disappeared down the mountain side, hurtling over the ruins, leaping over terraces and climbing through the open windows and over stone walls. Another perfect playground, complete with exciting vertical precipices on either side, and a 600 metre drop into the thin brown thread of the Urubamba river below. The very relaxed security guards and relatively few tourists (a positive result of rainy season) amplified Manu's sense of freedom and allowed Rafa and I to be transported back in time as the guide talked us through the Inca city. It was a magical three hours, the nausea long forgotten.
JUNGLE
Two days in the Sacred Valley's Casa Andina spa, surrounded by soothing Andes, was a great way of recuperating from our altitutde sickness. Then it was time to take our anti-malarial tablets in preparation for the next phase of our adventure. The plane ride from Cusco to Puerto Maldonado is only a half hour descent into the Amazon Basin, but Rafa was as white as I'd ever seen him by the time we landed in the moist heat of Madre de Dios. "Ditch the tablets," our jungle guide ordered as he observed the lifeless boy. "There is no malaria here." I readily took his advice.
Arriving at Refugio Amazonas lodge, a 3 hour boat ride up the Tambopata river, Rafa were alarmed to find an open wall into the jungle in our luxurious mahogany bedroom. While we listened to the symphony of shrieks, ticks, croaks and growls all around us I vigorously reassured him, whilst ifs and buts buzzed around my mind. The next thing I knew I was waking from the most wonderful, deepest sleep I'd had in months. The kids looked refreshed and glowing.
The jungle filled the boys with energy. They collected seeds and searched for caimans with equal enthusiasm, to the delight of our guide Inés, who was keen to foster an understanding of the jungle in its entirety, not just find big predators on demand. Animal sightings there was no shortage of; bright red snakes, blue morpho butterflies, tucans, multiple species of monkeys and caimans, and a fleet of thirty or so macaws, who treated us to a spectacular show, as we watched from a hideout.
The footprints of a jaguar, out and about earlier that morning, sent Rafa into delirium and then a whinge about having missed the beast. This was silenced when our guide stopped dead in her tracks. Hanging above us was the most beautiful sloth, slowly crawling down the vine, to just a metre from us, and then slowly up again, leaving us aghast.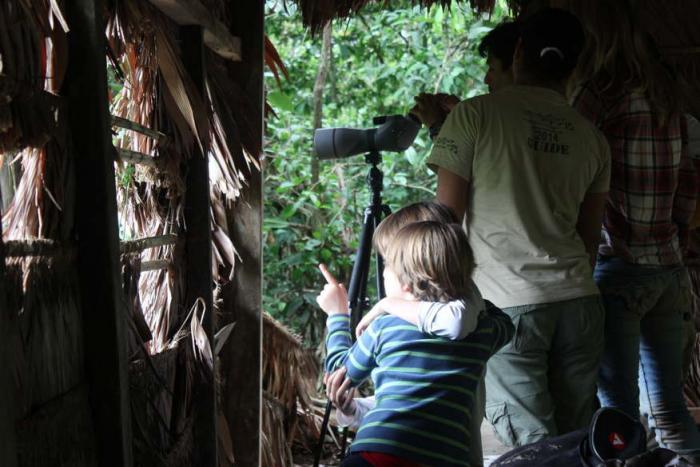 COAST
Back in Lima I was prepared for a let-down after our magnificent rainforest adventure. Not known to be Peru's greatest attraction, we found a vibrant beach capital embracing the summer. Surfers strolled the streets, roller bladers coasted along the malecón and Manu was never happier than splashing about in the sea and befriending the exceptionally friendly local children on the beach.
In fact, one of the boys' favourite moments of the entire holiday was just a 30 minute boat ride away to the islands of San Lorenzo which were covered in humbolt penguins and sea lions, who they were allowed to leap in and swim with.
In Paracas, a three hour bus ride down the coast, we were surrounded by even more wonderful coastal wildlife. Flocks of pink flamingos greeted us on our beach walks and, to our delight, dolphins leapt before us as we lay on the beach in such a perfect display that I expected a cameraman to appear and shout "cut!'.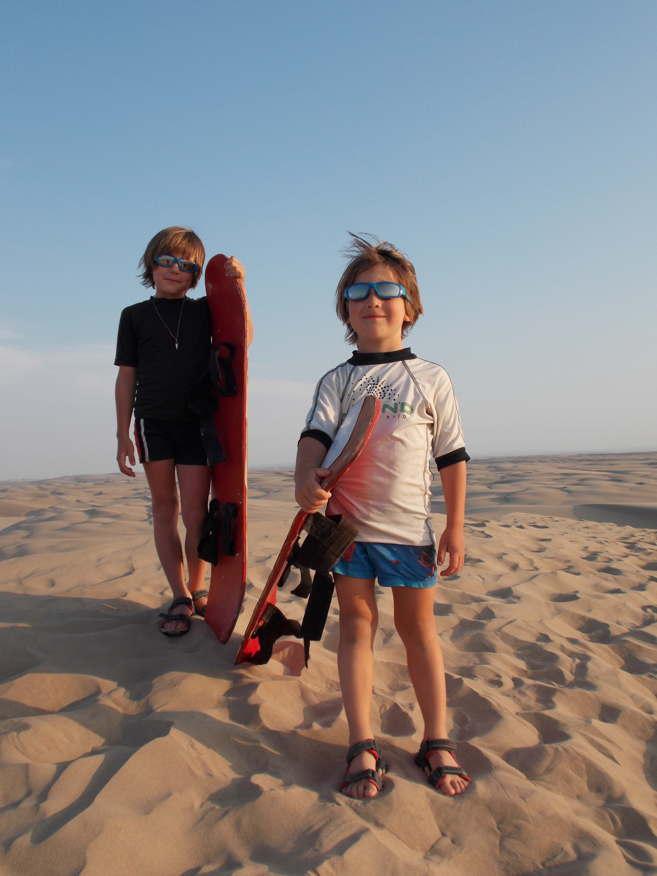 Peru's hauntingly beautiful desert coastline became the setting of a Mad Max roller-coaster jeep ride over the dunes followed by sand surfing. Mum clung on petrified while the boys screamed in delight, faces pummelled and plastered by the wind as the jeep swirled around the crests of dunes, flew over ridges and dived down precipices at a ninety miles per hour. Even my husband's head stubble was standing on end by the time we stopped for a breather. But boy joy carried on, as the offspring crashed down dunes head first on their surfboards. Then we hurtled back towards the sea into the sun set. This time, with such a vision before me, I couldn't help but relax into the adrenalin.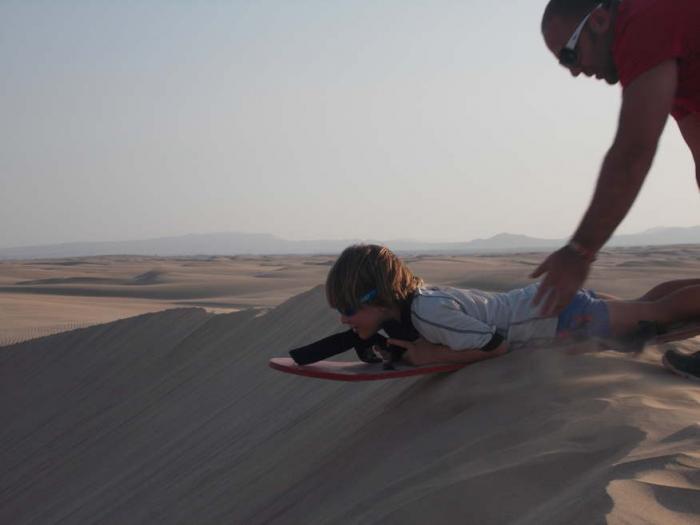 Journey Latin America (T.020 8600 1881, www.journeylatinamerica.co.uk) specialises in tailor-made travel and small group tours to all of Latin America, including Peru. A 12-day holiday visiting Lima, Cusco, the Sacred Valley, Machu Picchu and the Amazon Jungle costs from £3,843 per person based on a family of 4 (in two rooms) and includes international flights with Air Europa, domestic flights, transfers, B&B accommodation – staying in the hotels mentioned in the text – Belmond Hiram Bingham luxury train to Machu Picchu, some meals and excursions.
For more info on travel to Latin America visit www.lata.org
Cuba's natural setting, with its own historical and cultural...
From garage parties in Panamå to the awards ceremonies of Miami, how...