The Club Dir. Pablo Larrain (2016)
In The Club everything is distressing. In the home for 'repentance' we find a chaplain who collaborated with the dictatorship, a priest accused of child abuse, another involved in illegal adoptions and a senile one who cannot remember why he is there. When a fifth brother arrives, also accused of similar crimes, the harmony breaks badly. A tragic event takes place and the church sends a younger priest, padre García, to investigate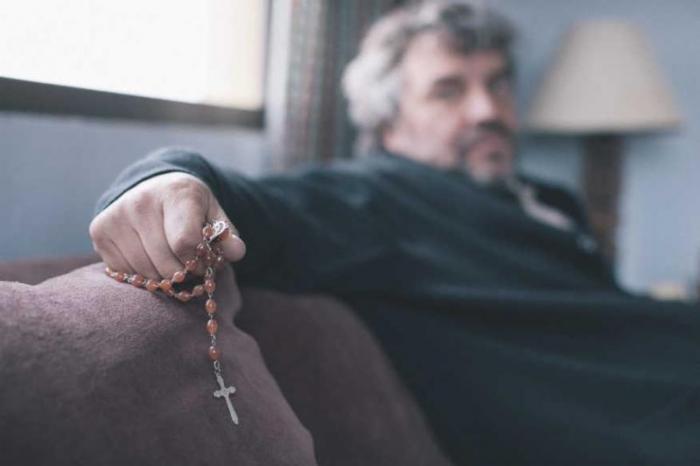 Review of Pablo Larraín's El club
The insidious opening of a film about child abuse and Church secrecy with a quote from the Genesis, is enough to prepare the spectator for Pablo Larraín's El club (The Club, 2015) - a film far more disturbing than his previous feature No (2012). The verse 'God saw the light was good, and he separated the light from the darkness' is followed by a hazy photography of the Chilean seaside that marks the tone of the film.
Stiff winds, waves crashing against the shore, and a greyhound running in circles behind a dummy hare introduce us to the unfriendly wintery weather of the coastal town La Boca where no-one seems very amiable, less so the four priests the Church has sheltered in a home for repentance and prey (excuse the pun).
Multi-award winning director Pablo Larraín (Santiago de Chile, 1976) continues to build his stories around sensitive subjects that some will find necessary, and others offensive or exploitative. His interest lies on what is unpleasant and dangerous, and he purposefully creates stories to make the audiences feel uncomfortable. It should perhaps be of no surprise that each of his films moves back and forth between drama and thriller with doses of black humour.
While El club received the Grand Jury Prize at the 2015 Berlin Film Festival, his previous No had been nominated for an Oscar. With the star presence of Gael García Bernal and ending in a more positive note (a vote for 'no' eventually won the 1988 referendum that outed dictator Pinochet from government), Larraín's 2012 film was perhaps friendlier to world audiences not as familiar with Chile.
In El club everything is distressing. In the home for 'repentance' we find a chaplain who collaborated with the dictatorship, a priest accused of child abuse, another involved in illegal adoptions and a senile one who cannot remember why he is there. When a fifth brother arrives, also accused of similar crimes, the harmony breaks badly. A tragic event takes place and the church sends a younger priest, padre García, to investigate. 'Sister. You and I know why the brothers are here', is the response of an unconvinced García, when Sister Mónica (Antonia Zegers), in charge of the house, describes as 'holy' the lives they live there. 'What I need to know is whether they are conscious of why they're here. This isn't a spa. It isn't a retirement home either. It's a centre for prayer and penanace, and a place for repentance'.
The pace of the script by Larraín, Daniel Villalobos and Guillermo Calderón, the photography by Sergio Armstrong, taking advantage of natural lighting, and the music by Carlos Cabezas all work efficiently and with beauty to immerse the spectator in an atmosphere that amazes and causes repulsion at the same time. The rest is the merit of more complex characters than one might expect from a story addressing the subject, and very capable performers to move from an apparent innocence and unconsciousness to reveal the darkest sides of humanity.
A finely curated "best of" and a great introduction to the world of...
Flamenco Festival London, Sadler's Wells' renowned annual season of...
As Venezuela's economic crisis deepens, Grace Livingstone has been...