Composing History
There are few bands in the world that can claim a life at the top for almost 40 years: the Rolling Stones, Cuba's Van Van, Venezuela's Guaco. And Grupo Niche is another one of them - a household name in Colombia and among Salsa lovers around the world. Amaranta Wright discusses the achievements of Colombia's greatest Salsa band with lead singer Elvis Angulo and band manager Yanila Varela, the daughter of the group's founder Jairo Varela.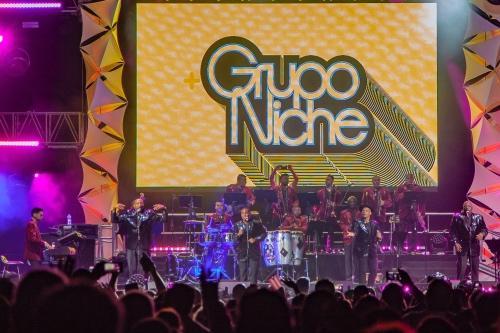 This story is about a young man, an Afro-Colombian of modest origins from the north-west region of Chocó, on the Panamanian border, who travels to the big city with dreams, like so many, of making a living from his musical talent.
Fast forward 38 years and this man, Jairo Varela, is arguably the most important person in Colombia's rich musical history. His creation, Grupo Niche, is now Colombia's best known band worldwide and, six years after Varela's death, is as busy as it has ever been. Last year, Niche gave over 170 concerts, more than any other Colombian band.
Londoners might be familiar with names such as J Balvin and Maluma, Colombians who are dominating the British charts in Spanish. But it was Grupo Niche that paved the way. Even before Shakira or Carlos Vives broke through internationally, Grupo Niche was touring the world, blazing the trail, not only for today's Colombian global superstars, but even for famous Salsa bands from the countries that created the genre, such as Puerto Rico.
"We were doing a show in Puerto Rico recently and I had the pleasure of seeing an interview with Rafael Itier (Director of El Gran Combo) who talked about Jairo Varela and how Niche opened the door even for them in countries where Salsa wasn't that big," says Elvis, Grupo Niche's lead singer. "I'd never thought about this, but it's true; El Gran Combo told us they were going to El Salvador for the first time. Well, I'd already been to El Salvador six times with Grupo Niche and every time was it totally mental!"
Endurance and Legacy
So what is it that has kept Grupo Niche so popular over such a long period of time?
Back in the 1980s, the sound of Grupo Niche was different to what had gone before. Whilst Colombians had long adored and consumed the Salsa bands from Cuba, Puerto Rico or New York, Varela's uniquely seductive rhythms and tender harmonies marked a break from the aggressive horns of New York Salsa. The songs epitomised the intensity of feeling and the gentle spirit of human-co-dependency that Colombians embrace. They conquered the hearts, hips and feet of millions around the world.
"Fuelling it all was Jairo Varela's talent and vision," says Elvis. "I've never seen anyone make music like Jairo did. He would create music out of thin air. For me, he was a genius."
As composer and arranger, Jairo Varela could produce vigorous, up-tempo dance music such as Cali Pachangero and Del Puente Pa'llá and Han Cogido la Cosa, as well as sublime romantic melodies such as Una Aventura, Hagamos Lo Que Diga Corazon, Duele Mas, and Nuestro Sueño. 
But, like all great enduring bands, from the Stones to Los Van Van, Niche's prolongued success is down to its ability to reinvent itself over and over again. The sound has changed many times, but always keeping its unique stamp and quality.
Elvis confirms: "Jairo wasn't just ahead of his time, he also walked with the times, he was always listening to what was going on and thinking how can Niche be relevant without losing its essence? As a visionary, he knew the result he wanted and if he couldn't do it himself he would find the right person."
Indeed it was this ability to scout talent that led to the many great musicians that have made their mark on the band; the likes of César Albondiga who polished Niche's initial sound or of Sergio George, who as Group Niche's musical director helped create some of their most legendary songs and albums, such as Cielo de Tambores. George went on to become Mark Anthony's musical director and one of Salsa's greatest ever producers. Today, it's the job of Jose Aguirre, to maintain the quality and keep the band fresh, in a world dominated by Urban Latin.
Elvis was the last singer that Varela recruited before he died. He remembers the phone call, almost 10 years ago: "He told me 'I want you to take Grupo Niche to the next generation.' It was, and still is, a huge responsibility which I have taken with the up-most commitment and I try to be a role model for the new guys and let them know how el maestro liked things to be done."
Elvis extrapolates… "Jairo Varela was one of the first band directors in Colombia to really push for musicians to be recognized as serious professionals. He worked hard to change the perception of audiences who thought musicians were bohemians and whatnot. He wanted people to see that having a career in music was like being an engineer or a doctor. He taught musicians to dress up, to be on time, to be a pro, and I believe that has had a lot to do with this band's success... as well obviously as the magic he put into the band with his music, his talent and his compositions. Many factors have helped this group stay on top, but self-respect was always at the core."
Pride and Culture
Indeed, one of Grupo Niche's greatest achievements has been to project its pride in Colombia's black identity, in a country and continent known for its racism, by putting Colombia's black music on the global map.
From the off, Varela wore his African heritage on his sleeve. The very name Niche, meaning 'of black origin', spells it out: we're black and proud. The lyrics of his most famous songs reinforced the message. For example, Han Cogido la Cosa:
There's a joke that's going around, and the joke is on me
I've got a big nose and big lips, and they can't find anything good in that
I'm black, it's true, I'm Carabalí (from the Nigerian region Calabar)
And I'm proud of it
This pride, and frequent referral to racism (in that same song 'White man running athlete; black man running thief') made Jairo a hero in the city of Cali - with its 70% Afro-Colombian population - where Grupo Niche made its home. I saw this myself when I once visited Cali, a girl from the shanty town of Aguas Blancas told me: "Jairo has never forgotten where he came from. He is our Cali"
Jairo reciprocated this love, once saying "Cali is everything; its people, its love for us, our love for it, its culture. I will forever be indebted to Cali for what it has done for Grupo Niche and myself. I've written four or five songs for Cali, and if I could, I'd write a million."
However, the unabashed pride that made Varela a hero in Cali, also made him a target for the Colombian authorities who, in the early years, made various attempts to discredit him (he spent 3 years in jail, accused of having received money for playing for drug traffickers, a charge Varela denied). Perhaps this was why Varela was so insistent on professionalism; for there were powerful people wanting him and the band to fail.
Elvis confirms: "He always wanted Grupo Niche to be on top and he knew the level of professionalism and seriousness that this would involve."
Now of course, Varela is venerated, and with good reason. During the many years, particularly the Nineties, when so much negative news was coming out of Colombia, Niche's success abroad was one of the few positive associations for Colombia (matched only by Carlos Valderrama perhaps). The band became hugely important as a reinforcement of Colombian pride in those dark years.
For the city of Cali, Niche's success was a game changer. It carved itself a reputation as the global capital of Salsa. Cali has the world's biggest Salsa festival and its dancers wow audiences in the US (even the name Cali invaded Britain's Got Talent with Cali Swing). The fact that Niche is now considered a 'national treasure', no doubt puts even more pressure on the band members, who all know what that took to achieve.
"When you join Grupo Niche, it is not just about yourself, you have to think about all those icons and great singers that have been here before you. It requires a lot of work to fill those spaces," says Elvis. "And it is not just me, this is a team effort and his kids (Varela's daughter Yanila, who manages the band, and her brothers) have done a fantastic job at keeping Grupo Niche moving forward. You have to be really professional, but again this is done as a family."
Indeed, nobody feels the responsibility more than Yanila Varela, Jairo's daughter:
"I've been working full time since 1996. When my father died, I had to take the reins and it felt it like both a responsibility and a duty," she says. "And it's not only me that feels that sense of duty. Since he died, everyone in the team has felt that love and respect to make his legacy proud. Because we wouldn't be here without him."
What does carrying Jairo Varela's legacy mean on a daily basis?
"We have a company structure, which allows musicians not to have to worry about whether they'll get paid every time they play. I think we are the only group that functions like this: we manage everything for the musicians, so they can focus solely on what they do and on putting on a great performance. We give them that security."
It can't be easy, I suggest, as a woman boss, stepping into an iconic man's shoes in the Latin music world, known for its machismo.
"It's true that in general the Latin music world is a man's world. But I feel a lot of respect. This was part of the culture that my father created among the team, to be professional, punctual, respectful, and to put 100% into everything you do. It's a legacy we've inherited. None of his children inherited his musical genius. I was always good at admin and my brother at the IT side of things, but we've inherited the values which made his group successful.".
How do you see Grupo Niche at 40? I ask, finally.
"The future of Grupo Niche is bright. We are working as well as ever before. The 40th anniversary is coming up and the real test will be to record a celebration album that does those 40 years justice. We are already working on that with Jose Aguirre, so watch this space!"
Grupo Niche will be performing a full concert at The LUKAS Awards ceremony, this Thur 9 August, where they will also receive the LUKAS 2018 Lifetime Achievement Award. To book tickets for this special occasion, go to https://www.comono.co.uk/live/grupo-niche-2/ 
Cuba's natural setting, with its own historical and cultural...
From garage parties in Panamå to the awards ceremonies of Miami, how...