Emotional Estuaries
Emotions fly on the waterways of London. ANCHOR & HOPE (Tierra Firme), the second feature by Carlos Marqués-Marcet who wowed audiences with his debut feature film '10.000km', a drama about friendship and motherhood. Set in the UK, the film takes you on an journey of laughter and tears and, above all, makes you care about what happens to the three main characters. Corina Poore talks to the up and coming film Spanish director.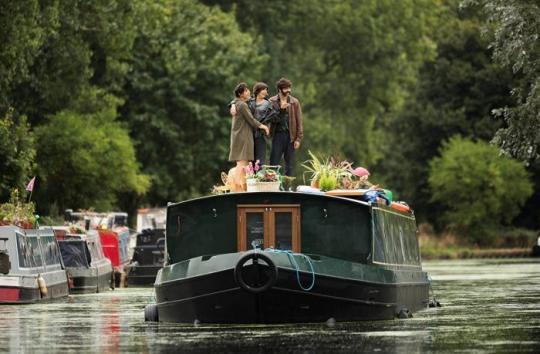 The film explores "surrogacy, adoption, same-rex relationship and what it means to be a parent in a modern-day world." But this is no film flouting a 'message', there is a genuine freshness to the writing and the performances: Oona Chaplin (Game of Thrones) as Eva, Natalia Tena (Harry Potter/Game of Thrones) as Kat and the dashing David Verdaguer (Summer of 93) playing Roger, are all captivating.
Geraldine Chaplin as Eva's mother, plays a convincing cameo role as an ageing hippy who once lived in a commune. This film is very funny and very sad all at once. The relationship between Kat and Eva is happy and stable, until the death of their pet cat shakes the ground beneath Eva's feet and latent yearnings for motherhood surface. The arrival of Roger, Kat's best friend from Barcelona is a catalyst to the story line and the totally believable events that follow.
Anchor & Hope is set on a house- boat on the London canals. Both the boat and the canals become a palpable presence. From the long opening shot through a tunnel/vagina there is a strong visual and emotional link between the lives of the characters and their environment. The nomadic existence of living on a boat that has to be moved every two weeks due to mooring regulations, tells on the relationships. As the director has said, the presence of the canals almost makes the film a road movie: -
'The canal is a character in its own right, playing the role of home and a passage way, as well as a symbol of both freedom and separation." A contrast with the rigidity of living on 'dry land'.
The film was beautifully written by Carlos Marqués-Marcet and Jules Nurrish. The dialogue is natural and the chemistry between the three characters is quite extraordinary. It all evolved from an idea that the writers came up with as Marqués-Marcet explains:-
"A couple, where one wants to have a child, but not the other, seemed an interesting premise. Also, I can see people all around me asking themselves the same questions. Some couples even break up under the strain … it is an ever-present issue and even I have personally experienced it. So, I had that idea turning around in my head and on the other hand, I wanted to make a film with Natalia (Tena) and David (Verdaguer). We worked together on '10.000km' and became firm friends, and I wanted to express that kind of relationship in this film. Many of my heterosexual friends have had children, and many by 'accident', well, when you… er…practise (laughs)… sometimes contraceptive systems fail, but with my gay friends, then it is a very different type of decision and can cause conflict and that is what I wanted to explore."
Jules Nurrish, the co-writer explains that the death of the cat was an important starting point as a pet can become something else, symbolic and emotional, and they worried that killing the cat would have all lesbians hating them: -
"It may be a stereotype, and you can criticize it, but there is also a lot of truth to stereotypes. I also have two cats... not just one! So, there is a reality to it! Animals can become like people, you live with them for 20 odd years and they become a real presence. There were elements of how they had to try to navigate their relationship in a similar way that they were navigating the canals, creating parallels, also between the gentrification of the neighbourhoods and the left overs of the industrial era, and even through the different kinds of love! Love is messy and complicated!"
Marqués-Marcet was determined to work on aspects of love and friendship that are not expressed often enough in film: -
"I have a lot of Lesbian friends but I have never seen the relationships between lesbians in a movie so I wanted to show that … and friendship, yes, we hang out and we do stupid things together… we just laugh & drink. There is an intimacy between them that you cannot have between heteros, as there is always an inevitable frisson between the sexes."
Carlos Marqués- Marcet
Marqués-Marcet feels that the intimacy that came out in the movie is also largely due to the wonderful performances of his stars. There was an element of improvisation that added spontaneity making it feel very real. Many things that came out in rehearsal ended up being incorporated into the film. In particular the performance of Natalia Tena, who is normally very feminine in her body language but she understood her role and interpreted it from within: -
"You did not need words, you could feel her pain- her personality, her energy. The physicality of the role, and the body language were spot on. She started walking differently and developed a swagger … she is normally poised and feminine, but she became almost animalistic."
The director conveyed the feeling that he liked to work with people he knows and has worked with before. This also applies to the young and talented Director of Photography Dagmar Weaver-Madsen: -
"She was at college with us and she is a 'wilding'… a Viking… a Dane! And a trooper as well. She is very creative and throws everything out there, come rain or shine. We discuss everything but we fight too (laughs) and in the end it is a very nurturing relationship. It feels as if we are already connected, we can understand what the other wants. She is intuitive and quick to see when it doesn't work. It was a very tough shoot because the interiors were so small and cramped that you couldn't see where to place the camera!"
Marqués- Marcet's wife is also a DOP, so he often works with her also. The rivalry means he has to be very diplomatic: -
"I have another DOP that I work with sometimes in Barcelona, but she is also my wife, so I need to negotiate… OH! There was one party scene when I needed two cameras so I had both of them there… it was weird!"
The final ending of 'Anchor & Hope' seems tacked on as a last-minute thought. In my view that was an error, as the story had its own natural ending that was totally convincing, very emotional and real. Nevertheless, this is a wonderful film with a superb cast and is not to be missed.
UK release in cinemas on September 28th
Official Trailer:
More info: anchorandhopefilm.com #anchorandhopefilm
Director: Carlos Marqués-Marcet
Screenplay: Carlos Marqués-Marcet and Jules Nurrish
Producers: Antoni Folguera, Sergi Moreno, Pau Brunet, Jana Díaz Juhl
DOP: Dagmar Weaver-Madsen
Cast: Oona Chaplin, Natalia Tena, David Verdaguer, Geraldine Chaplin.
A book which tells the story of the Amazon and its ports-towns near...